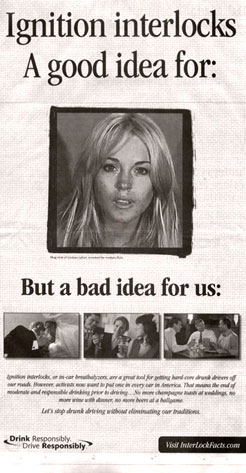 USA Today/Interlockfacts.com
Here's guessing Lindsay Lohan won't be renewing her USA Today subscription.
The actress' attorney, Blair Berk, is blasting the ordinarily banal publication as "idiotic" for running a full-page advertisement Friday that uses Lohan's mug—and mug shot—to rail against an anti-DUI device.
The ad, bankrolled for by the American Beverage Institute, a trade group for liquor companies, states that ignition interlockers, which prevent a car from starting if booze is detected on the driver's breath, "are a great tool for getting hard-core drunk drivers off our roads" (presumably including Lindsay, or "Lindsey" as the print version misspells it) but otherwise infringes on civil liberties.
Making such devices standard would create a doomsday scenario, per the ad: "No more champagne toasts at weddings, no more wine with dinner, no more beers at a ballgame. Let's stop drunk driving without eliminating our traditions."
And that made Lohan's lawyer apoplectic.