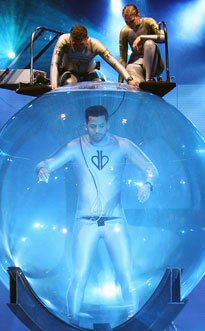 AP Photo/Harpo Productions, Inc., George Burns
It's no illusion. David Blaine has done it again.
The famed trickster broke the breath-holding world record during a live stunt today on The Oprah Winfrey Show.
Divers retrieved a bluish-tinged Blaine, 35, from a water-filled sphere after 17 minutes and 4 seconds, surpassing the previous mark of 16 minutes, 14 seconds set on April 3 by German free diver Tom Sietas, according to the Guinness Book of World Records.
Blaine, who trained with various free divers beforehand, inhaled pure oxygen through a mask before submerging himself, which, under Guinness rules, is allowed for up to 30 minutes to help clean out carbon dioxide from one's system.
The water chamber was the same the performance artist used when he performed his "Drowned Alive" stunt at New York's Lincoln Center in May 2006. For that feat, he immersed himself for one week (with breathing tubes) and then capped it off by trying unsuccessfully to snap the breath-holding record before he was pulled out on doctor's orders.