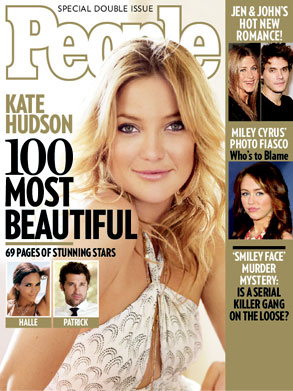 People Magazine
So how does it feel to be one of the beautiful people?

Pregnant (or practically) if you go by People's 2008 list of the 100 Most Beautiful men and women in the world.

Single mom, self-professed tomboy and favorite stork-watch candidate Kate Hudson tops a list that includes bona fide bump bearers such as Jessica Alba, Nicole Kidman and Angelina Jolie; new moms ranging from Halle Berry and J.Lo to Nicole Richie and Christina Aguilera; fellow under-the-mommy-microscope star Ashlee Simpson; big-screen pregnant teen Ellen Page; expectant dad Matthew McConaughey...

All are sporting that special glow, according to the magazine's latest roundup of the fairest in the land.