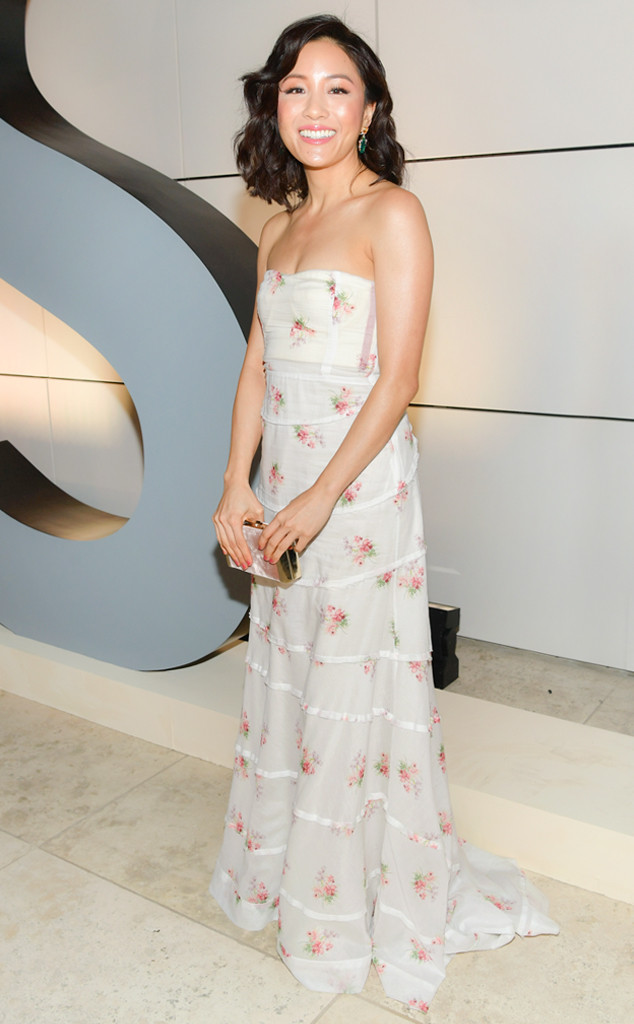 Emma McIntyre/Getty Images
We know her as the loveable, long-suffering, female protagonist in the record grossing (read: $238 million, worldwide!) romantic comedy of the year: Crazy Rich Asians — the first all-Asian cast in a major motion picture since The Joy Luck Club premiered 25 years ago.
And beyond that, we also know the radiant Asian-American actress Constance Wu from her hit television show, Fresh Off the Boat — playing housewife-turned-murder mystery novelist Jessica Huang, the titular matriarch of the Huang family (opposite the dashing and strapping Randall Park).
But did you also know that Wu's show is the first American network television programme in over twenty years to feature an Asian-American focused sitcom — the last being All-American Girl: The show that skyrocketed Korean-American comedienne, Margaret Cho, to household fame?
And above that, did you also know that Wu is also one of the founding supporters of Time's Up, and started the conversation going against abuse in entertainment, long before the #MeToo movement swept through Hollywood?
Well, fret not, because here are more things you did not know about the vibrant and vocal Golden Globe nominated actress, Constance Wu.
1) IMPRESSIVE GENE POOL
Born Constance Tianmin Wu; in Richmond, Virginia, to parents who are Taiwanese immigrants: Her father was a biology and genetics professor at Virginia Commonwealth University, and her mother was a computer programmer. After graduating from Purchase's Conservatory of Theatre Arts from State University of New York, where Wu read fine arts in acting, the actress also majored in psycholinguistics and contemplated to further her education in speech pathology at Columbia University! Talk about a beauty with brains!
2) EVER THE NICE GIRL
You would think that in Hollywood, it is very easy for life to imitate art, but alas, there is nothing melodramatic about Constance Wu. And audiences will find that there is not a mean bone in her when it comes to on set drama. She told Variety about her interactions with her co-stars on Fresh Off the Boat:
"It's opened up my memories of what I was like when I was that age. I started in the theatre when I was Hudson's age. I remember how things felt. It's awakened a dormant compassion in me, which I think is always good for any actor or artist. The richer your compassion and empathy is, the more reach you have. Being around them has really opened me up."
3) PERSERVERE AND SUCCEED
We really cannot imagine a world without Constance Wu's acting, but this harrowing thought almost became a reality because the actress actually considered giving up on acting as a career.
As a young actress, Wu was drowning in tens of thousands of dollars in credit card debts and student loans, and struggled to make ends meet as a waitress who went on "…heart breaking audition after heart breaking audition", she told The Cut, before continuing, "If you're still a waitress when you're 45, is that cool?"
Nevertheless, Wu possessed the courage of her conviction and stuck to her gut. It all paid off in the end because her efforts and hard work rewarded her with a Best Actress in a Motion Picture – Comedy or Musical for Crazy Rich Asians at the 2019 Golden Globes.
4) OK, IT'S KIND OF A BUNNY STORY
There is much to be said about Constance Wu's love for furry creatures — especially her greedy and cat-like, one-eyed rabbit Lida Rose — who frequents her Instagram feed. But we will just let the captions speak for themselves. (PS. Hi Constance! If you're seeing this, please start writing a comedy starring Lida Rose! We are in love!)
5) CONSTANCE, THE MUSICAL STAR?
Holding court over the small screen and the silver screen is just simply not enough for our favourite Asian-American actress Constance Wu. Lending her voice to a sassy skunk in the new upcoming Hollywood animation Crow: The Legend — opposite legendary crooner John Legend who voices the namesake (OMG, wait, we just got it!) — Wu is one step closer to flexing her musical abilities and realise her dreams of being a Broadway star!
"The one dream I have is to do a musical. I love singing, but most people don't know because I don't sell myself as a musical person," she told The Cut. We can see it already: Constance Wu, the West End sensation! How's that for an intro?