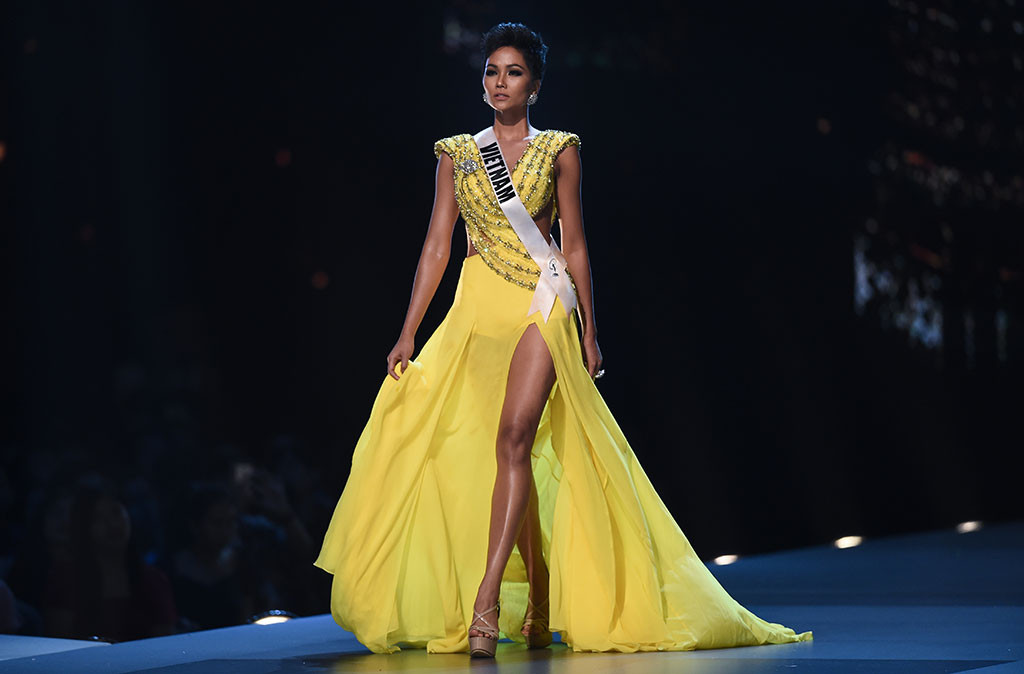 LILLIAN SUWANRUMPHA/AFP/Getty Images
Not since Azzedine Alaïa, Jean Paul Gaultier and Thierry Mugler's muse — the inimitable Farida Khelfa — has a woman of colour truly captivated and informed modern pop culture, and made news with the transformative powers of an elegant pixie haircut.
Until now.
While many powerful women have found fame and fashion notoriety by bidding adieu to their long tresses — like Audrey Hepburn (lest we forget her gamine crop in Roman Holiday), Mia Farrow (in Rosemary's Baby), and even the great Diana, Princess of Wales (the epitome of Nineties chic) — none of them, save for the People's Princess, have managed to really steal the hearts of the public like the ravishing 2018 winner of Miss Universe Vietnam: H'Hen Niê.
With her short hair and naturally-tanned skin, Niê defied and practically reinvented the beauty conventions of her native Vietnam (read: And around Asia) — of pale skin and long resplendent locks — when she got to represent her country in the finals of this year's Miss Universe in Thailand.
And beyond style and cosmetic achievements, the 26-year-old titleholder also comes from humble beginnings, hailing from the Rade minority that make up only five percent of the population in Vietnam. And as with the customs of her people, Niê was encouraged to prepare herself for marriage at the age of 14, when she was only at the cusp of womanhood, but resisted and chose to follow her dreams instead.
Proving that she is incredibly responsible and not afraid of getting her hands dirty, Niê also worked as a nanny and a domestic helper to fund her own university education at the College of Foreign Economic Relations, in Ho Chi Minh City, where she read Business Finance.
Finally, to add to her indelible beauty and generosity, she also donated all of her US$10,000 prize money to build a library in her community — in the heart of Vietnam — and even conducted herself with grace and magnanimity when she found out that she got mistranslated during a question-and-answer round.
Damn, what a woman! And who knew that when it comes to beauty pageants, there is more than just world peace — there is melanin and a pixie cut.