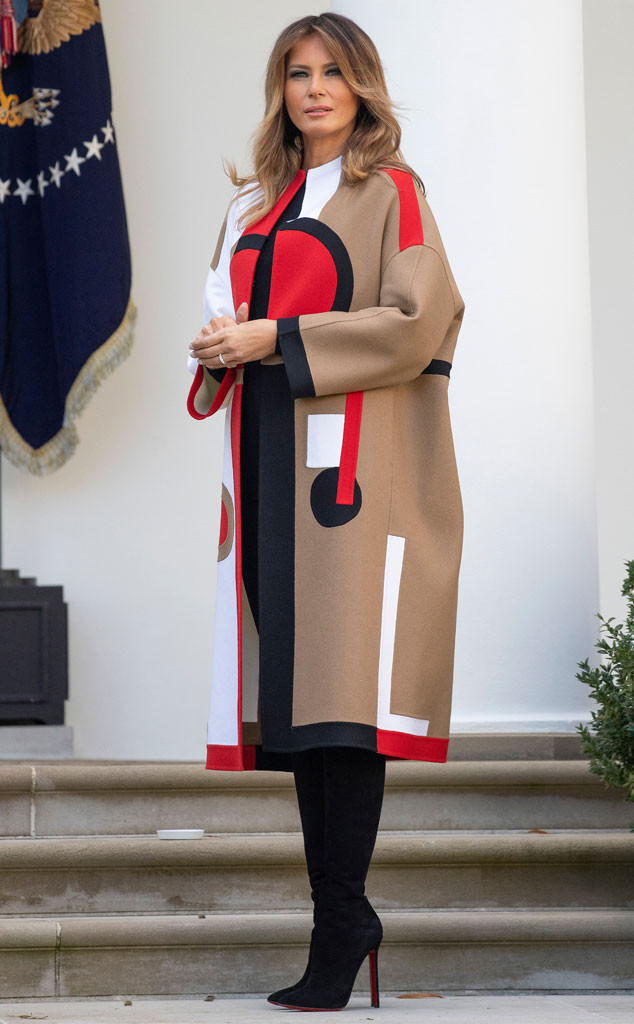 JIM WATSON/AFP/Getty Images
Melania Trump wore a bold Christian Dior coat at the White House Thanksgiving turkey pardoning ceremony on Tuesday.
The First Lady stood alongside her husband, President Donald Trump, as he pardoned two turkeys named Peas and Carrots. Melania stood out next to President Trump, who wore a black coat and suit. Peas and Carrots traveled all the way from South Dakota to get that special blessing from the president.
Her Dior coat, which apparently costs around $9,400, is tan with different shapes on it in red, white and black. She coupled the coat with a black top and pants with knee-high Christian Louboutin heeled boots. Melania laughed and smiled while President Trump spared the lives of the animals.
According to CNN, although Peas was the one officially pardoned and named the National Thanksgiving Turkey, Carrots will be able to breathe a turkey sigh of relief as the two of them will live at Virginia Tech University. They will be cared for by fellow students and veterinarians in the Animal and Poultry Sciences Department.