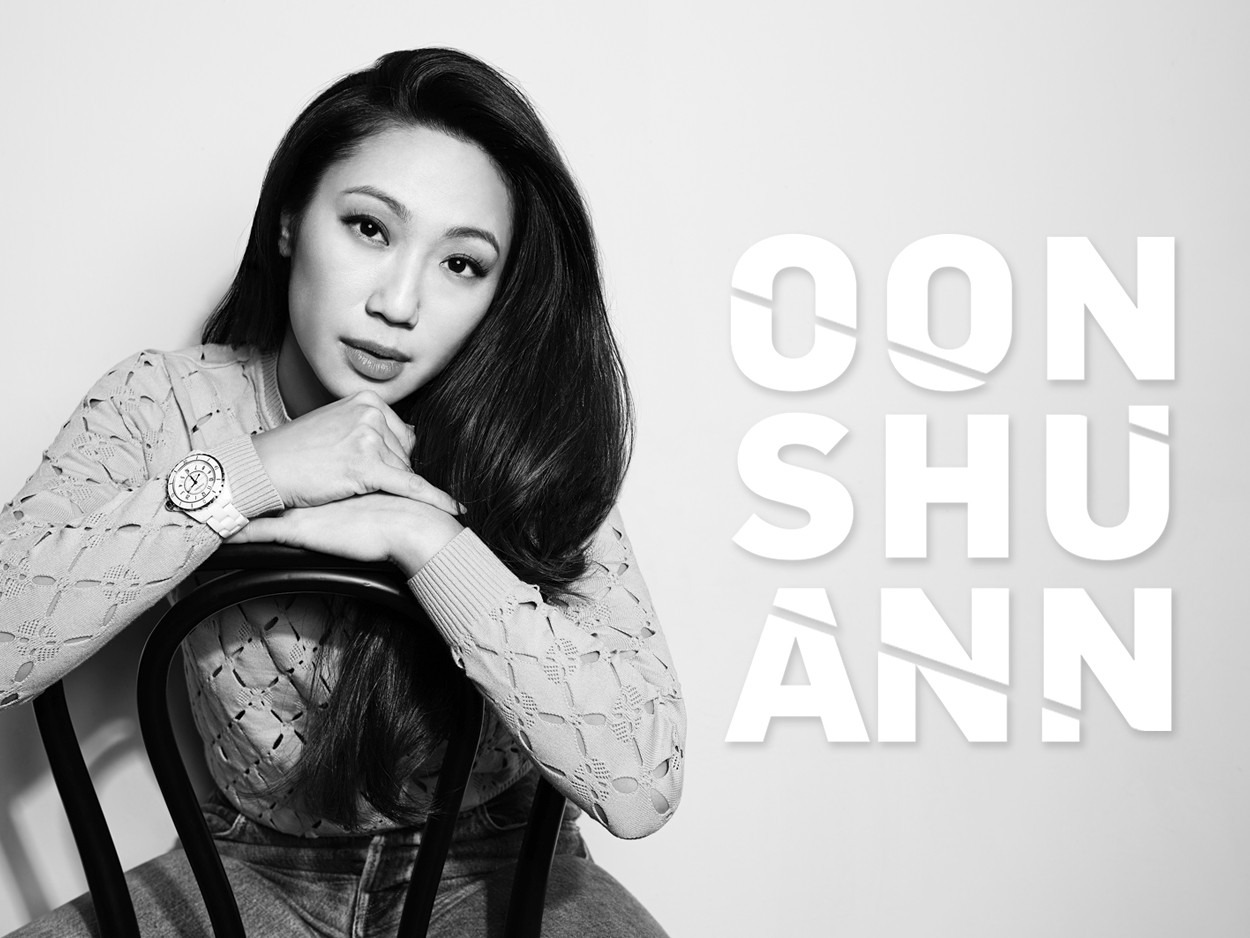 Pullover, Fendi. Chanel J12 white dial watch, Chanel. Jeans, Shu An's own. Photo: Terence Lee
"Age cannot wither her, nor custom stale her infinite variety," Shakespeare once wrote as he spoke of a queen whose very existence dulled even the most precious of gold and captured the hearts and attention of both men and women-alike; not so much because of her noticeable beauty, but because of her intriguing unpredictability, vast range of emotions and her uncanny ability to make people fall in love with whatever she did. He was referring to Cleopatra — or it might as well have been Singapore's only Best Actress in a Leading Role nominee at the inaugural Asian Academy Creative Awards (AAAs). And with good reason: For Oon Shu An has breathed life into a myriad of remarkable roles.
From military chiefs to unicorns (yes, unicorns), to legal eagles, and everywhere in between, this Singaporean starlet has played it all. But more notably, Oon played the ill-fated Song Dynasty courtesan Jing Fei — the role she's best known for in the Netflix cult favourite Marco Polo, and the troubled ex-con on her path to redemption Frances Lee, in HOOQ's How to be a Good Girl; the role she is nominated for at the AAAs this December. And when you factor in the amount of influence she possesses on her hit YouTube show Tried and Tested, along with numerous iconic theatre performances, Oon really is quite the queen in her own right.
Watch:
Oon Shu An Talks Films, 'Singlish' and the Best Advice She Has Ever Received | E! News Asia
"Good morning! Hello there! Aiyo, pleased to meet you! I'm Shu An," exclaims Oon in her signature brand of genuine heartwarming Singlish as she arrived on set and introduced herself to every single member of the creative team — instantly dispelling any rumours of imperiousness.
But as if the girl needs any introductions. Dressed in just an unassuming oversized hoodie, a climate-inappropriate mohair jumper (which she will come to regret during the afternoon), denim jeans, and nary a stitch of makeup, the ever radiant Oon lights up an otherwise sleepy Telok Ayer Arts Club — barely awake at an ungodly eight in the morning — with her infectious energy.
"I've got a huge zit on my face and my hair is still wet! So sorry for the extra work today you guys!" apologises Oon to the hair and makeup artists for her rushed attempt at a towel-dry and the angry blemish on her face that is only visible to her eyes.
And such is the leading lady's effect on the people around her: her astonishing ability to still remain so sincere, humble and relatable even with her recent AAAs-accolade. Being nominated is a huge deal.
"I don't know, you know… You're asking me now if I think I am successful, I really don't know if I am. I wouldn't say that I am, but I am very grateful for how things have turned out. And one of the things I am especially grateful for is having people around you that believe in you. And that's something that makes me very thankful everyday," confesses the usually verbose Oon after a few intermittent pauses, between test shots as her flyaways are tamed to submission, immediately making us fall deeper in love with her.
Shirt, blazer and trousers, Chanel. Shoes (worn throughout), Shu An's own. Photo: Terence Lee
Talking about love at first sight, no one can wear Chanel quite like Oon, as she cuts an impressive figure in a tailored tweed jacket and dramatic palazzo trousers, posing like a total pro, when the shoot actually begins. It's hard not to gawk. Little do we know, it's kismet since Chanel is her favourite House in fashion.
"I think Gabrielle Chanel was so ahead of her time. And I love the stories woven into all the aspects of the Chanel brand," Oon quickly responds, when asked who her style icon was.
And watching her out pose any seasoned supermodel, dressed in Rue Cambon's finest no less, really is such a religious experience. Oon is clearly in the zone.
"As a performer, the relationship we have with clothing is a transformative one. Costumes have always transported me into a different world — into the world of the character. And I love that because it takes you away from the everyday," she says.
Top, Beaufille. Pants, Cinq à Sept. Photo: Terence Lee
And what of the relationship she has with the characters she's played then?
"I really enjoyed playing Frances and Jing Fei. They are two of my favourite roles! They hold the same weight in my heart!" reveals Oon, before she carries on, "That feeling of being a disappointment and a failure is a universal sentiment. And I really admire her [Frances'] gumption and refusal to give up and just submitting herself to fate. I vividly remember shooting the scene of her release when she arrives at home. She dances around her room because she is just so incandescently happy! It was pure, unbridled joy…"
Oon trails off for just a bit, and her eyes became unexpectedly misty. It almost looked like she was holding back tears of joy. And in that split second before she regained composure, it is evident that she can easily empathise with the characters she plays. But blink and you'll miss it. She quickly collected herself and proceeded to talk about her other favourite: Jing Fei, in Netflix's Marco Polo.
"She really was such a tragic character to play. What I loved most was her quiet resolve, her sense of loyalty and her protective nature. And during my epic sword dance scene, I distinctly remember the pressure I had on myself was crazy! The whole floor was hers, all eyes were on her, and it's her last expression before [killing herself]. So I had no room for errors. I wanted to do it well and give it my all, and I will never ever forget that."
Dress and knee boots, Gucci. Photo: Terence Lee
Speaking of pressure, we are well into our last shot when Oon recounted some of the advice she lives by as she perches precariously on a bar counter.
"A director I was working with once told me that one should not worry too much about the peripherals, and just focus on doing your job, and doing it well" says the actress, before adding, "My acting teacher back in LASALLE [College of the Arts] used to say that you cannot be lazy as an actor. You have to be disciplined and constantly push yourself. Just like running a marathon: You have to keep pushing through and giving it your all in every scene, in everything that you do. You can't just say that you'll try tomorrow, because sometimes you don't have the luxury of tomorrow."
Her strive for perfection in whatever she does all makes sense now. How's that for ethics?
And just as the photographer yelled, "Okay! We got the shot! It's a wrap guys" Oon leaps to the ground in a full knitted Ferragamo ensemble (without any help, might we add) and runs out of the bar, right to the computer to look at the shots of her, before finally taking the time to thank everyone present at the shoot.
Maybe this is the secret to her success: Oon's relentless professionalism, her enduring power of captivation, and her endearing humility make her everyone's BFF, but more importantly, the undisputed Queen of Hearts.
Photographer: Terence Lee
Stylist: Daryll Alexius Yeo 
Hairstylist: Bosco Eng/Hairloom
Makeup artist: Sam Ong
Manicurist: Audrey Wee
Photography assistants: Chris Yeow, Donovan Pok and Syed Abdullah
Director: Chris Leow
Videography: Aloysius Lee
Videography assistant: Jocelyn Tan