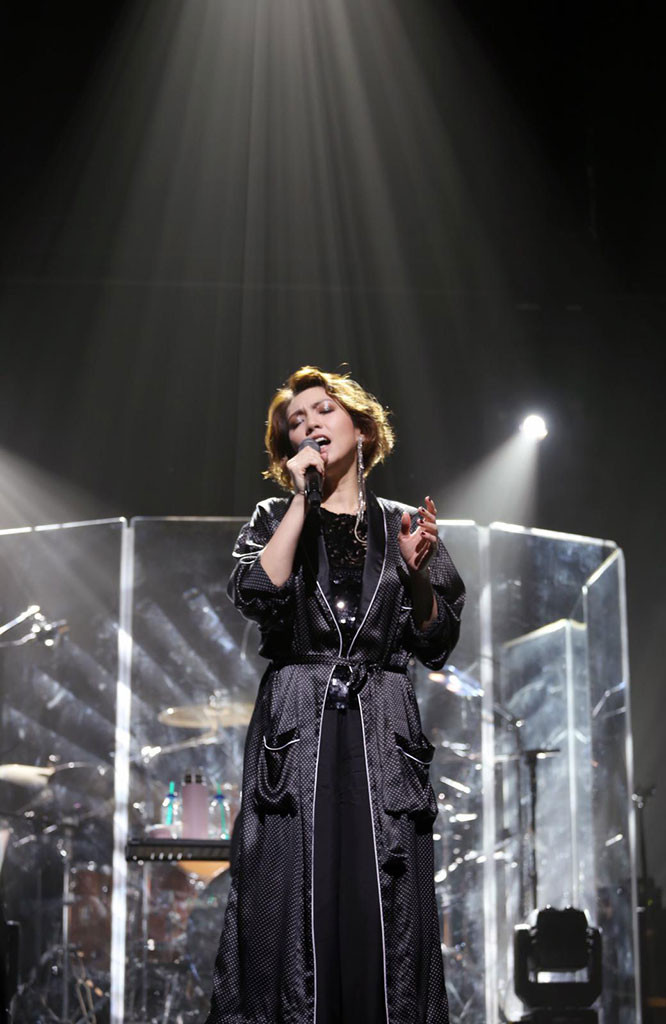 Juan Li
Raw, retrospective and a tad R-rated. That's what went down at Kit Chan's concert last Friday night (9 November), an intimate affair at the Esplanade marking her 25 years as a singer.
"This is my 25th anniversary show and I want it to be really personal," she says.
Every detail seemed so relevant to Kit. The accompaniment music was largely acoustic, performed by instrumentalists which Kit surrounded herself on stage. The musicians, she says, are trusted people she's worked with throughout her career.
The cosy theatre is a venue which Kit is familiar with, as it's where she performed musicals such as December Rains and Forbidden City: Portrait Of An Empress. But staging a solo concert there is a first and a dream come true for her.
Most of all, the concert chronicled her life from aspiring singer to national treasure, an affectionate epithet celebrating her place in the hearts of Singaporeans.
A montage displayed photos from her days at Raffles Girls' School to images of questionable fashion choices she swore were once trendy.
The songs performed represent different chapters in her life. The curated setlist featured classic ballads in Cantonese and Mandarin which made her a household name regionally. When the diva turned the mike to the crowd, they knew the lyrics and sang 'Liking You' and 'Worry' in unison.
She bravely shared a deeply, personal milestone with Enjoying Loneliness, a song on her latest album A Time For Everything. Signifying a fresh start in her life, she said she ended a long relationship last year. She sang the breezy, jazz tune as self-taken shots of a recent solo Europe trip flashed on the big screen.
There weren't too many bittersweet, contemplative moments. Intervals during the live singing were peppered with her wit and humour.
Playfully teasing is the singer's way of connecting with fans. She poked fun at the concert-goers as well as herself. Clad in a silky black overcoat, she joked she was wearing a "sleeping robe".
She did not disappoint. Transporting audiences to a cabaret, she sensuously sashayed while crooning to 'Flexible Man' — a flirty, innuendo-laden tune by jazz band Dave's True Story. Accompanied by a lone male bassist, she cooed: "I could rock you till you sputter, I could rock you till you ache, I could cover you with butter, feed you apricots and cake."
She kept the surprises coming. Calling it a "weird" show, she declared she would end with the same song she opened the show with 'Come Back When It Turns Cold'. The only difference is that she would sing the Cantonese version.
Ever the entertainer, she threw a curveball and veered into the ultimate crowd favourite. She belted out 'Home', as audiences spontaneously lit up the theatre by waving mobile phones. The rousing anthem was first released during Singapore's National Day celebrations in 1998.
Arguably the most relatable song in her repertoire, 'Home' is a fitting finale for the diva who has been stealing the hearts of listeners for 25 years and counting.