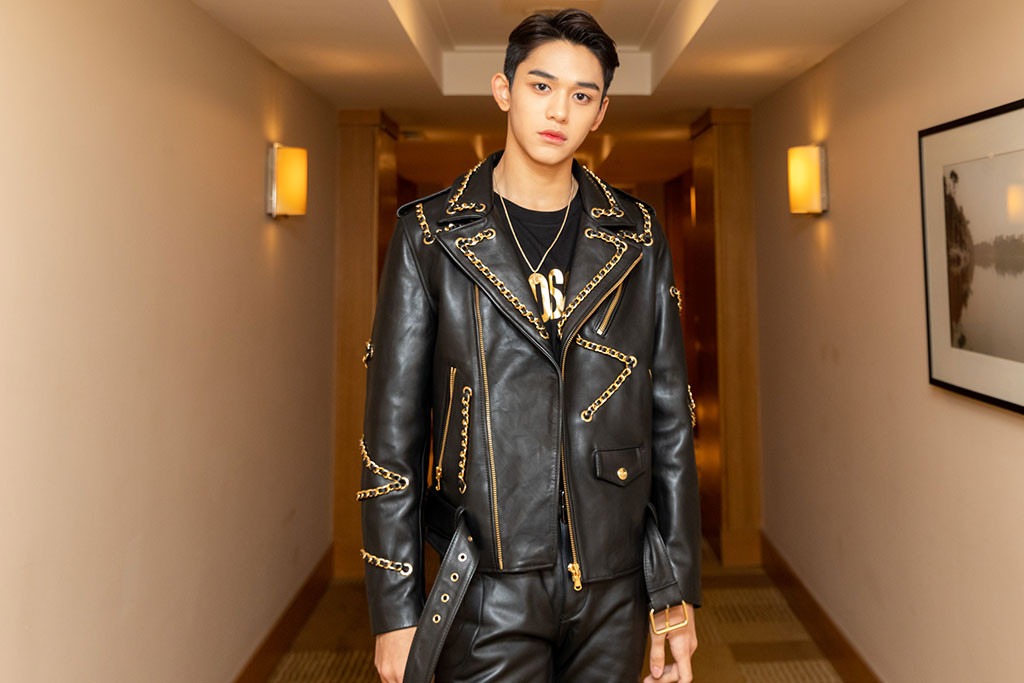 Photo: Courtesy of H&M
"Ni hao! Ni hao!" An impossibly tall and lean figure strides into the cosy interview area set up at H&M's Singapore showroom with effusive hellos in Mandarin and smiles. "I'm Lucas."
The 19 year old budding K-pop star is part of a new boyband from South Korea called NCT (short for Neo Culture Technology). Making their debut in 2016, the group's concept is based on having an unlimited number of members that are divided into multiple sub-units based all around the world. But Lucas Wong (who debuted earlier this year and is now known monomously as LUCAS) has managed to stand out among the 18-member (and growing) group with his bubbly personality and penchant for cracking jokes.
"I feel everyone in NCT has their unique qualities," he explains. "But I feel that in the group I'm more cheerful and playful, and I like to crack jokes, so that could be my strength." He finishes this off with a hearty laugh that makes it easy to see why his fans adore him.
In town for the launch party of H&M's hotly anticipated collaboration with Moschino, the dashing star cut a sharp figure in Moschino creative director Jeremy Scott's more rock and roll pieces from the collection. Think: The leather jacket criss-crossed with thick gold chains layered on top of the white "HMoschino" logo t-shirt, tight leather pants and Scott's take on combat boots.
It makes him look every inch the Korean pop star that he is being groomed to be, but just before that happens (and before his appearance at the night's festivities), we sit down for an intimate chat with the talented singer.
It's your first time in Singapore! What do you think of the city so far?
It's really my first time in Singapore and I feel that it's really beautiful. I'm not exaggerating, but on the plane,when we were landing, it seemed that Singapore emerged from the darkness in a glow of light and I was so amazed by the beauty of the city. I'm not lying! It's a very prosperous nation.
Where would you like to visit most?
I want to visit the Merlion Park, and the Ferris wheel (Singapore Flyer) too. And Marina Bay Sands!
You mentioned in previous interviews that you like to eat a lot. What is your favourite food and what dishes would you like to try in Singapore?
I really like to eat a lot, and because my mum is Thai, I like to eat Thai food, or food with heavier flavours. And after arriving in Singapore, I had dim sum, and Guangdong cuisine. I heard the Hainanese chicken rice here is very famous, so I wanted to try it. In fact, I just had it for lunch before this interview. It was delicious and really lives up to its name!
You're here to celebrate the Moschino [tv] H&M collection, how do you feel?
Well, I would like to congratulate Moschino and H&M for holding this event in Singapore and I'm very glad to be a part of this event. I'm very thankful to them for inviting me. Very* grateful! Very grateful… I never thought that they would invite me too. (laughs)
*emphasis his
What are your favourite pieces from the collection?
Personally, I really like what I'm wearing at the moment and also the pieces with the Disney characters on them, because I like Mickey Mouse.
How would you describe your personal style?
My personal style is very versatile… because I'm so good-looking (deadpan). It depends on the situation: Let's say, if I'm wearing the Mickey Mouse pieces from the collection, I think I'll look cute; but if I'm wearing what I have on now, I think I'm also very shuai*.
*ED'S NOTE: shuai is a catch-all term in Mandarin for being handsome, or having swag.
You recently walked the runway at Seoul Fashion Week, what was the experience like?
I'm very grateful to my company, SM for the opportunity to take part in the fashion show* because they really gave me a lot of resources and being able to take part in the fashion show allowed me to experience more, because I was already very interested in this industry. I was able to take to the runway along top models in the industry and I was a bit nervous, but I wanted to be professional and show people a different side to me, so I was able to have a very successful modelling experience at fashion week.
*ED'S NOTE: Lucas walked the KYE spring/summer 2019 runway show
Is modelling something that you are interested in?
Yeah definitely. Before entering SM [as an artiste], I actually signed up for the SM modelling audition, but it turned out that my dancing, singing and rapping skills were better, so I ended up here.
You are confident about your looks and aren't shy to admit it. Have you always been this way even when you were younger?
Actually when I was younger, a lot of people would comment that I was very handsome, but at the time, didn't feel that I was particularly handsome. I think the point that I started to have the confidence I have now is when I debuted. I felt that I had to have confidence, because when you have it, people will look at you differently.
What do you consider your best feature and why?
I feel that my eyes are definitely my best feature. I mentioned once in a program that my eyes are exactly like my mum's, so I feel that my eyes have a feminine charm (deadpan).
You officially debuted just this year. How has it been for you?
I feel very special. Because sometimes when you debut, you don't really feel that you have made it, but the moment you stand on the stage, and you see your fans screaming your name and cheering you on, at that point, you will really feel in your heart that you have made your debut, and that you have a responsibility to do your best.
What has been the proudest moment of your career so far?
I think it had to be when my parents saw me on television. It really made me proud and feel that I was successful.
Why did you want to be an idol?
I didn't about it a lot at first, but as I matured I thought that being an idol could have a positive influence on young people and be a role model for them. Nowadays, young people are stressed out from studying or work, and most of people my age are stressed about looking for jobs, but I hope that through my work I can let them know that there is a happier and more positive side in the world. And let them know that by just relaxing and being positive, you can do anything.
Who is your K-pop idol?
My idol is EXO's Kai! When I was a rookie, I used to watch his [social media] channels and learn from his dance moves. And I felt that whenever this senior took to the stage, he would become a completely different person, and I really wanted to be like him. I've seen him a few times too, and oh my God, he is really too shuai.
You're turning 20 next year, what goals have you set for yourself? Are you living your dream right now?
Going on to 20 next year, I really feel that life moves by so quickly (laughs). But yeah, I'm very happy that I got to experience so many things, especially in these few years. I feel that I have accomplished a lot of my dreams, and my life goal is to see as much of the world as I can, and experience as much of it as I can. I feel that life should be like that. One of my dreams is that NCT can hold a 50,000-strong concert one day. Yeah, that's a small goal of mine.
This interview has been translated from Mandarin. It has been edited and condensed for clarity.