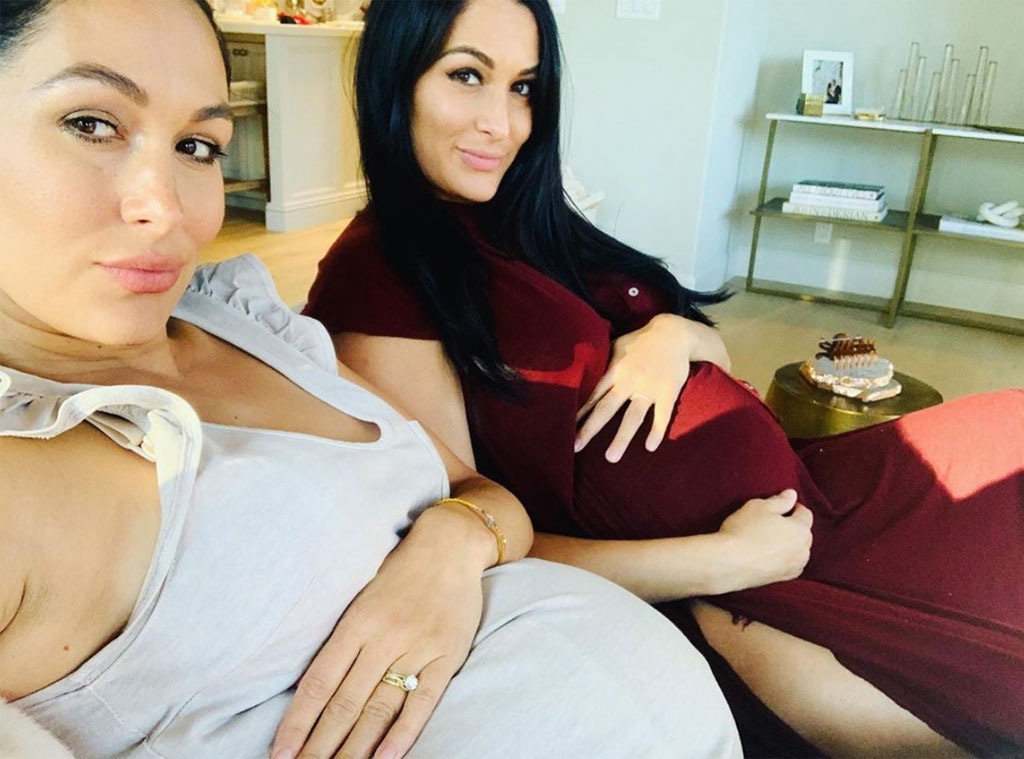 Instagram
Nikki Bella is going through it!
On the latest episode of The Bellas Podcast, the mom-to-be opened up about feeling more and more emotionally distressed as she nears the end of her pregnancy, especially with all of the uncertainty surrounding the ongoing coronavirus pandemic.
"I'm not gonna lie, I literally almost had my first massive meltdown—breakdown, whatever you want to call it—a few days ago," Nikki told listeners before recalling a conversation she had with her twin sister Brie Bella, who's also pregnant and admitted to feeling just as anxious. "I was like, 'Brie, I'm literally about to lose it. I'm sick of being inside. I'm sick of not being a part of the world. I'm sick of being in the heat. And I can't even go on my walks and I think that's what's made it worse.'"
The Total Bellas star continued, "I mean, it sounds like such silly things that you can't do but it is crazy. Like, mentally, I am breaking."
Quite simply, Nikki is to the point where she just wants her and fiancé Artem Chigvintsev's baby boy here already!
Brie, who's expecting her second child with husband Daniel Bryan, tried to reassure her sister that "the end of pregnancy's always the toughest." 
"I remember that with Birdie [Danielson]," she said. "And I feel like that is mother nature's way of being like, you want the baby out so bad you don't care about doing natural birth or feeling pain—you're like, 'Just get the baby out!'"
But even though this won't be Brie's first time giving birth, it will be the first time she does so in the middle of a global pandemic. With COVID-19 cases on the rise in the U.S., both twins are nervous for what's to come.
"The uncertainty is just killing me because we're maybe having expectations of a second wave of COVID-19 in the fall. I feel like we're getting hit with a second wave right now, and then I'm like, okay, so is that a third wave in the fall?" Nikki pondered. "Are we just constantly gonna have these waves?"
"And at times, you wanna be the person of like, 'Let's just live!' but also, we are putting high risk people at risk," she added. "So it's like, no, we all have to stay in lockdown and wear a mask."
Watch:
Nikki Bella & Artem Chigvintsev's Baby Gender Reveal
Brie compared the situation to a wrestling match: "It's like, you start off real good, right? You're rockin' and rollin', and then boom. A big heat spot. You get taken down, and then you're just getting beat up."
She continued, "But then you get a hope spot. And you're like, you know what, this is great...am I gonna make my comeback? I might go for the big win. And then boom, the heat spot comes again and you're back to getting beat up. That's what I feel like."
According to Brie, her three-year-old daughter Birdie is especially fed-up with lockdown. At this point, the Total Bellas production team "has become her best friends," Nikki said. 
"We literally went on a walk this morning and she saw a little girl—they were walking by us—and Birdie's face was like, 'Ahhh! They do exist.' 'Cause she hasn't been able to play with kids for months," Brie explained. "I feel so bad. I can tell she's yearning for kids her age. But I just don't know, 'cause we're pregnant, when the right time is for her to interact with them again."
Another worry of Nikki's, she noted, is that she'll never stop worrying.
"It's crazy that I already feel like I'm so protective of my little boy and he's not even here yet," she told Brie. "And it's like, I start to think the thoughts of, 'Do I want him on reality TV? Do I want to raise him in front of a camera? Do I want him to be in a big city?' Like, I start to think of all these things now and 'Do I want to be away from him this much? Will anyone protect him like I'll protect him?' I talk to Artem about all these things that go on in my head."
Nikki added that she already knows she's going to be a "helicopter mom." 
"I'm a helicopter mom," Brie admitted. "And it's funny because, Birdie, at two months old, started traveling everywhere with me. But I instantly knew...that I couldn't go back on the road full-time because I wanted to be with her all the time."
Nikki isn't sure what her post-birth plans are when it comes to work, but right now, she's planning on bringing her baby boy with her everywhere. 
He just has to get here first!
Listen to the complete episode of The Bellas Pocast here.