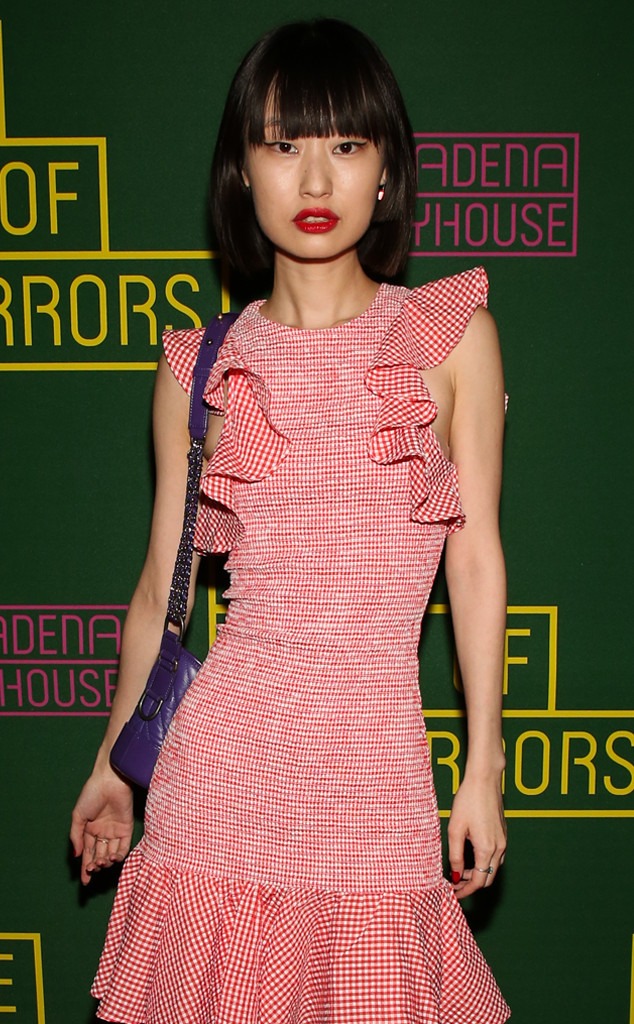 Paul Archuleta/Getty Images
Everything is made in China from your iPhones to world-renowned record-breaking billionaires. While the notoriously self-reliant country has been making headlines for its eyebrow-scratching technological advances (think of the social credit system or using WeChat to pay for your meals), it's also the nation that has produced some of the hottest exports to break Vanity Fair's Best Dressed List, star in Estée Lauder ads and score a role in superhero movies.
However, there is one up-and-comer who is ready to take up the mantle: Ran Wei. 
Born in China and raised in the US, Wei is a model/actress whose stellar resume checks off every bucket list. As a model, she's walked the runways for Miu Miu and Tom Ford. She's also made a splash by being featured in Apple's commercial as well as starring alongside Post Malone and 21 Savage in their music video "Rockstar". Not to forget, she's also working on a top secret project with Adrien Brody and taken up a new role in Cyborgs Universe, which is coming out on Netflix in 2020. 
Blessed with a square jaw, razor-sharp cheekbones and Jolie-esque pouty lips, it's no secret that this lovely Libra's beauty has been able to make designers, rappers and casting directors swoon.
We catch up over e-mail to talk about what it's like to work with the biggest icons, growing up in a cross-cultural environment, whether astrology is the determining factor to success, playing the bad girl in Cyborgs Universe and if she's got any plans to do films in Asia.
E! Asia: It's a miracle that you found so much success in modelling. Was it something you wanted to try out when you were growing up?
Ran Wei (RW): Modelling was not on my mind growing up, but I was always very into pretty things and picking out my own outfits since I discovered mirrors. My grandma had a sewing machine and would always ask me what I wanted to wear, and she would make my ideas come to life. I remember I felt like she was the fairy godmother from Cinderella. I also really loved roleplaying and miming TV actors and all of my family members. During holidays, we would have get-togethers and I would always act out each person and let them guess who I was.
I wanted to be so many things when I was a child. When I was maybe 8 or 9, I remember I really wanted to be a detective. I even made my own cards with my grandma's home phone number on them to pass out to my neighbours and family friends. And I would observe everyone on the street or who came to my house and imagine if they had any secret stories or suspicious activities. I also wanted to be a magician, I bought props from magic shops and performed tricks in front of my classmates. And then as I became a teenager, I wanted to be a linguist. I started learning different languages on my own. I was also really into astrology, palm and face reading, like you can tell what type of person you are based on your features. I've also considered becoming a psychic. I've been told by multiple psychics that I am clairvoyant, and I've experienced interesting things that are hard to explain with current understandings.
As a model, you've landed some pretty big campaigns, starred in a Post Malone music video and walked for the most iconic designers. If you have to say which project you liked the most, which one was your favourite and what was it like to work with them?
RW: Wow, it would be really hard to pick just one favourite!. I had so much fun on so many projects. When I am working on each one, it's my favourite in the moment. It could be the director, the brand, or sometimes my co-star. Maybe the most satisfaction I got from a job was when I had a commercial for a popular brand that aired all over the world and in many different languages. The process of getting the job wasn't very easy, I had to get a motorcycle license and go through multiple auditions and rehearsals for it. After that one came out, because I was the first Asian female to have her own spot for such a notable company, China's CCTV aired an international news segment introducing me as the Chinese girl bridging the gap between China and Hollywood. My family saw It on TV and called me up and told me about it. They were so proud and it made me realise that what I was doing could also make others feel happy, and that made me even happier. 
I also really enjoyed being the spokesmodel for Citadel Outlets's rebranding campaign. The crew were very nice, and when the work comes out it's always amazing. I really enjoy finding myself by surprise in different places, like when I landed in LAX from my two-month vacation in Thailand and China, I saw myself on a billboard at the airport like I was welcoming myself back. That was such a thrill. Or when my mom was in town and we went out shopping and she discovered me on a big billboard that I hadn't seen yet, she excitedly took photos in front of it and showed them to her friends.
If there was something you've learned from working with the icons, what was the biggest lesson you've learned?
RW: I had the pleasure of working with Bryan Cranston on a project directed by Ian Pons Jewell. Between the takes we chatted about acting and Zen. I was surprised to learn that we had a lot of similarities in our mindsets about the process of the craft and life, and that was such an encouragement, like I was approved by an OG and it made me feel like I was on the right track.
It was also a joy working and connecting with Adrien Brody, and to learn about the difficulties that he still encounters to this day even after having so much success. And it made me realise that being an artist, the problems you think you are having are not going to disappear when you reach a certain level as you imagine they would. We still need to reconcile with ourselves and learn to cope with complications, and we will get better at it as we go. But life is a journey to be experienced, not a problem to be solved. An interesting thing about Adrien is that he was using just a rubber band as a wallet, which we actually had in common at the time. I like discovering the quirky side of artists. And finding out the special side of each character helps me understand people more, which I could use to better tell stories as an actor. But I've learned a little bit of something from each set and person that I have worked with, from my costars in front of the camera to the crew behind the scenes.
You were born in China, but you spent your childhood growing up in California. What were some challenges you had to face when you moved to America and how did that prepare you for the film and fashion industry?
RW: I am very grateful that I've had the chance to live in two worlds that are so different which shaped me into who I am today. Starting out with a new language, no friends, and a missing sense of direction, I found myself misplaced in a new home. I used to get lost a lot when I couldn't read street signs, and the neighbourhoods were completely different than what I was used to, so I often had to make it home with the help of strangers. But as time flowed on, naturally I picked up English and got through the things which I thought were impossible to get through before. I've always had a style that was very different in schools both in China and America, like a clash of Asian and American cultures. I got featured in my high school newspaper for "Best Style", which was my first "official approval" when I wasn't sure if people here accepted me yet. When I got into college, I studied art while working two part time jobs at a movie theatre and a fashion store, which also helped me reinforce my sense of fashion and artistic direction, and appreciation for movies.
So many success stories come from working hard or luck. However, there are some people that are destined to be born successful based on their star sign. Do you believe that astrology has helped you gain confidence to successfully break into the fashion and entertainment industries?
RW: I love this question! I believe every detail about a person can affect the way they are. Your name, nickname, birthday, time of birth, blood type, and yes, your sign too. I have always been a very intuitive person. I've been into astrology and tarot reading since I was in elementary school and it has greatly affected my experience with people. Sometimes I can sense a stranger's exact birthday from month to day to year just by their presence and I'm basically always right when I decide to confirm it with them. And sometimes I surprise them by having more feelings naturally come to me while we are talking, like the birthdays of their family members or what their significant others look like. When I've guessed the birthdays of people on set, they instantly become friendly towards me, which makes #setlife that much more enjoyable. I am also into palm reading, and I've booked many jobs from reading the clients or director's hands. Once they see what I can learn from their hands, they feel like they can open up to me and we really make a connection.
Why have you decided to cross over into acting?
RW: I feel like acting chose me, though it often goes hand in hand with modelling. A lot of commercials that I have worked on included both video and stills, and vice versa. To me film is about storytelling and it gives me a chance to build and bring characters into life. I think actors and filmmakers are given an opportunity to create something that can move people and affect a generation. When I am trusted with a part, I am the voice of people who need their stories told through my body to the world. I have so much fun when I play different parts, as if I had lived as different people throughout my one life.
With most Chinese actors from China, they mainly started out in Chinese or HK movies, then they branched into Hollywood. How come you decided to launch your acting career in Hollywood rather than China or HK?
RW: I just happened to start here, moving to California just in time to start my adulthood, and somehow got sucked into the entertainment world. Now that I am a professional actor, I am always adding new tools into my tool box, like martial arts and ballet or dirt bike riding. Being an actor, you need to know a little bit of everything. And later when I have opportunities, I hope to work in Asia too, and being fluent in both Chinese and English languages can definitely help. There are so many collaborations going on between Asian and American markets now, I look forward to having an Asian audience to get to know me too.
Speaking of breaking into Hollywood, congrats on your new role in Cyborgs Universe! Can you tell us more about your new role? What made you want to join the project?
RW: Thank you! The show is based in the near future where humans invent robots to make their lives easier, but things don't go as planned. I am playing the villain of the cyborgs. My character is extremely smart and not afraid to use her beauty to take advantage of situations. She is very enigmatic and is always analysing the people and situations around her. My unique special power is the ability to hear conversations and noise from miles and miles away, with the ability to concentrate on a voice or a detail and track it down. When I auditioned for the project I was very interested in the story, I felt a strong connection to my character's outsider stance, and was really attracted to her multiple sides. The cast and crew are so passionate about the project, and though I won't reveal too much of it right now, I hope you'll watch it to find out. 
Among all the actors you admire, whose career do you wish to emulate the most?
RW: I'd like to start a path of my own, and represent a new wave of roles for Asian actors in Hollywood. We can play anything, not just limited to the stereotypical kinds of roles we've often seen on screen, a nerd or someone quiet, and not leading. I know so many talented Asian actors and filmmakers working in Hollywood, I know we can break new grounds. 
There are some actors who I look up to and love watching everything they do; Stephen Chow and Jim Carrey's unique way of approaching comedies always gave us deep meaning and inspiration. Audrey Hepburn and Nicole Kidman grab my attention when they tell their stories. And I respect Jackie Chan who really brought his humour and professionalism to the whole world.
Do you have any plans to do some movies/TV projects in Asia?
RW: I hope so! I am just going with the flow and wherever the jobs take me now. Luckily, I have done some work in the US that have also aired in China. And worked with Chinese artists like Cai Xukun, Kris Wu, and Jane Zhang, who came here to shoot and I really enjoyed working with, because they are from my home country. But I really hope I get to work with all kinds of directors and artists from all over the world. I would love to bring more Asian culture to America and American culture to Asia, so that we can enjoy things we never knew and have a deeper connection and understanding of each other.