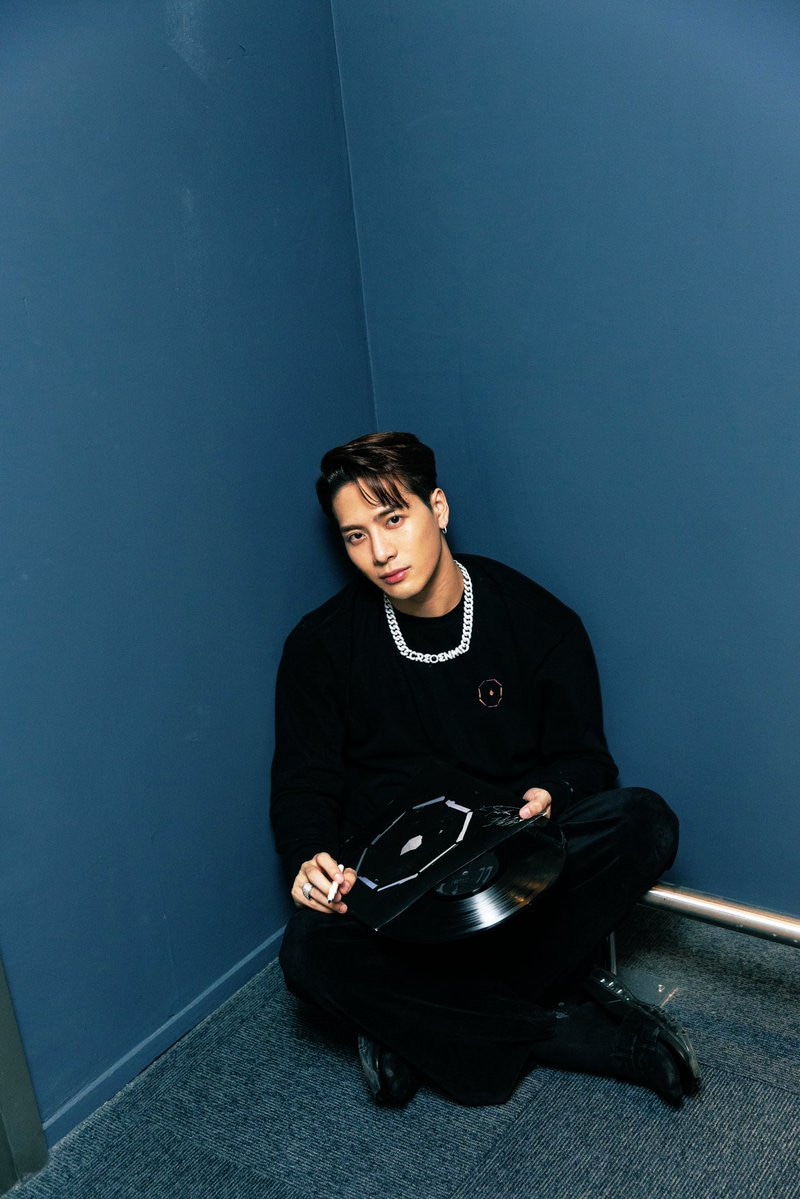 Courtesy of Team Wang
There is a fire that burns behind the eyes of 25-year-old Hong Kong-born rapper, Jackson Wang and it reflects in his incredible work ethic. The GOT7 member has big dreams and it looks like he is on track to make them all come true. 
On 25 October, Wang released his long-awaited solo debut album titled MIRRORS under his self-made label, TEAM WANG. The album features eight brand new tracks; Mostly in English with the exception of the Chinese version of Stephanie Poetri's "I Love You 3000". Wang establishes his own sound with this project. The mixture of trap, hip-hop and r&b influences suits his raspy, baritone voice perfectly. It's a huge contrast from his work with GOT7 and shows his versatility as an artist. 
For his first solo project, Wang boasts an impressive features list. American rapper Goldlink and 88rising's Rich Brian are featured in bangers like "Bad Back" and "Titanic" respectively. MIRRORS debut at number 32 on the Billboard 200 Charts and number 3 on the Billboard Digital Albums Chart, which is a huge feat for any artist on their first solo project. 
E! caught up with Jackson Wang, before he revs up for promotional activities with GOT7 for their recent comeback (this man literally never stops working, it's truly remarkable).
He shares the blood, sweat and tears that went behind his latest album, working with Asia's biggest talents and more. 
E!: Congratulations on your solo debut album, MIRRORS! It has been a long time coming. How do you feel about your album and the response it's had so far? 
Wang: Thank you so much, I really appreciate that. I feel so blessed about the support I'm receiving from all of my fans and everyone who takes the time to listen to the album. I worked extremely hard to put out this debut album, so the fact that someone would listen to it and give me positive feedback has truly made everything worth it!
Tell us about the journey into making MIRRORS a reality. What was the toughest challenge you had to overcome as an artist, self-producing your music?
The toughest challenge was managing my time between my roles in China, South Korea and the US. I'm with my K-Pop group for half the year, constantly traveling, touring, recording, writing, filming, etc. And then I have half the year to work on my solo career which takes just as much, if not more time to do all of the same things but with all of the decisions coming from me.
Also managing TEAM WANG is another part of my life that is so important and needs my full energy and attention. So I would definitely say putting my 150% into all of these things was challenging for sure.
You showed a more vulnerable side with songs like "Bullet to the Heart". What was the creative process like with a more emotional song like that and do you pull from your own personal experiences?
This song means a lot to me because I recorded it and shot the music video while I was going through a very difficult time. At that moment in my life, I felt like I was being pulled in so many directions… People might think that "Bullet to the Heart" is a love song but it truly is about overcoming the obstacles that come with pursuing your biggest dreams.
No matter what, the hardships will continue to try to bring you down in your journey. But if you love something enough, I believe that you can overcome anything and can even surprise yourself with how much you're able to persevere.
You've collaborated with Rich Brian and Joji from 88rising. You guys seems to have a great friendship. What was it like working with them on the tracks?
Love those guys, they're awesome. It was an honour working with Rich Brian and Joji. They're so talented and I'm proud that we were able to collaborate to represent Asian cultures together and create something amazing. 
If you could collaborate with anyone dead or alive who would it be and why?
Michael Jackson, Chris Brown, Omarion because they're my inspirations.
Your "Titanic" music video is amazing and you are dancing with one of the biggest Asian dance groups, Kinjaz. How did this collaboration come about and was the choreography tough?
Thank you so much! The Kinjaz are my brothers. I'm so grateful for them, and we've been working together for a while now. The choreography was really fun to learn. It was challenging because the Kinjaz are the best and they always come up with such intricate movements and musicality. I loved our practices and learning from them, they made it easy.
Your personal story of giving up competitive fencing at a young age and pursuing your dream in music is truly inspiring. How did you come to that pivotal moment of deciding to move to South Korea to pursue music?
I knew that music was my passion. No matter what I was doing, I always had the desire to create music in the back of my mind. I knew that I had to pursue it and at least try my best to make music.
On top of being a successful K-pop and solo artist, you've also formed your own label with Team Wang. What made you take on this challenge and what goals do you have for TEAM WANG?
TEAM WANG represents not just a label or a brand, but also an attitude, a vision, a spirit and energy for a passionate life. It's about understanding yourself; What you really love, your dreams and your goals in life. By knowing that, passion and desire will come "naturally" from your bones. You will always stay hungry with the desire to achieve these goals without any compromise. 
Then, execution comes along. How do I accomplish and execute every step wisely? You never know you "can't" until you try, and rather than fail, I care about the process of doing what I love everyday, and I am blessed to do so. There's risk in everything, but it depends on you if you are willing to take it.
It depends on how hungry you are. Don't hesitate. That is what TEAM WANG represents to me.
In the midst of your own solo promotion, you just made a comeback with GOT7, releasing the mini album "Call My Name". What is one thing you love most about being in a group and one thing you love about performing solo?
I love being able to collaborate with the members of the group. I think it's great to be able to depend on other members to create music that we all love and agree on. That process in itself is so unique and really cool to experience.
On the other hand, performing solo allows me to have total control over the music that I produce and write. I really appreciate being able to execute my own vision with TEAM WANG.
The sky's the limit for Jackson Wang. What's next for you?
I hope I can make my supporters and my people, my culture proud. I hope in my lifetime, I can create a new chapter in history.
This interview has been edited for clarity. MIRRORS is available here on all major music streaming platforms and iTunes.