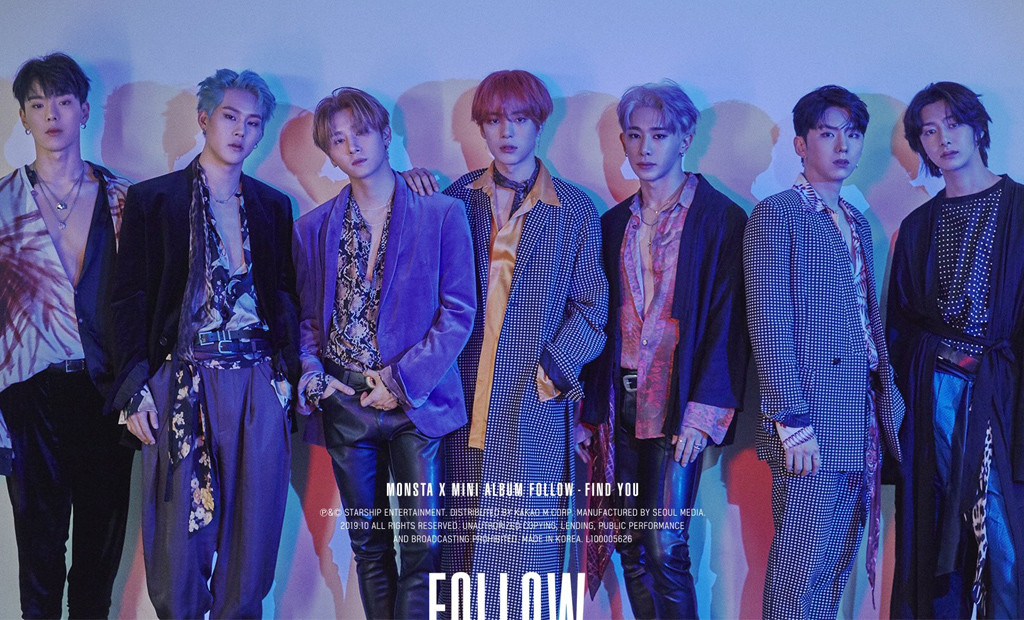 Courtesy of Starship Entertainment
2019 has been a very busy year for popular K-pop boy group MONSTA X and they are going from strength to strength. 
The seven-member group are back with a brand new mini-album titled FOLLOW: Find You along with an explosive music video for their title track, "FOLLOW". Both of which dropped 28 October. 
Monbebes will be delighted with 8 brand new tracks from their favourite K-pop group on top their previous singles, "Someone's Someone" and "Who Do U Love?", which were released recently this year.
With MONSTA X's latest title track, "FOLLOW", we see Shownu, Wonho, Minhyuk, Kihyun, Hyungwon, Jooheon and I.M go back to their signature, hard-hitting music style. Picking up right from where the group left off in February 2019 with "Alligator", "FOLLOW" has all the classic MONSTA X ingredients, with punchy rap verses from Jooheon and I.M as well as smooth vocal deliveries in the bridge and chorus from the rest of the members. Not to mention, powerful, sweeping choreography that match perfectly with the synth-heavy beat drop that occurs in the chorus. 
MONSTA X is in their element!
The music video features an epic set with fiery motifs and a solar eclipse as all seven members rocked velvet suits in gorgeous jewel tones sang "That day when the moon overlapped with the sun, like a lie..." Watch the full music video below:
The group also showed off their more sentimental side with an accompanying track in their mini-album, "Find You." MONSTA X also shot a music video for this slower, synth pop ballad and flexed their acting muscles as they flashed back to scenes from previous music videos ("Dramarama," "Destroyer," "Shoot Out,"  and "Alligator"). 
These scenes showcased the member's tight bond and friendship over the years, delivering a heart-warming message to fans. Scenes of the group just watching TV together, going out for a little karaoke session and visiting each other's homes being inter-spliced with scenes where each member struggles with their own personal hardships lets fans see a more human side to the glitz and glamour that shroud their music careers.  
Check it out below: 
MONSTA X has been making waves both in South Korea and in the US. The group just wrapped successful performances at the iHeart Radio Music Festival and Life Is Beautiful Festival in Vegas. They are the first K-Pop group to perform in these well-known music festivals and they are only gaining momentum. 
The K-pop group has been confirmed to perform at B96 Pepsi Jingle bash in Chicago on 7 December, and iHeart Radio Jingle Ball held in Minneapolis, Philadelphia, and ending at New York City on 13 December alongside Taylor Swift, Jonas Brothers, Halsey, 5SOS, and more.
FOLLOW: Find You is available on all major music streaming platforms and on iTunes today.