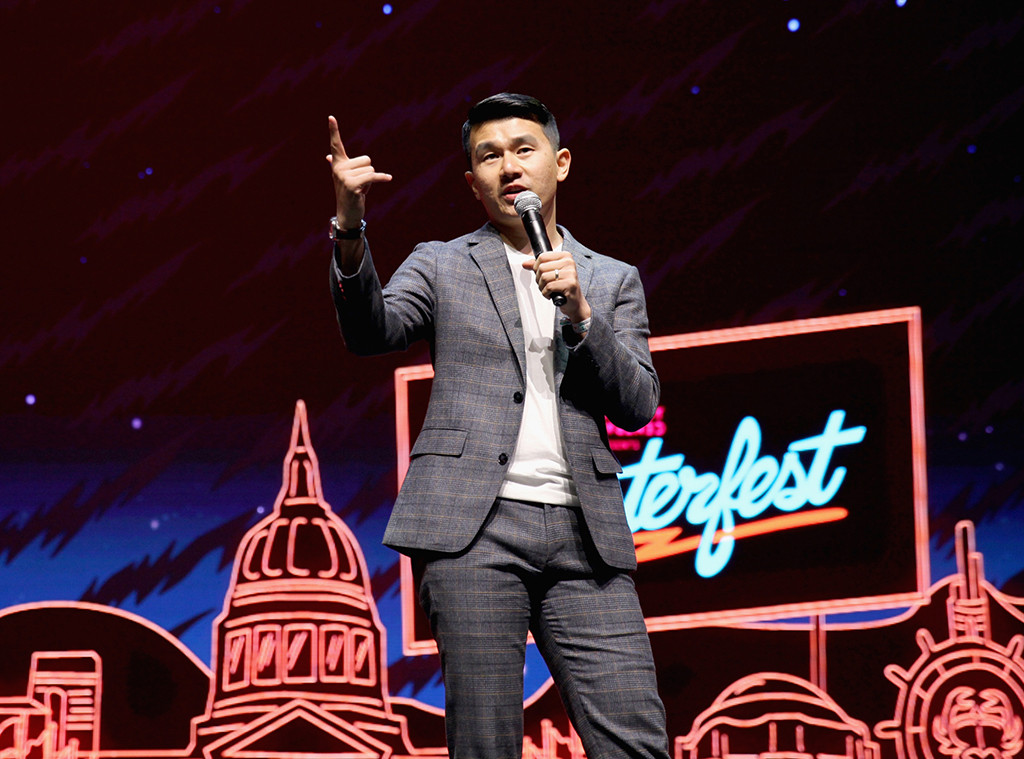 FilmMagic
You might know Ronny Chieng from his angry stand-up persona or for his role as the status-obsessed snob Eddie Cheng in Crazy Rich Asians.
But, as the US-based comedian who got his start in Australia told E! News, he's open to playing more than just jerks.  
"I've got a lot of range. I can do piece of s--t. I can also do loveable piece of s--t. You've got your choices between the two pieces," 33-year-old Chieng joked. "In fact, I'd love to do any role that pays money. I'll do anything for money."
The Malaysian-born, US and Singapore-raised star has been undeniably busy in 2019. After touring America with his hilarious stand-up show "Tone Issues", The Daily Show with Trevor Noah correspondent is heading to Singapore for one night only. 
E! News caught up with Chieng to talk touring, sequels and what he brings to a WhatsApp group chat.
What's the first thing you always do when you're back in Australia?
I fight off the jet lag and then I go hit my old stomping ground. Melbourne city is like my city so I have all my favourite spots. I've got my cafes, I've got my bars and the restaurants I used to go to. That's my number one thing.
What topics do you touch on in your stand-up show this year? 
It's just the inner psychotic thoughts that I usually have. The usual—probably misdirected—anger and uninformed opinions. Usual nonsense that I can't believe anyone actually listens to [laughs].
Are you getting new audiences to your shows after your role in Crazy Rich Asians? People you wouldn't usually see?
Who would they be? Am I getting people who love Asian people? People who love rich people, maybe? Or do I end up getting people who are very pro-capitalism come and watch me. People in the higher tax bracket, maybe?
How would you even spot those people in a crowd?!
Exactly! I don't know. They have to submit their ATO tax return to me before they can buy a ticket? And then I sell their data.
Robyn Beck/AFP/Getty Images
We've seen the Crazy Rich Asians cast reunite at award shows, but do you all actually keep in touch?
We have a group WhatsApp chat and we message it all the time. Just before you called there were messages coming through. We send each other news or links or updates.
What do you bring to the WhatsApp group?
I bring a lot of claps and a lot of fire—the fire emoji.
Have you heard anything about a Crazy Rich Asians sequel and if you'd be involved?
No, I haven't heard anything. I look to you guys for the news on that!
On the topic of sequels, can we expect to see a season 2 of Ronny Chieng: International Student, which you made in Australia?
I don't know. I hope so. That's a question or the ABC, really not for me. But I think we've got a lot of stories left to tell in that universe.  
You've had a big year on The Daily Show with Trevor Noah. What's been a recent highlight?
Honestly, everything I do on the show has been great, I really love it. Recently I was interviewing Bill Gates, that was a lot of fun. He is a very smart guy who is using his money to help a lot of people in a very smart way.
What other issues do you still have in your sights on The Daily Show?
I'm just trying to stay alive in America, honestly. I just want to tackle the issue of staying alive. It's a pretty crazy place right now. Where do I begin with the threats? Gun control. Health care is expensive. The Internet is making people crazy. I can go on…
Catch Ronny Chieng in Singapore on 29 November, 7pm at The Esplanade Theatre. Get your tickets here.
This article originally appeared on E! News Australia.