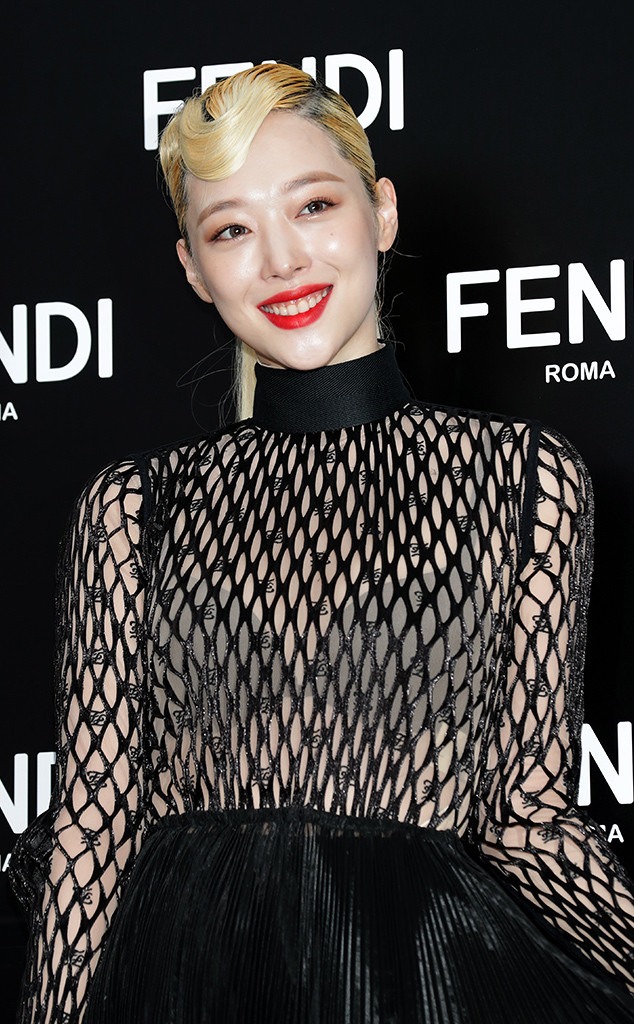 Han Myung-Gu/WireImage
On 14 October, the South Korean entertainment industry was shaken to its very core with the sudden passing of K-pop star-turned-actress, Sulli.
Programmes were cancelled, comebacks halted and schedules shifted. The industry was in a stand-still. 
The former member of K-pop girl group f(x) was only 25 and had reportedly made the decision to take her life that fateful night. Sulli, who's real name is Choi Jin-Ri, has been open about her struggles with mental health, speaking openly about her anxiety and panic disorder. She was a rare gem in South Korea's cookie-cutter music industry.
However, her outspoken and seemingly fearless nature made her the target of malicious comments and online abuse. Often overlooked by the people in power, her passing showed the urgent need for change in South Korea's media industry to place greater emphasis on mental health and to protect artists from such aggressive online abuse. 
The aftermath of Sulli's passing has led to Korean celebrities speaking their mind about keyboard warriors, while others who were close to Sulli, continue to grieve and post heartfelt messages on their Instagram as they cope with this heavy loss. 
One such person was South Korean actor, Yoo Ah-In, who posted a lengthy, raw and emotional message to Sulli on his Instagram page. 
In his letter to her, Yoo called Sulli, "An icon of the new generation who was fearless in her freedom of self-expression. A winner who happily outed the antiquated ideas of ethics." He then reminisced the times their paths crossed during work events and parties. "I liked her confidence, fearlessly putting her hand on my waist to pose for a photo, even though I was surrounded by controversy," Yoo said, "She was someone with a pure soul, who had no choice but to wear the mask of 'Sulli.'"
The actor reflected on how, even though he had immense respect for her and what she stood for, he felt that he "was one of the masses that hid behind her." "It was easier being one of these masses," Yoo said, "Teetering on the line of the boundaries that she crossed with ease, I left her alone at the edge of the cliff."
At the end of his journal-structured message, Yoo calls for no blame to be placed, no hatred but for everyone to lead with love in their hearts. "For Sulli, who we'll never see again, let's not let her name go in vain," he wrote. 
The emphasis on not blaming anyone is an important message from the South Korean actor. Since Sulli's passing, her ex-boyfriend, Dynamic Duo's Choiza has been receiving an influx of hate comments that blamed him for her death. The two were in a public relationship and dated for over two years, ending in March 2017. 
While most idols would never publicly date due to fear of backlash, Sulli and Choiza were refreshingly rebellious, sharing the burden of the public eye together. The celebrity couple braved the onslaught of negative comments that mostly focused on their 14-year age gap, before parting peacefully. 
Choiza had stayed silent until today when the rapper post a photo with a heartbreaking caption, "We shared the most beautiful moments of our lives with each other.Sadly, I have to let you go now, but I will cherish the memories I have until the day I close my eyes [for good]. I miss you so much."
As more messages and tributes are posted day after day, some Korean celebrities have been voicing out their frustrations on the lack of accountability for online abusers and their criticisms of South Korea's entertainment industry. 
K-pop veteran, Shinhwa's Kim Dong-Wan who has been in the industry for over 20 years, spoke out on his Instagram. "There are too many adults expecting these young kids to stay healthy and smile even though they are not able to eat properly or sleep comfortably," Kim wrote, "They want them to be sexy, but not too sexy; Tough, without putting up a fight. I've thought about all the younger generation in this industry, running after money and dreams, even if it brought mental illness."
He ended his message by calling out large companies who continuously ignore an artist's cries for help and that "their complacent actions can act as a host to [mental illness]"
Other celebrities who are calling out malicious comments are Big Bang's T.O.P, Girl's Day's Minah, and actress Ha Yeon-Soo. 
This nation-wide uproar has caused the Korea Entertainment Management Association (CEMA) to reveal their plans to crackdown on hostile commenters who aim to defame and terrorise artists. According to their statement, the association will "no longer overlook these issues" and take strong action. 
"We will not stop because of apologies or expressions of reflection. Instead, we will root out malicious commenters," CEMA stated, "Nothing will be forgiven, and strong action will be taken. Once again, we will be taking strong legal action on all fronts against malicious comments directed at pop culture business professionals and artists."
There are also reports by local news outlets that a bill might be proposed by nine members of South Korea's National Assembly that aims to create new laws in order to protect citizens from online abuse. The bill is reportedly called the "Sulli Act".  
The impact of this young star's death has been exponential, rippling through the entertainment industry to the government. Those who have been silently suffering are finally speaking up and letting their voices be heard. It has created open conversations about mental health, cyber-bullying and the consequences of ignoring the aforementioned issues, which is monumental in a conservative society such as South Korea. 
The price of this change, however, was more than anyone could've imagined.