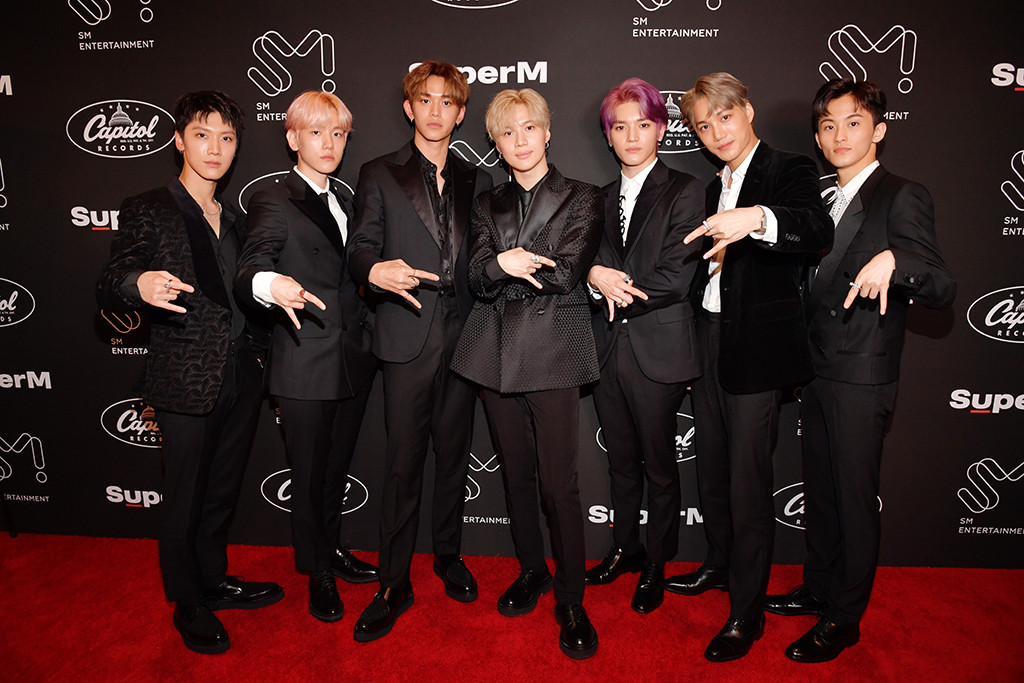 Lester Cohen/Getty Images for Capitol Music Group
The media blitz around SuperM hasn't ended – in fact, it's only getting just getting started.
Today, Refinery29, Forbes, and more media outlets posted their interviews with the "Avengers of K-pop", and many interesting tidbits were shared.
Among the interviews, SuperM's members — made up of EXO's Kai and Baekhyun, NCT127's Mark and Taeyong, WayV's Ten and Lucas and SHINee's Taemin — played favourites with Forbes' Jeff Benjamin, picking the tracks from their debut album that they favoured personally, that is.
Surprisingly, they all chose pretty different tracks!
For instance, Mark chose "2 Fast" because he felt "really honoured to be on the song" and that he "liked the melody, the hook, the feeling of the song."
Kai chose "No Manners" as his personal favourite. "[It] is very easy-listening, very memorable and really gets you moving so that's why I like that one. I feel like when I heard that one I could see the performance," he said.
Of course, their title track "Jopping" was a fast favourite among the members, but it stood out to Taeyong for a special reason.
"The reason why I pick it is because the performance itself is a never-before-seen performance in K-pop, in my opinion. It's going to stand out," he told Benjamin.
On the other hand, Taemin chose "I Can't Stand The Rain" because "it has a really oriental feeling to it, an "oriental taste," it has an essence of Asia."
He explained his decision further, "It may be a very calm song, but at the same time I feel like there's a real performance to it and I can see the performance in it. When you're listening in your earphones, it may not sound like that, but when you're watching onstage it's a different story. K-pop started in Asia and if a song like this is performed in Europe, the States or anywhere in the world, it still has that authenticity."
Lester Cohen/Getty Images for Capitol Music Group
SuperM made an epic debut at Capitol Records Hollywood last weekend to showcase their new songs and introduce their group to the world.
They then appeared on The Ellen Show earlier this week, where they taught the beloved daytime talk show host the signature dance move of their title track, "Jopping".
The K-pop super group will be kicking off their world tour this November in Fort Worth, Texas, before heading to various cities in North America.