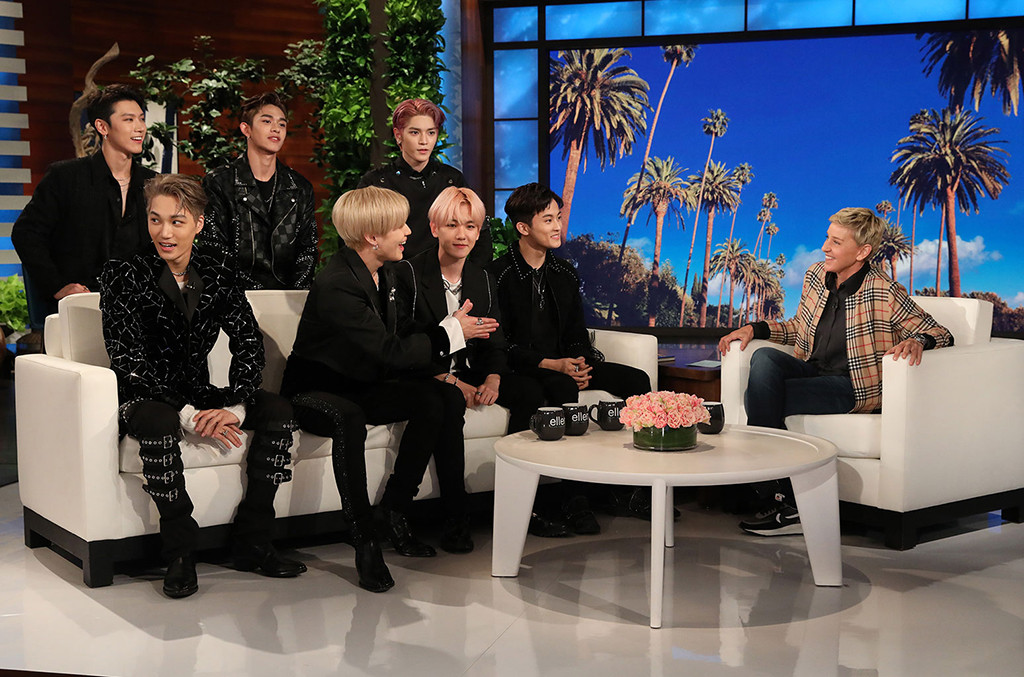 Michael Rozman/Warner Bros.
If anyone can teach dance fan Ellen DeGeneres a new move, the "Avengers of K-pop" SuperM can!
Appearing on yesterday's episode of The Ellen Show, the seven-member super group — made up of EXO's Kai and Baekhyun, NCT127's Mark and Taeyong, WayV's Ten and Lucas and SHINee's Taemin — made their worldwide debut on television, and chatted to the talk show host about their group, their new album and more.
After introducing themselves and talking about their new single "Jopping", the funniest moment of the show came when the group attempted to teach the comedienne their signature dance move.
"Jopping is jumping, and popping," Kai explained as he showed DeGeneres the breakdown of the dance move.
"I'm going to pull a muscle!" DeGenres exclaimed.
But the host eventually gave it a go with the encouragement of the K-pop group, much to the delight of the audience.
The interview with the group also touched on finding the perfect name for their fandom — nixed ideas included "Assemble" and "M-Joppers" — as well as the group members' relationship status.
"Wait, why are you always curious about this, though?" Mark asked when the talk show host asked if they were single.
"It's my job," DeGeneres replied.
But that's not all, the group also had another surprise in store: They donated US$50,000 to The Ellen Fund to aid global conservation efforts.
"This is actually something very special," Mark told her. "As much as it's our first time here on Ellen, we know that you're a great supporter for gorillas in Africa, and so we actually brought you a little something."
The group then presented the cheque to a surprised DeGeneres, who was very grateful for their kind gesture. 
Watch the group perform their singles "Jopping" and "I Can't Stand The Rain" below: