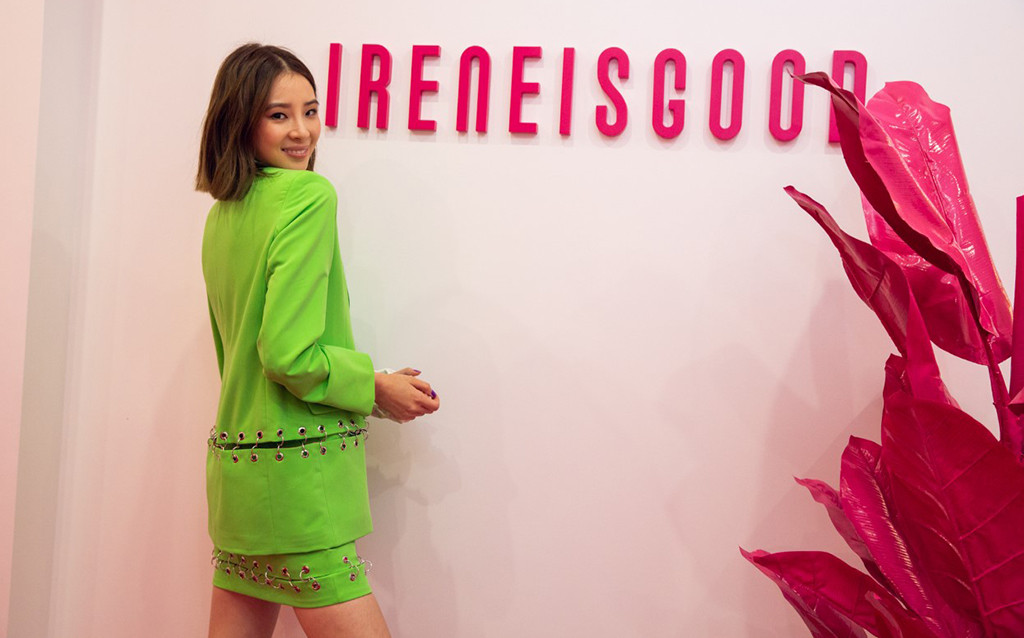 Joey Acott/Courtesy of IRENEISGOOD
Six years ago, Irene Kim burst onto the fashion scene with her self-dubbed "unicorn hair" that grabbed the attention of fashion brands and street style photographers the world over. Since then, she's grown from runway model to front row fixture and influencer, but her latest venture lands her in a more behind-the-scenes role.
Last year, Kim launched her fashion label IRENEISGOOD, a fun, witty take on street wear intent on spreading positive vibes in the world through fashion, and with a little help from her celebrity friends — actor Cha Eun-woo, BTS' J-Hope, BLACKPINK's Lisa, to name a few — her transition from It girl to creative director was complete.
"It's an extension of what I've already been doing as a model and an influencer," she tells E! Asia. "Now I'm able to represent, or give out a piece of me, through my clothes and the pieces that I'm creating through the line." 
This season at Paris Fashion Week, the social star brought the wardrobe of her dreams to the City of Lights for the first time ever. Showcasing her upcoming spring/summer 2020 collection, Kim took press, buyers and famous friends into her colourful world of elevated classics, pop streetwear pieces, and bedazzled accessories.
Here, we speak to Kim about what to expect from her upcoming collection, her favourite pieces, her biggest takeaways learned from starting a brand from scratch and more.
Joey Acott/Courtesy of IRENEISGOOD
E! Asia: Hi Irene! Congrats on your label's first presentation at Paris Fashion Week! Could you tell us what to expect from the SS20 collection?
Irene Kim (IK): You can expect a lot of colour, a lot of fun, playful styling pieces that I think every person can have in their closet, because we have a wide range of items: From our cell phone grip talks, to some more elevated pieces that I'm presenting for the first time.
The inspiration behind the collection was actually… You know, I grew up playing in my mother's closet, and putting on her shoes, playing with her jewellery, so I just went back to my childhood and imagined what my closet would be like if I grew up and I brought that world to life.
It's very pink and playful and colourful and we have our basic, off-duty pieces that are fit for comfort when you're travelling, or when you want to be less dressed up. And then we have the grown-up side, where there are elevated pieces: From the suit sets and the fun mini bags, and the embellished denim jumpsuits and the playful mint leopard dress. So, things that are very elevated, but also very fun and playful at the same time.
What are some of your favourite pieces from the collection? 
IK: Everything is my favourite! I am very attached to everything that my team and I created together, but some of my favourite pieces are… I'm obsessed with denim, but I wanted to do something fun and colourful, so we ended up going with some coloured denim pieces. We have a really fun cropped denim jacket with our mom jeans-style, high-waisted, banana-fit jeans — we have them in white, but they're also embellished with crystals.
I also love the embellished denim jumpsuit and very, very inspired by the '90s so we have these cool tracksuits that are very retro, kind of Fresh Prince of Bel Air vibes, and very colourful. So, I love those, and I love the sneakers — the unicorn print sneakers — because I think they're really fun and super comfortable. And we decided to do a transparent sole on them to give them a little bit of a twist!
What are three words that you would use to describe your collection?
IK: I will say… playful, just because of the colour, but also we have the mantra that keeps repeating in some of our t-shirts and hoodies, which is: "Good vibes" and "Save the unicorns", so we have this fun, playful, positive message that we have in each piece — so I would say playful.
Colourful! When I was imagining the collection, and I was working with my designers, I was like, I want the whole collection to be rainbow but not the obvious rainbow of red, orange, yellow, green, blue, purple, but kind of an off rainbow where we have pastel tones and pops of neon, and some pinks — well, lots of pink going on — so very colourful.
For the last word, I would say, pop. Because I think even if you own one piece in the collection, I think it will add a fun pop to the wardrobe you already have. I want people to be able to style the pieces with what they have already in their closet, I don't want full looks. I think it's more interesting and fun and gives more of a uniqueness if someone can take a piece of my collection and make it their own. 
Joey Acott/Courtesy of IRENEISGOOD
How do you want someone to feel when they put on your clothes and accessories?
IK: I want them to feel confident, and fun, and not take themselves too seriously! Just because for me, fashion is a representation of your personality and who you are, and it's kind of expressing that creative side through clothes, so I want people to feel good. Clothes make me feel good, and when I see clothes, it makes me happy, so that's the emotion that I want people to feel when they wear my pieces.
It's been almost two years since you've launched your label — how has the response been like? 
IK: Well, I was lucky enough to be able to present my first full collection in Paris, so hopefully I'm going down the right direction! I've just been very lucky, and blessed, and humbled to have an amazing team behind me in Korea — and now Milan as well — who are helping me move forward and take it to the next step so we can really create something different and fresh and fun. 
I've received mostly very, very positive feedback. I'm lucky to have amazing support from my friends that are also in the industry, who are able to rock the pieces as their own, and I'm very, very excited to see more people express themselves through my pieces.
What are some of the biggest takeaways you've learned in this time?
IK: I wish there was more of me [laughs] because there is so much that I want to do, and so much that I want to show. So, definitely for me, kind of organising everything and making sure that everything is on time and making sure that I stay true to myself.
Joey Acott/Courtesy of IRENEISGOOD
When I jumped into creating this brand, I wanted to make sure that it was another thing that I was starting over again. I didn't want to go in being a celebrity or a model that was creating [a brand]. I wanted it to be a fresh, new canvas where I could start from the beginning, so I've learned so much.
I guess I've kind of taken a step back and appreciated the humbleness and the freshness of starting something new again. Because when you're in an industry that is so fast, and so glamorous, sometimes you can get lost in it, you can lose yourself, so I kind of, found myself again through the creative process and as I'm building something new. So, I'm very, very excited — every day is a new learning experience.  
What other product categories would you want to expand into in the future? Any collaborations in the works?
IK: We are in the works for other categories, I cannot say at the moment, but I definitely want to. When I do something, I go all the way, so, the clothing, the apparel and the accessories and shoes are something that I'm focused on, but definitely I'm interested in expanding our categories more. Nothing is confirmed yet, but I will let you know when it happens!
This interview has been edited and condensed for clarity.