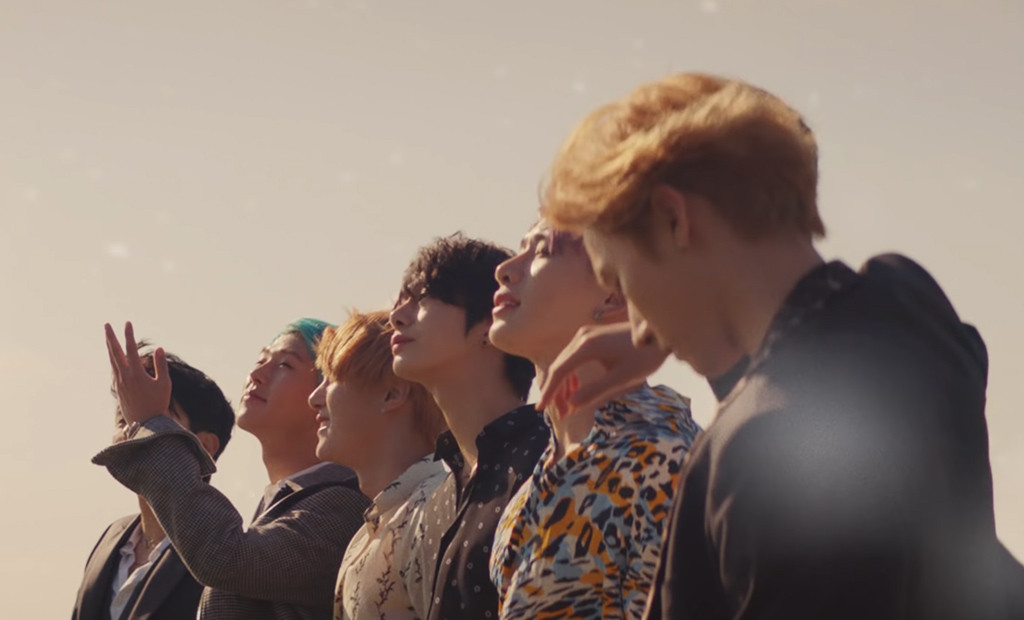 Courtesy of Starship Entertainment
Update: Monbebes, it's here! MONSTA X's music video for their brand new English single, "Someone's Someone" dropped and it certainly did not disappoint. 
The seven-member popular K-pop boy group show off a more sentimental and softer side in contrast to their leather-clad, tough-guy stage image. It's a refreshing change from their hard-hitting, base-thumping hits such as "Alligator" and "Shoot Out". 
Here, we see Shownu, Wonho, Minhyuk, KiHyun, Jooheon, Hyungwon and I.M dressed in colourful sweaters and shirts paired simply with jeans, giving off a more "boy-next-door" type of vibe. The music video, which was produced by LA-based director Nicholas Lam, was a feast for the eyes as we see MONSTA X singing in the rain, a windswept pier and a moody bar. 
Lam is known for his emotional cinematography and has worked with tops stars such as Elton John, James Bay, Jason Derulo and more. His direction fits this romantic pop ballad perfectly, showcasing the charms of each member in MONSTA X. 
Watch the full music video below: 
MONSTA X is currently busy preparing for their comeback with a mini-album titled Follow: Find You that is scheduled to drop 28 October. 
The group offered more details of their upcoming mini-album on their social media platforms, revealing the full tracklist. Follow: Find You will consist of eight new songs; "Find You", "Follow", "Monsta Truck", "U R", "Disaster", "Burn It Up", "Mirror" and "See You Again". 
The album looks to be a combination of both English and Korean tracks with Jooheon, I.M and Wonho being involved in the composition of lyrics in several of the songs.
With the group exploring new sound such as "Someone's Someone", fans will have to wait till the end of October to see if MONSTA X will continue to delve into this new sound.  
Original, 7 October: Shownu, Wonho, Minhyuk, Kihyun, Hyungwon, Joohoney and I.M. are back!
MONSTA X released their latest English-language single, "Someone's Someone", on 4 October, marking their latest release since "Love U" back in September, and June's hit single, "Who Do U Love".
"Someone's Someone" is a soulful single that shows off the group's vocals at their best — the music is a gentle electro-pop melody that perfectly complements the boys' singing, and marks a departure from the bass-heavy, clubbing-friendly beats of their past work.
The lyrics speak to being someone's significant other, saying, "Maybe this is crazy/Crazy just to wonder/Wonder if there's someone/Meant for you."
"Is there someone to give it all?" the boys wonder out loud.
While there hasn't been an official music video release along with the single, the boy band's audio version of the song on YouTube shows an evolution in MONSTA X's visual concept as well. A dreamy desert landscape softly sets off the pastel pink of the skies, while the boys don summery outfits in graphic colours.
The group was spotted filming in Los Angeles — in the rain, no less — which prompted their agency, Starship Entertainment, to confirm the news of the group's comeback in October.
A representative told media at the time, "They are currently preparing for their comeback. The comeback is expected to be in late October, but the exact timing will be revealed soon."
MONSTA X has been hitting the US market hard with their promotions. They recently performed on The Ellen Show, as well as the Life Is Beautiful festival and the iHeartRadio Music Festival.
Listen to their new single here: