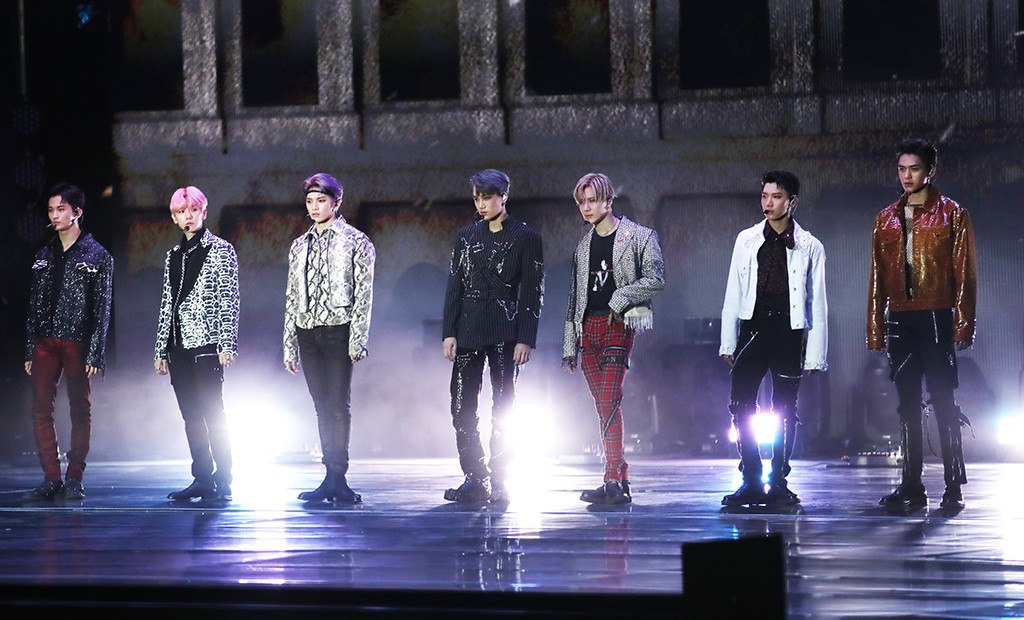 Rich Polk/Getty Images for Capitol Music Group
Unless you were doing a social media detox over the weekend, there was no way you could've avoided K-pop super group, SuperM's epic debut!
After what seemed like ages, fans finally saw EXO's Baekhyun and Kai, NCT 127's Taeyong and Mark, WayV's Ten and Lucas and SHINee's Taemin come together to perform songs off their eponymous mini-album live. 
Despite the intense pressure and expectations from both fans and industry people, the new seven-member group exploded into the music scene and performed live from Capitol Records in Hollywood with a raw yet refined energy that was simply a joy to watch. 
It was a packed schedule for all seven members: the group first had a live Q&A segment, before heading to a host of other activities, such as visiting their very own pop-up store in LA. After which, the group held their first live performance at the iconic Capitol Records Building, where legends such as The Beatles and Frank Sinatra recorded their music. 
Here, we've rounded up the highlights from this historic event in K-pop history: 
Pioneers Of K-pop
SuperM's weekend kicked off with a premiere event and a live Q&A session in both Korean and English that was streamed instantaneously on SM Entertainment's official YouTube channel.
During the live Q&A portion, the members of SuperM took questions from fans and answered them. When asked about the dynamics of the group, younger members such as Ten recounted how it was a dream come true for him to work alongside Taemin, whom he considered to be his idol and that he learnt a lot from the practise sessions with the more senior members. 
Meanwhile, Taemin also praised Taeyong and Mark, "I always thought they were so cool, to the extent that I want to start rapping."
When the group was asked who was the most surprising member, Mark revealed that Kai was the most surprising, as he was actually very gentle despite his superstar aura.
Another notable moment was when Kai admitted that he and Taemin used to think about what if they had debuted in the same group, as they have been good friends since their trainee days. "It's really amazing that it came true," Taemin said. 
The half-hour long interview was filled with poignant anecdotes from the members though we think that Baekhyun, the leader of SuperM, summarised the group's goal perfectly by stating, "We wish to be the pioneers of K-pop and bring K-pop to the next level."  
The Debut Of "Jopping"
The members revealed that they too have not seen the final product of their title track "Jopping" as they wanted to watch the music video for the first time together with their fans. 
It must have been extra nerve-wrecking for the SuperM boys as they had to watch the video with their CEO, Lee Soo-Man seated right next to them! However, CEO Lee's genuine look of pride as he enthusiastically patted the members on the back proved that SuperM had nothing to worry about.
Plus, Mark excitedly hitting Lucas whenever he came on screen and Baekhyun being shy is sure to put a smile on your face.
Watch their reactions below: 
Burning The Stage 
On 5 October, SuperM performed live for the first time to hundreds of screaming fans outside the Capitol Records Building. The special event was also livestreamed to thousands watching at home on YouTube. The group performed three songs from their new mini-album: "I Can't Stand The Rain", "Super Car" and of course, "Jopping". 
This was a huge moment for K-pop: SuperM is the first-ever K-pop group to make their debut performance in Hollywood! It is a testament to how mainstream K-pop is these days and how far groups within that genre have come, paving the way for this momentous event to happen in the heart of Tinseltown. 
It's clear that Baekhyun, Ten, Kai, Taemin, Mark, Lucas and Taeyong have been preparing for this moment for a while as all seven members showed incredible professionalism and showmanship, interacting with the crowd in English and introducing each song.
We all know how demanding SM groups' choreography can be and SuperM gave the performance their all.
"I don't even care, we will burn this stage," the group sang. 
And burn it they did.
Lester Cohen/Getty Images for Capitol Music Group
Congratulations to SuperM for their successful debut!
Watch their full performance below: