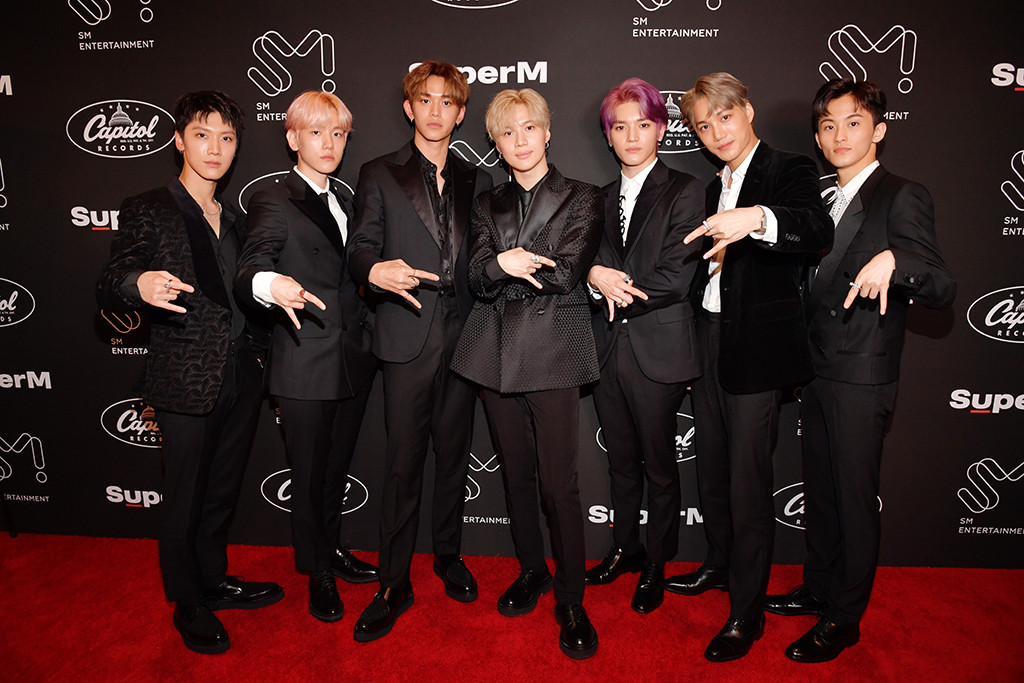 Lester Cohen/Getty Images for Capitol Music Group
Super K-pop boy band SuperM has officially made their debut and, in a nutshell, it was sensational.
EXO's Kai and Baekhyun, NCT127's Mark and Taeyong, WayV's Ten and Lucas and SHINee's Taemin made their entrance guns blazing with their first music video, "Jopping", which dropped at 12pm local time in Singapore. 
Prior to the release of the music video, the boys revealed that they hadn't seen it themselves, wanting to share the experience of seeing the video with their assembled fans at Capitol Records, although Mark dropped hints that it would show the boys as "gladiators or warriors on stage".
The music video was a visually rich fantasyland that cast the seven members as superheroes, complete with state-of-the-art CGI landscapes and explosive action sequences that had us on the edges of our seats.
From dramatic desert landscapes to futuristic cities of glass and steel, the cinematic music video moves the audience through the group's superhero-esque narrative, and will surely land them on the top of music charts worldwide.
Combining "jumping" and "popping", "Jopping" is a metaphor for the boys' unique performance style — a high octane blend of slick choreography, blood-stirring music and a revival of the iconic "SM Music Performance" style that propelled the South Korean music company's acts into the stratosphere.
In addition to "Jopping", the boy band also released their inaugural mini album, which consists of seven tracks. The other tracks include "I Can't Stand The Rain", "2 Fast", "Super Car", "No Manners" and instrumental versions of "Jopping" and "I Can't Stand The Rain".
SuperM was assembled by SM Entertainment and Capitol Records, and they are making their first stage performance as a group on 5 October. They will then kick off their North American tour, We Are The Future, on 11 November in Texas.
Fans can also head to SuperM's pop-up stores in Los Angeles and Seoul, which will feature exclusive behind-the-scenes content, practice clips and photos of the seven members.
Watch the "Jopping" music video here:
Listen to their full mini album here: