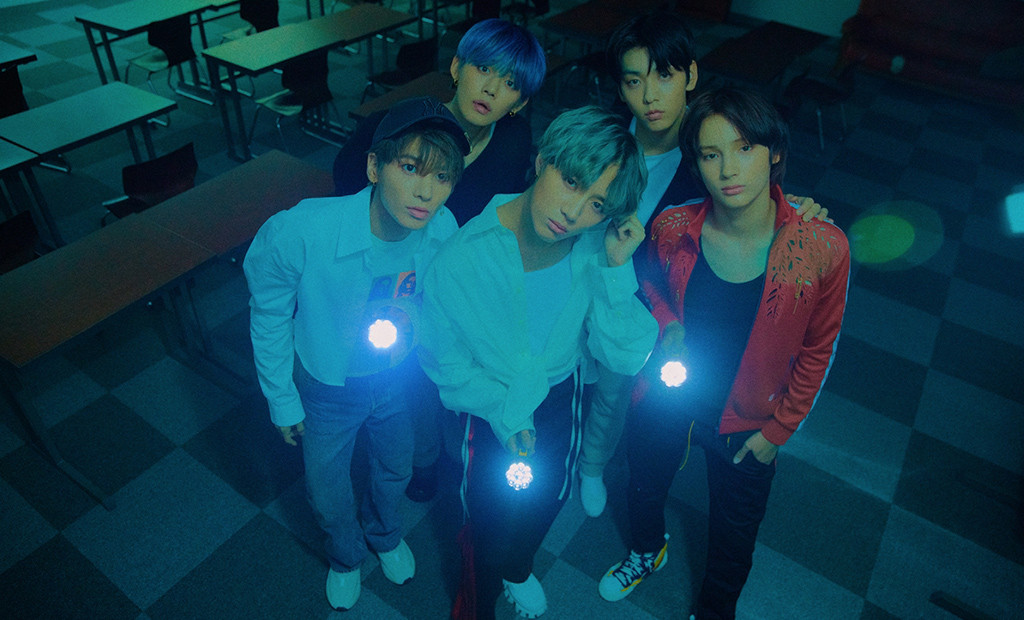 Courtesy of Big Hit Entertainment
Update, 15 October: Big Hit Entertainment's rookie boy group, TOMORROW X TOGETHER, aka TXT has released their first official teaser for their upcoming studio album that is set to drop on 21 October, 6PM KST. 
The teaser gave fans a sneak peek at the group's lead single titled "9 And Three Quarters (Run Away)". A reference to the iconic Harry Potter series, the title harks at the famous platform where wizards and witches go to catch a train to Hogwarts. You can also hear this reference as the teaser samples bits of the Harry Potter soundtrack. 
Seeing as their album is titled The Dream Chapter: MAGIC, the themes match perfectly! 
Watch the official teaser below: 
Courtesy of Big Hit Entertainment
Update, 10 October: We're less than two weeks away from TXT's first studio album release and the teasers have been coming in hard and fast.
Giving fans a first look at their concept for the comeback, the boys have dropped several photo collages that show off a new vibe.
There's an everyday schoolboy theme going on with the photo shoot, showing the boys in different parts of a school: In the library, under a school desk, hiding out in a graffitied bathroom and in classrooms.
There's also a second set of teaser photos showing the boys exploring the school at night, giving off mysterious and dark vibes.
The duality of the concept photos encapsulate the evolution of the boy band, who show off a different side of themselves in both.
The upcoming track list of their album has also been dropped! 
It is confirmed that the album will have eight tracks: "New Rules", "9 and Three Quarters (Run Away)", "Roller Coaster", "Poppin' Star", "Can't We Just Leave The Monster Alive?", "Magic Island", "20cm", and "Angel or Devil".
The track titles hint at a more fantastical and whimsical inspiration for the album, and we cannot wait to discover the "magic" that TXT have in store for us.
What's more: The boys of TXT will reportedly have their own comeback show on Mnet on 21 October at 7pm KST, just an hour after releasing their album.
It is a special comeback show called "TOMORROW X TOGETHER Welcome Back Show presented by Mnet", and will be aired on Mnet, and broadcast online through social media platform YouTube and Naver's V Live.
The show will feature a performance by the boy band of their title track, and showcase behind-the-scenes footage from their album preparations.
Original post: TOMORROW X TOGETHER (TXT) is back — and with big news to share!
The five-member K-pop boy band, which consists of Soobin, Yeonjun, Beomgyu, Taehyun and Hueningkai, has announced that they will be releasing their first studio album this October.
Yesterday, Big Hit Entertainment released a 15-second, motion graphic teaser to drop the news of the boys' upcoming album.
The album will be called The Dream Chapter: MAGIC, through which TXT will "[unfold] the second story of the boys chasing their dreams," according to a press release from Big Hit Entertainment.
It is slated to be released on 21 October at 6pm KST. More information about the album will be released in the coming days.
In August, the group delayed their comeback due to several members' health issues: Soobin, Taehyun and Hueningkai were all down with a bout of conjunctivitis; fellow member Yeonjun was also unable to participate in the 2019 M2 X Genie Music Awards as he "began to experience sudden back pain and received a thorough medical examination and treatment at a nearby hospital," according to a press release from Big Hit Entertainment at the time.
The boy band also performed at several fashion shows in Japan this August, making appearances at Kansai collection's Fall/Winter 2019 show and Tokyo Girls Collection's Fall/Winter 2019 show. 
TXT debuted earlier this year in March with their mini album The Dream Chapter: STAR, and gave us hits such as "Crown" and "Cat & Dog". "Crown" broke the record for the most viewed K-pop debut music video within 24 hours for a boy group, so there's much to look forward to from TXT's first studio album!
In the meantime, watch the concept trailer for The Dream Chapter: MAGIC below: