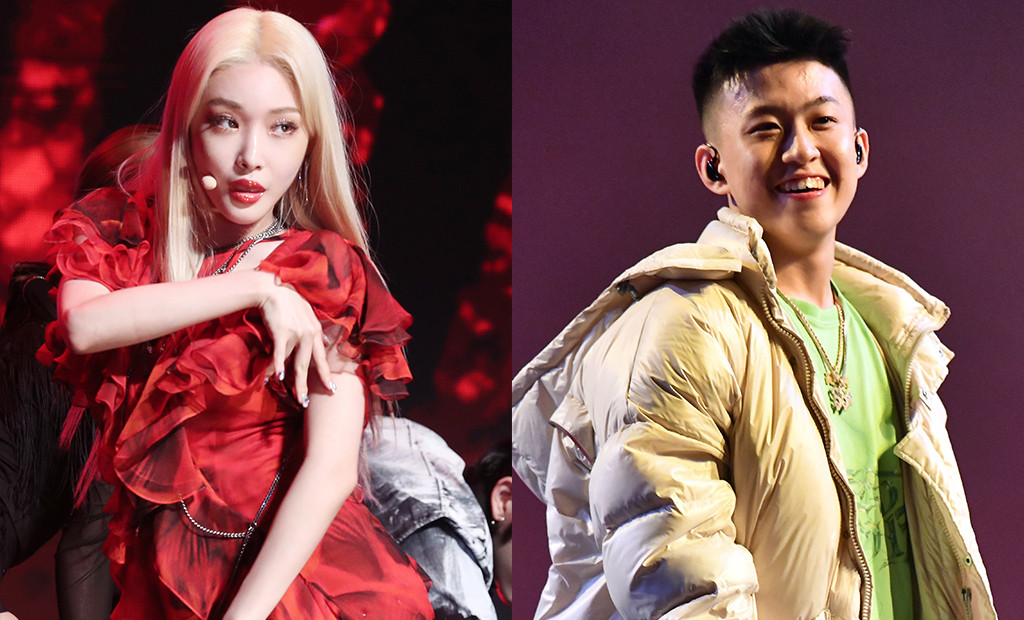 Scott Dudelson/Getty Images/JTBC PLUS/Imazins via Getty Images
An epic K-pop collaboration has just been revealed and fans all over the world are reeling!
K-pop artist Chungha took to Twitter today to unveil a new digital single that she will be releasing on 3 October with Indonesian rap superstar, Rich Brian. 
The I.O.I member showed fans a little clip of what looked to be a brand new music video starring Rich Brian rocking a bold mullet while holding an '80s-style brick phone. As Rich Brian comically locks eyes with the camera, the scene then transitions to one where Chungha and him are riding a motorcycle into the night.
The overall vibe of the clip is very retro from the props used to the fashion that both artists donned. 
Rich Brian and his label, 88rising, also posted the same teaser on their social media platforms to hype up the release of this brand new collaboration.
Watch the teaser below:
While Chungha has collaborated with many artists, including rappers such as Nucksal and Mommy Son, this will be her first one with an international artist. Rich Brian, previously known as Rich Chigga, has become a force to be reckoned with since his viral music video titled, "Dat $tick" was released in 2016. 
After changing his name, the 20-year-old Jakarta-born rapper has attained incredible success, selling out shows all over the world and recently releasing a brand new album titled The Sailor. His second title track from the album, "Kids" received critical acclaim for inspirational lyrics and putting Indonesia in the limelight. 
Meanwhile, it has been a busy year for Chungha too, who released her EP, Flourishing on June 2019 after her single "Gotta Go" went platinum in the local music charts in January this year. In the EP, fans see a different side of the idol as she debut her first hip-hop song titled "Flourishing" that featured her rapping in the track. Perhaps this is a taste of what's to come for the singer's latest collaboration? 
We'll be eagerly waiting for 3 October to find out.