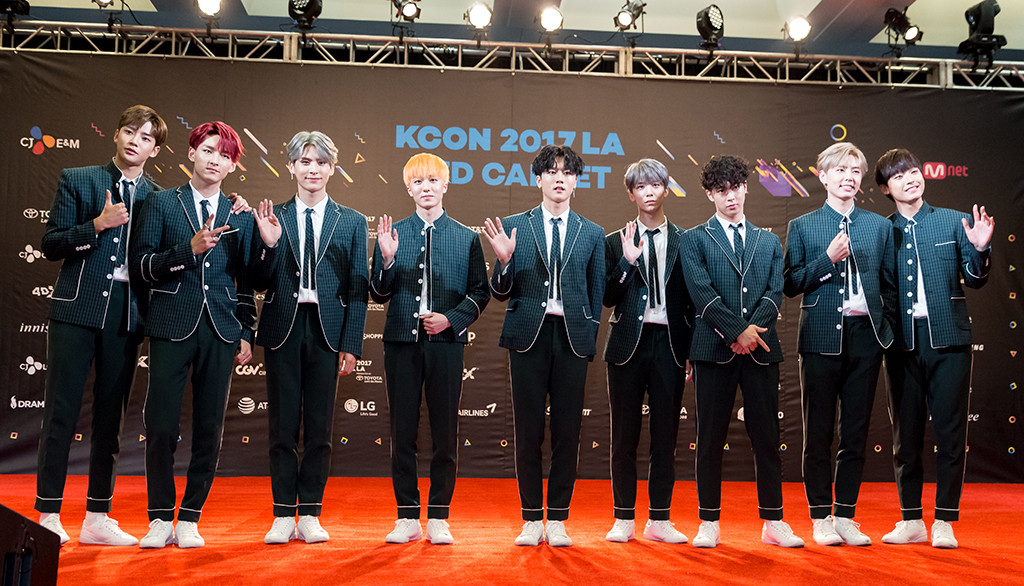 Greg Doherty/Getty Images
While some of the chart-topper groups take their momentary breaks away from the spotlight, nine-piece boy group SF9 is rising to the occasion with a presence that surprises, excites, and makes you wonder why you've only come to appreciate their tasteful glides on the dance floor right this moment.
Sensational Feeling 9, FNC Entertainment's first dance-focused boy group, is known to be very experimental with their sound ever since their debut in late 2016. Taking on both the saccharine and svelte with equal flair, the bold "Fanfare", the spicy "O Sole Mio", the anthem "Now Or Never" and the futuristic "RPM" all showcase the group captivating in various charming ways.   
This underrated group not only has a solid discography, but also has a team of well-rounded members who aren't afraid to be vulnerable in front of their fans — that is one of the main things that set them apart from the rest. While each of them are integral to SF9, they are candid about their own personal dreams and goals too.
This is why SF9 is probably one of the more openly ambitious groups out there, daring to make it happen not just with their music, but their stage presence, TV personality, and each of their own voices.
While those unfamiliar with the group may recognise a face or two from popular dramas and films such as Sky Castle and About Time, their sonic edge and futuristic concepts will surely have you well acquainted with them in no time. For starters, here are some things to know about SF9.
1. The number "9" in their name sounds similar to a Chinese word that stands for "longevity". It is believed by fans that this is what the group really is about - being the forever friend that will always be by their side.
2. The group was originally part of FNC Entertainment's trainee group Neoz School.
3. They were introduced to the scene via Mnet's idol survival show "d. o. b." (Dance or Band), the group being called Neoz Dance then, winning against a 4-member group known as Neoz Band, now Honeyst.
4. The made their official debut on 5 Oct 2016 with their first album "Feeling Sensation" and lead track "Fanfare", a majestic track with lots of bravado.
5. They made their official Japanese debut on 6 June 2016 with the Japanese version of "Fanfare" and ranked 1st on Tower Records Chart for single albums and fourth on the Oricon Chart.
6. The group won the "Rising Star" Award from the 2018 Asia Artist Awards, but are still working towards getting their first 1# on Korean Music Shows.
7. The nine members include Youngbin (Kim Young-bin), the leader of the group, Inseong (Kim In-seong), Jaeyoon (Lee Jae-yoon), Dawon (Lee Sang-hyuk), Zuho (Baek Ju-ho), Rowoon (Kim Seok-woo), Taeyang (Yoo Tae-yang), Hwiyoung (Kim Young-kyun) and Chani (Kang Chan-hee).
8. Inseong is the oldest being born in 1993, and Chani is the youngest, born in 2000.
9. They announced on their 100th day since debut that their official fan club name was going to be called "Fantasy". In a V Live broadcast chat with their fans, they explained that as fantasies are about realising desires, SF9's fans will be what enables them to realise their own fantasies, and in turn SF9 will be part of a beautiful fantasy for fans. The word "fantasy" is also an abbreviation of these words: "fantasy", "accompany", "next", "together", "affect", "SF9" and "you". How sweet! 
10. The group has also managed to nurture a lot of aspiring actors — Chani, Rowoon and Zuho have all starred in dramas and movies before.
11. Dawon was the male lead in the music video for AOA Cream's "I'm Jelly Baby".
12. Not only can maknae Chani act, he can also play the piano and the violin.
13. Zuho, the main rapper of the group, originally auditioned to be a vocalist with an acoustic mix of Justin Bieber's "Never Say Never". On the other hand, Rowoon, the main vocalist, auditioned with a rap to Dynamic Duo's "Guilty". Guess things work out!
14. Inseong is the only member who is fluent in English because he previously studied in London for a bit. He was also a former SM trainee.
15. The music video for the Latin-infused track "O Sole Mio" was filmed in California when they were around for KCON LA in 2017.
The group is currently on their Asia tour "2019 SF9 LIVE FANTASY #2 UNIXERSE", and will be stopping by Manila, Taipei and Bangkok within the year.
Inseong also recently went on a short hiatus from official schedules as he suffered an unfortunate sternum fracture. He is expected to rejoin the group soon after being on break since the beginning of August.