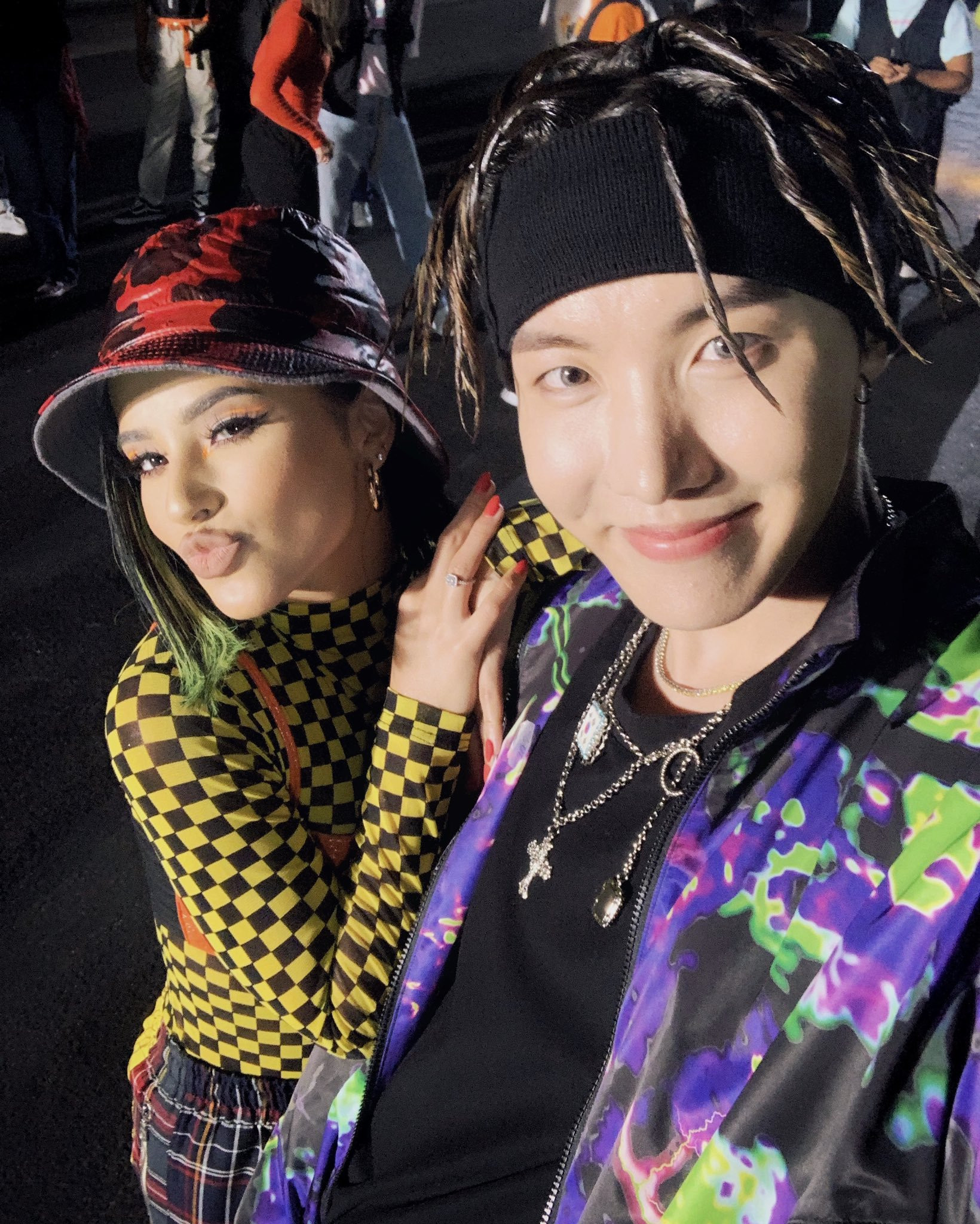 Twitter/BTS
Update: "Chicken Noodle Soup" has dropped, we repeat, "Chicken Noodle Soup" has dropped!
The old school, hip-hop track has gotten a modern makeover from BTS' J-Hope and American singer Becky G. As promised, the pair have reimagined the classic and given it a personal touch with respective lyrics in Korean and Spanish.
Big Hit Entertainment tweeted out a download link  earlier for the collaboration track, which includes an MP3 link, the cover art, as well as the lyric sheet.
You can download the links from Google or Dropbox in the tweet below:
Becky G and J-Hope have also been tweeting at each other all day to drum up excitement for the track. Choice selects from their cute convo include J-Hope uploading a video of himself ladling — what else — chicken noodle soup, or "Caldo de Pollo" as J-Hope captioned it, and Becky G tweeting, "Chicken Noodle Soup" in Korean.
See the exchange below:
Watch the music video below:
The secret's out: BTS' J-Hope and American singer Becky G are collaborating on a new single, to be released later today.
J-Hope announced the collaboration with Becky G on "Chicken Noodle Soup", a recreation of the popular song by American musician, DJ Webstar and rapper Young B. In addition to the song, the pair will also be releasing a music video featuring themselves, and a dance crew of 50 from around the world.
According to The Korea Times, J-Hope wrote rap lyrics in Korean for the song, while Becky G expressed her own lyrics in Spanish, giving the iconic hip-hop song an international feel. 
"Chicken Noodle Soup" was reportedly the first song that J-Hope learned to dance to, and Becky G also fell for the song as a child —  so this collaboration marks a full circle moment for both singers.
Fans started speculating about a potential collaboration between the two singers earlier this week.
Just a few days ago, Becky G issued a teasing tweet. ""Soooo... #BeckyHasAnotherSecret." The official BTS members' account then replied, "Hey @iambeckyg, I have a secret, too.. #CNS". Becky then replied with a string of emojis hinting at keeping a secret.
Becky G met the boys of BTS at the Billboard Music Awards earlier this year.
Last year, J-Hope released a mixtape, "Hope World", which topped charts worldwide, so this new release is highly anticipated.
"Chicken Noodle Soup" will be released this evening through BTS' official social media channels.