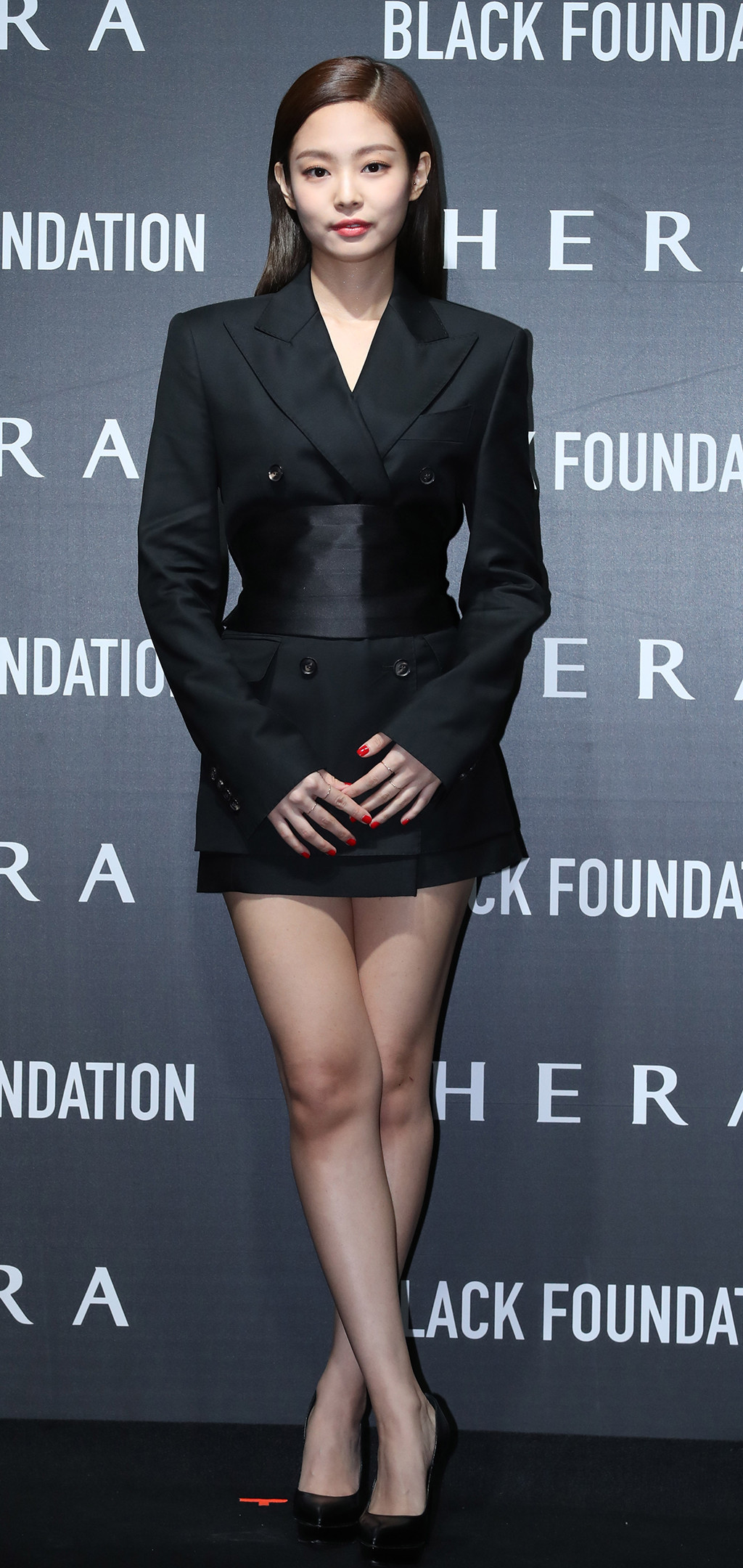 JTBC PLUS/Imazins via Getty Images
We often see K-pop girl groups and top South Korean actresses front beauty campaigns such as BLACKPINK's Jennie for Hera and Song Hye-Kyo for Sulwhasoo. But equally influential are the male idols and actors who have fronted beauty campaigns and become ambassadors for beauty brands. 
In South Korea especially, it is not uncommon to see well-groomed men sporting natural makeup on the daily, and to see male idols speak openly about their own beauty regime, from skincare to makeup. Now, we are seeing this trend spread to the West where some of the biggest beauty brands have appointed male Korean stars to front their own beauty campaigns to a global audience. 
According to a CNN report, about three quarters of South Korean men undertake a beauty or grooming treatment (from salon hair treatments to at-home facials) at least once a week and the number increases dramatically if we reduce the sample size to males born after the year 2000. They consider these beauty regimes part of grooming and maintaining a clean appearance.
A major contributor to this is, of course, K-pop, where stars perform with a full face of makeup, complete with eyeshadow and lip colour.
While initially this was to prevent male stars from looking "washed out" on camera, it eventually transformed into an aesthetic that is synonymous with the K-pop image. 
Today, we're looking at some the pretty K-pop boys who not only deliver incredible visuals to beauty campaigns but also breaking male stereotypes on a global scale. 
Kang Daniel for Givenchy Beauty 
Solo artist and CEO of KONNECT Entertainment, Kang Daniel has been announced to be an official brand model for Givenchy Beauty. This is the latest in a string of achievements that the 22-year-old former WANNA ONE member has been racking up since his solo debut in July 2019. The French Maison revealed new campaign shots of Kang modelling Givenchy's signature Le Rouge lipstick line. 
He joins the ranks of American actress, Liv Tyler who has been the brand's beauty ambassador for over a decade. This is also the first time the brand has a male celebrity front a beauty campaign for makeup. Previous campaigns that featured male celebrities such as Simon Baker and Aaron Taylor-Johnson were all for men's fragrances. 
Courtesy of Givenchy Beauty
Lee Dong-Wook for Chanel Beauty
Charismatic South Korean actor Lee Dong-Wook was announced to be the face of Boy de Chanel, the French maison's cosmetics range targeted towards men. The line features a complexion product, lip balm and brow product, among other things. It focuses on evening out the skin tone and overall enhancing one's natural features in a subtle manner. 
This is reflected in the campaign photos of Lee which focuses on his smooth and even complexion as well as defined eyebrows. As a 37-year-old veteran actor, it looks like Chanel is tapping on not only Lee's good looks, but also his gentlemanly demeanour and reputation in the South Korea's film industry. 
Jackson Wang for Armani Beauty
This June, GOT7's Jackson Wang was announced as one of the faces of Armani Beauty. He performed at the Armani Box in Shanghai and attracted hundreds of screaming fans to the pop-up. Campaign images were also released where the rapper posed with Giorgio Armani's Si Passione which happens to be a ladies fragrance. 
He is the first male celebrity to be the face of a Giorgio Armani beauty campaign for a female fragrance. Wang can now stand alongside Hollywood actress, Cate Blanchett, who was the original face of the aforementioned fragrance. 
It is also worth mentioning that Wang's collaboration with French fashion house, Fendi also featured their iconic baguette bag which was traditionally targeted only for women.
This dashing idol is truly a trendsetter! 
BTS for VT Cosmetics 
The Bangtan Boys have been the face of many brands. The group's most notable beauty collaboration was with VT Cosmetics, a K-beauty brand that immediately shot to fame after BTS became their ambassadors. VT Cosmetics also released capsule collections with BTS that includes not only skincare products but also makeup, including cushion foundations and lip tints. 
Naturally, the products were an instant hit and since then, BTS has branched out, launching a sister fragrance brand together with VT Cosmetics called L'atelier des Subtils. These unisex fragrances can be worn by anyone. This year, BTS also became the face of the skincare brand, Mediheal too. 
The BTS boys practice what they preach and constantly advocate skincare as an important part of self-care. In an interview with Allure, Jin said, "Skin is what completes my appearance. I value my looks very much, so it's equally important to take good care of my skin — that's a pivotal part of my face."
Can we get an amen?!
MONSTA X for TONY MOLY
Last year, K-pop boy group MONSTA X was announced to be the face of K-beauty road-shop brand, TONYMOLY. In their first commercial with the brand, the seven-member group showed a different, more adorable side of themselves to the audience.
MONSTA X is often synonymous with powerful and masculine performances. So, it was refreshing to see these handsome men not just pose with the product, but actually apply them to their lips to show how they would wear it. 
Check out the video below: