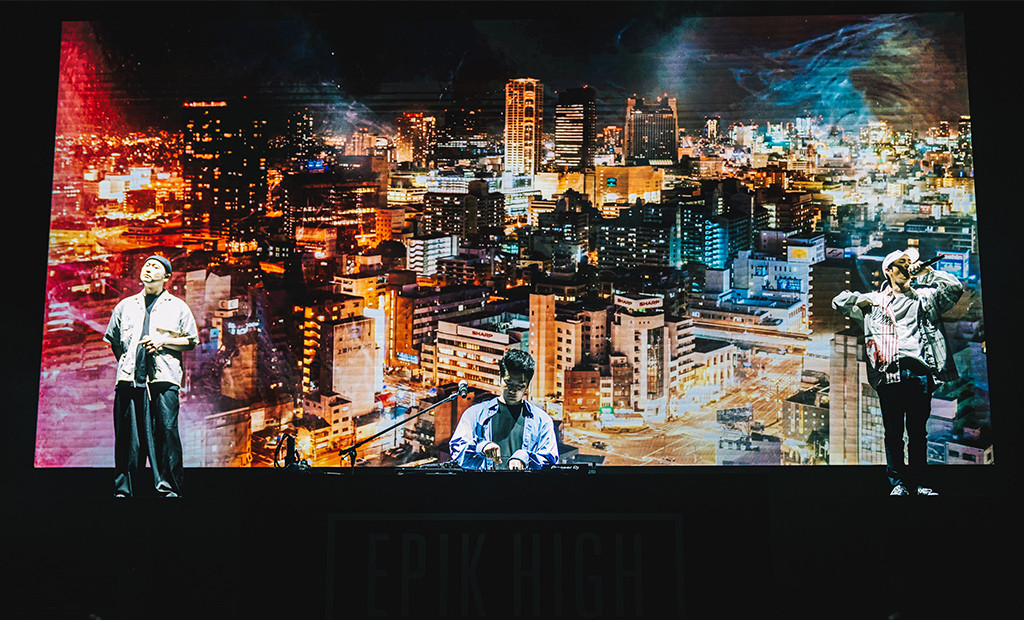 Courtesy of CK Star
When fans heard that hip-hop trio Epik High would be having their first ever concert in Singapore, it was almost too good to be true. The group made their debut in 2001 and have released 10 studio albums and EPs along the way. Over a decade later, fans of rappers Tablo and Mithra as well as DJ Tukutz can finally see them in person and the trio did not disappoint. 
On 14 September, Epik High took the stage at The Coliseum at Resorts World Sentosa. As one of the pioneers of South Korean hip-hop, not only were VIP tickets sold out months before the show, fans started queueing in the afternoon despite the Singapore heat. 
This was a testament to Epik High's presence and importance in the K-hiphop industry as not many artists can maintain their popularity after being active for almost 18 years. Fans got a taste of all their hits from the trio's impressive discography with hits like "Love Love Love", "1 Minute 1 Second" and "Born Hater". The group has won multiple awards including Best Hip-Hop Artist, Album of the Year for Remapping The Human Soul in 2007 and countless more. 
We're bringing you all the epic moments and incredible highlights from Epik High's first ever show in Singapore, from Tablo's heartfelt message to fans to DJ Tukutz' hilariously slick dance moves. 
Here they are: 
Starting Off On A High
True to their group name, the hip-hop trio started their show on an epic high. DJ Tukutz dropped the beat and veteran rappers, Tablo and Mithra set the mood with the song "In Seoul" before transitioning to the banger that is "NO THANXXX". 
The track originally featured WINNER's MINO and veteran rapper, The Quiett. As they were absent, DJ Tukutz surprised fans by rapping their parts perfectly, showing that he is not just your average DJ. 
Tablo's Hilarious Introductions
Some of the best moments that night revolved around Tablo chatting with the audience. The Stanford graduate has an impeccable sense of humour and had the crowd in stitches with his overly grandiose introductions of the members. 
Epik High's introduction was filled with quotable quotes from DJ Tukutz being called "the greatest entertainer in the history of K-pop" to dubbing Mithra the "cutest of Epik High" in a WWE-style announcement, the group is constantly poking fun at one another. It felt like we were all a bunch of friends, hanging out and jamming to great music.
Tablo also shared an important message at the beginning of the concert, saying, "If you came here today from a place of stress, pain, worry or heartbreak... we WILL take that all away tonight." The rapper has always included messages on mental health in his lyrics, depicting and sharing his own personal struggles. The group's honest lyrics with unique sound has built a strong connection with fans, all over the world. 
DJ Tukutz Slick Moves 
The live performances did not just include sick rap verses and heart-thumping beats. There were also dance moves, courtesy of DJ Tukutz who was definitely the mood-maker of the trio. The DJ frequently got out of his deck to interact with the crowd and even showed off his slick b-boy moves and even moonwalking. 
Of course, he did all this with his signature poker face. DJ Tukutz is known for delivering jokes with a generally expressionless demeanour that makes the punch line even more hilarious. Fans can't help but fall further in love with the quirky ahjusshi that is Tukutz that night. 
Tablo Trolls Mithra 
Another hilarious highlight of the concert was when Tablo trolled his fellow member, Mithra by mistranslating his words tremendously. When asked how he felt, Mithra initially said, "I'm upset that it took us so long to come here. I'm sorry." He then went on to talk about how glad he is to be there. However, everything got lost in translation as Tablo began to mistranlate Mithra's words in the most entertaining manner. 
The leader of Epik High ended up giving Mithra an unbelievable yet side-splitting story of how he grew up in the wilderness and did not know "the warmth of a human touch" until he came to Singapore that day. Mithra began sensing something was off when the audience started laughing, but the situation became even funnier when Tablo began to assure him that he is translating him verbatim. 
Check out the clip below for a snippet of this moment: 
The show was filled with incredible live performances and moments that made the crowd laugh and cry. Epik High showed fans that they truly are veterans in the South Korean music industry and most importantly, the biggest highlight were the energetic fans who jumped up and down and cheered from beginning to end. You could really see how happy they were to see their favourite artist live after all this time. 
Epik High just wrapped a massive world tour this year through North America, Europe and Asia, ending on a high note in Singapore.