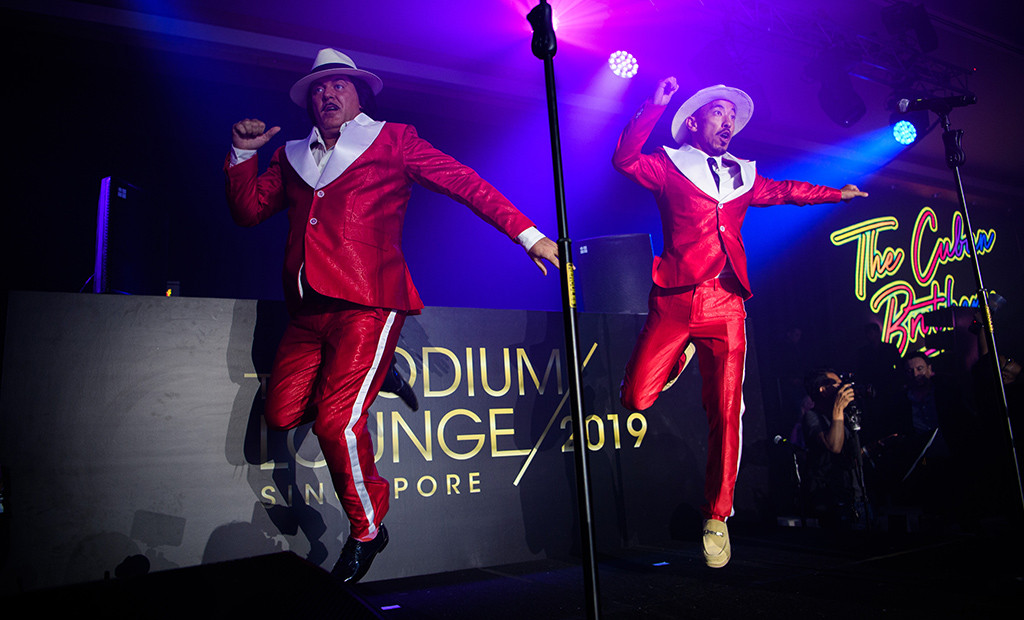 Ashley Mak for E! Asia
Last weekend, the city of Singapore transformed into a winding race track, hosting one of the biggest night races in Formula 1. Top racers such as Sebastian Vettel and Lewis Hamilton zoomed through the city skyline, past thousands of spectators who were eager to see who would win the Formula 1 Singapore Airlines Singapore Grand Prix 2019. 
Spoiler alert! Four-time Formula One World Champion, German racing driver Sebastian Vettel took the number one spot that night with Charles Leclerc and Max Verstappen right behind him. After the heart-stopping races and unbelievable main stage performances by music legends like Muse and Red Hot Chilli Peppers, the crowds adjourned to the after-parties held around the area. 
The Podium Lounge, located at the Ritz Carlton, Millenia Singapore is one of the biggest after-parties where celebrities and VIPs head over to party the night away. With Melanie C, sporty spice herself and British actor and singer, Raleigh Ritchie (aka Grey Worm, Commander of the Unsullied in Game of Thrones) taking the stage, here are some of the highlights of the glamorous weekend at Podium Lounge. 
Sporty Spice Spins!
On Friday night, Melanie C took over the DJ deck and filled the entire lounge with heart-pumping EDM. A member of the iconic Spice Girls and fresh off of their Spice World 2019 tour, Mel C was back behind the DJ deck for the grand opening of Podium Lounge. 
True to her Spice Girls persona, Sporty Spice rocked up the red carpet in athleisure chic that night with a blazer and sports bra combo that brought fans back to the group's "Wannabe" days. 
The Arrival of a Rock Star
Fresh off the main stage, lead singer of acclaimed British rock band Muse, Matt Bellamy graced the night with his lovely wife, Elle Evans. 
The Grammy-award winning artist took the time to have a little chat with E! Asia before joining the crowd for a night of great music and copious amounts of champagne. After performing to an enthusiastic audience in the Singapore heat, Bellamy looked refreshed and was ready to have a good time with his partner. 
Watch this space for an exclusive interview with this charismatic rock star, coming soon! 
Grey Worm Killed The Stage!
He may be well-known for his role in the blockbuster TV series Game of Thrones, but unbeknownst to some, Raleigh Ritchie is also an amazing British singer-songwriter.
The 29-year-old musician gave an energy-packed and passionate performance at the Podium Lounge of original songs from his 2016 studio album, You're A Man Now, Boy. 
Ritchie awed the audience with his smooth singing voice with his hit song, "Bloodsport '15" and skilful rapping in the feel-good track "Keep It Simple". Just like his performances on the big screen, Ritchie was committed to his songs, emoting every lyric and genuinely giving it his all. 
Thanks to Ritchie, day three ended with a bang!