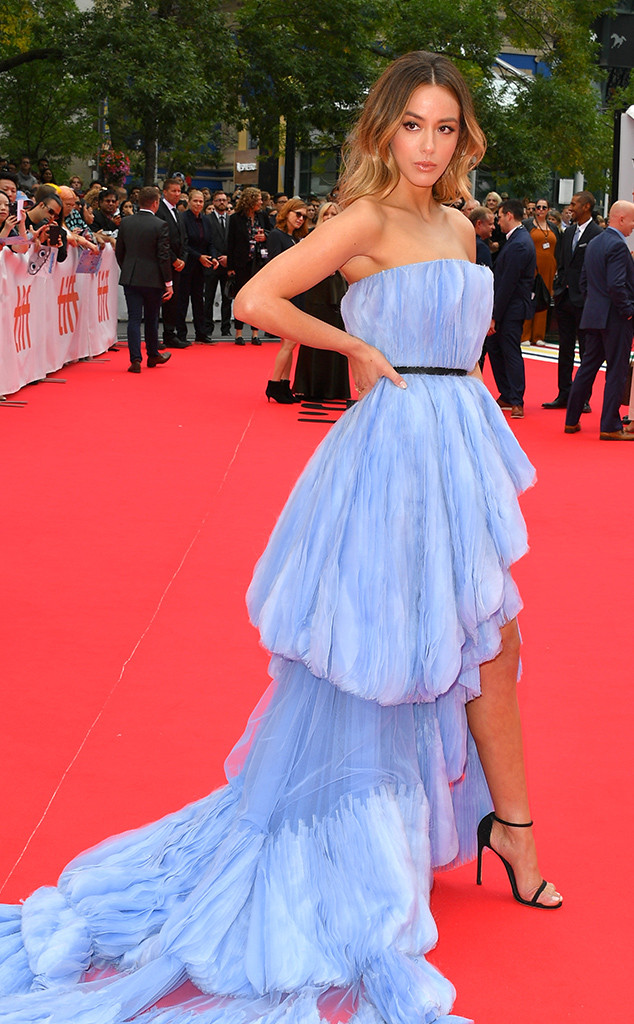 George Pimentel/Getty Images for TIFF
27-year-old American actress, Chloe Bennet is the star of Dreamwork's latest animation film, Abominable. 
Set in Shanghai, the action-packed animation follows the story of Yi, played by Bennet, who encounters a young Yeti on the roof of her apartment. The two embark on an epic adventure to get the Yeti back home to his family. 
Born to a Chinese father and American mother, Bennet has lived in both China and America and is fluent in Mandarin and English. Though she might not look stereotypically Asian, she has experienced hardship as a mixed race actress in Hollywood before making her big break in the TV series, Marvel's Agents of S.H.I.E.L.D. In the series, Bennet was part of the main cast, playing Daisy Johnson.
From a superhero to a teenage Yeti-sitter, Bennet has had a colourful life indeed. Here are five things you didn't know about this rising star:
She Changed Her Name For Hollywood
Bennet is actually not her real last name. Bennet was born as Chloe Wang and was active under her real name for a long while. 
She then changed her last name to Bennet, after her father's first name. Her reason for that was because she was not getting booked due to her Asian name. In a 2016 interview with The Daily Beast, Bennet revealed, "The first audition I went on after I changed my name, I got booked. So that's a pretty clear little snippet of how Hollywood works."
The actress received backlash initially when fans found out that she changed her last name as some perceived it as she was ashamed of her Chinese heritage. In her frustration, Bennet had responded to a malicious comment with, "Changing my last name doesn't change the fact that my BLOOD is half Chinese, that I lived in China, speak Mandarin or that I was culturally raised both American and Chinese. It means I had to pay my rent, and Hollywood is racist and wouldn't cast me with a last name that made them uncomfortable." 
The response has since been deleted though Bennet continues to be outspoken about representation in film and any prejudice towards minorities in Hollywood. 
Amy Sussman/SHJ2019/WireImage
She Moved To China To Pursue Music
Though Bennet was born in Chicago, she made the bold decision to move to China in order to pursue a career as a singer. More impressively, Bennet made this life-changing decision at the tender age of 15. 
She lived with her paternal grandparents in Shanghai at that time and learned Mandarin. Bennet successfully released two singles in 2011 titled "Uh Oh" and "Every Day In Between". These songs were entirely sung in Mandarin by Bennet before making an English version after the fact. 
Watch her first music video below: 
She Starred In Big Bang's Music Video, "Tonight"
This might come as a surprise, but you might recognise Bennet for another reason. She has rubbed shoulders, literally, with popular K-pop boy group, Big Bang. 
Bennet played the love interest in Big Bang's "Tonight" music video, back in 2011. She even shot rather intimate scenes with G-Dragon, T.O.P, Seungri, Daesung and Taeyang. 
Don't believe us? Just watch the video below: 
She Comes From A Large Family
Bennet came from a very diverse family. Her father is Chinese while her mother is Caucasian. On top of that, the actress had seven brothers and not all of them are biological. 
The actress has two foster brothers and one adopted brother of African American and Mexican-Filipino descent respectively. 
This is why lack of representation and discrimination hits so close to home for Bennet. 
She Is A Mental Health Advocate
Last year, Bennet revealed that she suffered from mental health issues since childhood. She was diagnosed with ADHD and struggled with anxiety and depression throughout her life. 
She spoke up about her struggles in a mental health campaign ran by Child Mind Institute, where she said, "My advice to you is you are not alone. Do not feel ashamed for being this way. You are not crazy. The power of social media can be used for good."
Listen to her heartfelt and personal message regard mental health below: 
Abominable hits theatres on 26 September in Thailand, 2 October in the Philippines, 4 October in Indonesia, Vietnam, and Taiwan, and 7 November in Singapore and Malaysia.