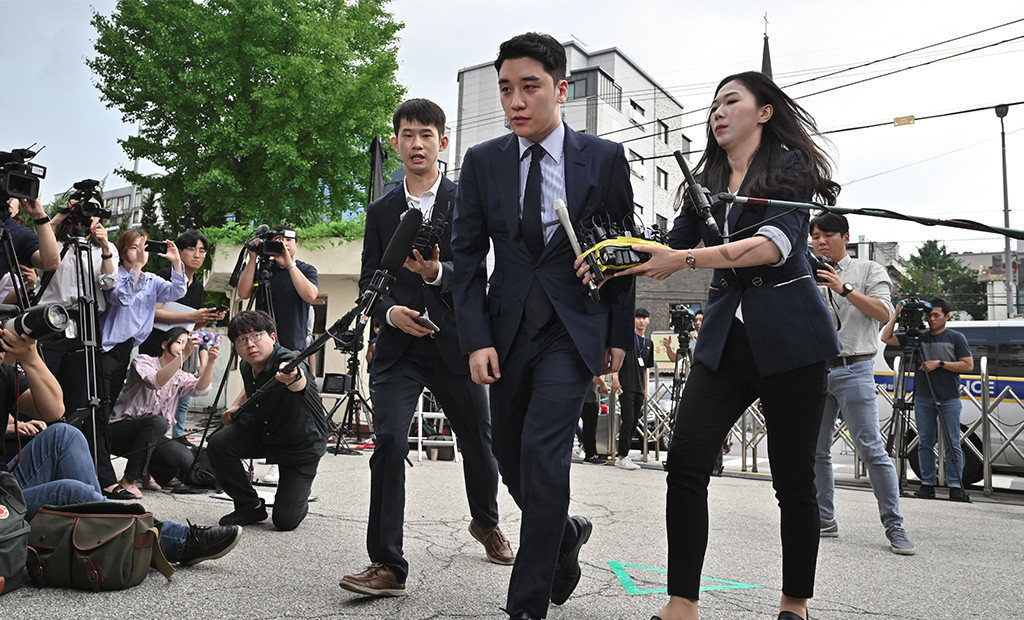 JUNG YEON-JE/AFP/Getty Images
On 28 August, former Big Bang member, Seungri arrived at the Seoul Metropolitan Police Agency at 9.55am KST. The 28-year-old idol was reporting to the Sophisticated Crime Investigation Division of the local police agency after being summoned for questioning. This is Seungri's first public appearance in three months since being embroiled in the Burning Sun scandal that made international headlines. 
Seungri is currently being investigated on the suspicions of illicit gambling and alleged violation of the Foreign Exchange Transactions Act. The singer arrived to a crowd of reporters waiting outside the police station, dressed in a simple navy suit and black tie. 
"I will diligently cooperate with the police investigation," he stated to the waiting press before bowing his head and apologising. 
He then refused to answer any questions thrown at him regarding his alleged gambling charges and proceeded into the station. 
Both he and ex-CEO of YG Entertainment, Yang Hyun-suk are being investigated for the same alleged gambling charges and the latter will be questioned by the police tomorrow, 29 August. 
Gambling is illegal in South Korea and anti-gambling laws apply even though the act was carried out overseas. This is especially the case when habitual gambling and large amounts of cash are involved. Seungri allegedly gambled around 2 billion won (approximately $1,654,000) at the MGM Grand Las Vegas. Due to the large sum, the singer was also booked with additional changes of violating the Foreign Exchange Transactions Act. 
At the beginning of 2019, Seungri was embroiled in the Burning Sun scandal that snowballed into a prostitution and drugs scandal, leading to the singer retiring from the industry in March 2019. Investigations of the aforementioned scandals are still ongoing separate from today's questioning. 
The story is still developing. Stay tuned for more updates.