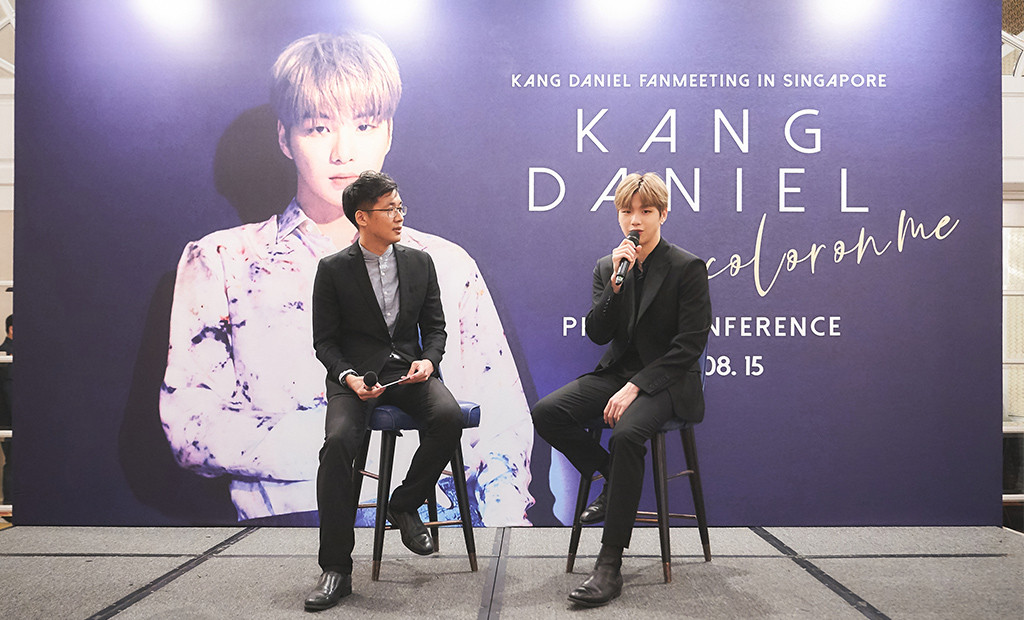 Courtesy of KONNECT Entertainment
On 16 August, 22-year-old K-pop singer and CEO of KONNECT Entertainment, Kang Daniel held his first ever fan meeting in Singapore at the National Indoor Stadium. Yes, you read that right, the national indoor stadium! A testament to Kang's undeniable star power, keep in mind that Singapore's indoor stadium has a seating capacity of 55,000 pax. VIP tickets with added perks were sold out and fans from all over Asia gathered in Singapore to see the former WANNA ONE member. 
The day prior to his epic fan meet, Kang held a closed door press conference with local media outlets to promote not just his fan meet the next day, but also discuss his latest EP titled Color On Me. Kang entered the press conference room, full of reporters and photographers dressed in a sleek black suit, looking very much like the CEO that he is. 
Kang pulled the curtain back on his process of creating his record-breaking EP. He said, "I wrote all the lyrics of the tracks in this album. Usually, when it comes to debut albums, artists tend to work with lyricists and composers. However, I wanted to add my own colours and express different facets of myself for the fans," and for that reason Kang had a heavy hand in the production of his EP.
Courtesy of KONNECT Entertainment
He expressed that for Color On Me, Kang wanted to show styles and colours that are different from anything he has done with K-pop group WANNA ONE. He went to say that he wants to continue revealing new sides of himself through his music and that he is very willing to explore darker and heavier concepts with his next project. 
Speaking of colours, the conversation naturally led to what colour represents Kang best. "Black," he answered simply, "Because when you mix all the colours together, you get black." 
Kang recalled his first time being in Singapore. Back then, he was in the sunny island with his WANNA ONE members for a concert. He said that his biggest memory of Singapore were the fans and the overwhelming response he and his members got performing there. "I hope the response will be the same as last time," Kang said, referring to his fan meet that was happening the next day. 
Kang also flexed his English muscles by sharing his recommendations of what to do at Busan, his hometown in South Korea of which he is an official ambassador for. 
Watch the clip below:   
When asked what he'd like to do in Singapore while he's here, the singer revealed that unfortunately he doesn't have any free time. However, if he did, he would love to just walk around the city and sight-see as he has yet to visit famous tourist spots in Singapore. 
The host of the press conference gave Kang some suggestions and even challenged Kang to try out durian. Known as the "King of Fruits", durian is a tropical fruit that is very popular in Southeast Asia. It's notorious for having a strong odour and an acquired taste. Kang laughed and said that he is game to try it, if the opportunity arises. 
And it did! At his official fan meeting the next day, he was presented with durians and Kang was a good sport for trying it out in front of a crowd of hundreds no less. 
Watch his cute reaction to the infamous fruit below: 
Kang noted that "it smelt like fish" but said that it didn't taste bad at all. What a champ!
Congratulations to Kang Daniel for his successful press conference and fan meet in Singapore.
Stay tuned for E! Asia's video interview with the star — coming soon!