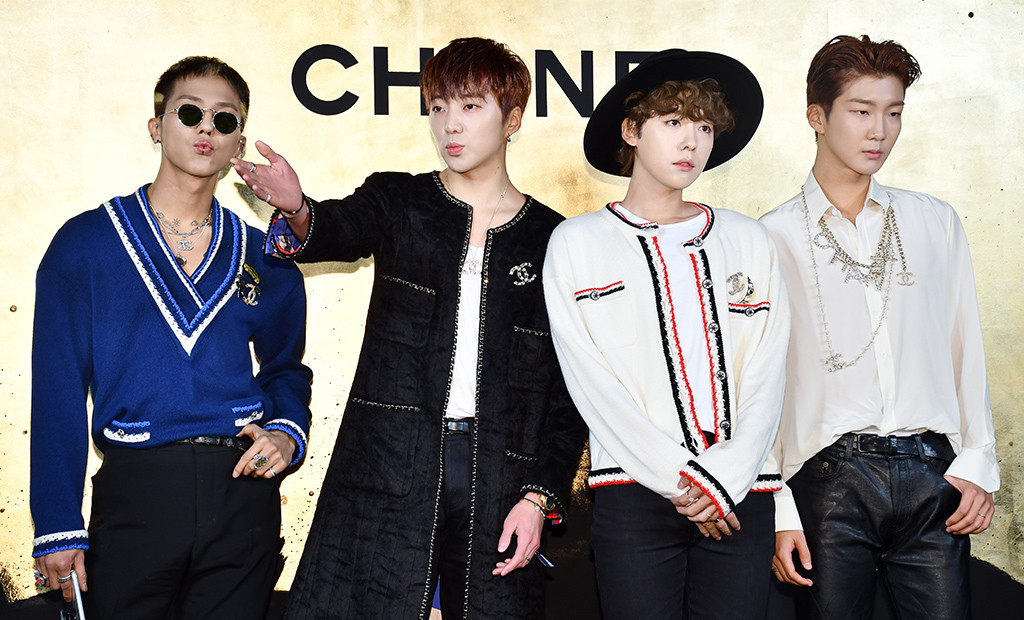 The Chosunilbo JNS/Imazins via Getty Images
Four-member K-pop boy group, WINNER celebrated their fifth anniversary since their debut on 17 August. Jinu, Seunghoon, MINO and Seungyoon celebrated the momentous occasion by having a quiet dinner together at a restaurant and livestreaming their dinner via V Live, so that they can share it with their Inner Circle (official fandom name). 
During the livestream, the group had a special cake to celebrate their anniversary and even received a complimentary drink from the restaurant with their faces 3D printed using espresso powder. After blowing the candles and tucking into their meal, the members reflect on their journey together in the last five years and delivered heartfelt messages to their fans. 
Watch the full livestream below, complete with subtitles:  
In celebration of their fifth anniversary, we've rounded up five things you need to know about this popular K-pop group, for all the potential Inner Circles out there. 
1. WINNER was formed through a reality TV show. 
Similar to other K-pop trainee reality programmes, WINNER was first formed through a reality show called WIN: Who Is Next, produced by YG Entertainment. The programme centred around two teams of trainees, initially named Team A and Team B. The two teams compete against each other to show their talents for choreography, performing and songwriting. The winners were determined by fan-voting and Team A, which consisted of Jinu, Taehyun, Seunghoon, MINO and Seungyoon ultimately won. 
And so, WINNER was born. 
Starnews/AFP/Getty Images
2. They became a four-member group at the end of 2016. 
Nam Taehyun departed from the group officially on 26 November 2016, and WINNER proceeded with the current four members. Nam was a much-loved member by fans and many were taken aback by his departure. Nam left YG Entertainment as well and went on to form his own group called South Club. In an interview with a local news outlet, Nam emphasised that he had a good relationship with the members and that if it weren't for them, he probably would've left earlier.  "It's a loss for me to leave YG. Everyone tried to talk me out of it. But my mental state wasn't at its best, and I couldn't handle where I was at the time – not because it was YG but just in general," Nam clarified. 
They parted ways amicably and that was all that mattered. 
3. WINNER slayed the charts.
The group had an epic debut as they won the reality programme. WINNER performed as the opening act for Big Bang's Japanese dome tour beginning on November 15 of 2013. Their first album titled, 2014 S/S shot to the top of the Billboard World Albums Chart upon its debut and their title track "Empty" was number one on all the local music charts, including the Gaon Music Chart. Their second studio album titled EVERYD4Y was released four years later. Despite the significant gap in releases, the album was also a huge success, debuting number one on all the local music charts and peaked at number 6 on the Billboard World Albums Chart.
4. MINO was in a sub-unit with iKON's Bobby.
In June 2016, MINO and Bobby debuted their sub-unit called MOBB. The two rappers are well-respected in the hip-hop scene after participating in the hip-hop reality show called Show Me The Money. MINO was the first runner-up in Show Me The Money 4 while Bobby from iKON was the winner of the previous season. Hence, MOBB released a four-track hip-hop EP that year titled The Mobb with bangers such as "FULL HOUSE" and "HIT ME". The EP landed at the top of the Billboard World Albums Chart and peaked at number 2 in the local music charts. 
MOBB also won the category of Best Hip-Hop/Rap Artist in the 2017 Seoul Music Awards. 
5. Jinu made his solo debut this year. 
On 8 August this year, Jinu made his solo debut with the title track "Call Anytime" featuring MINO. The song, which was part of his first-ever solo album titled JINU's HEYDAY, ranked number one on the iTunes charts in 13 different countries. The music video for the title track was revealed on 14 August and has already amassed well over 3 million views and counting. 
Watch it below: 
Here's to five years of WINNER and many more!