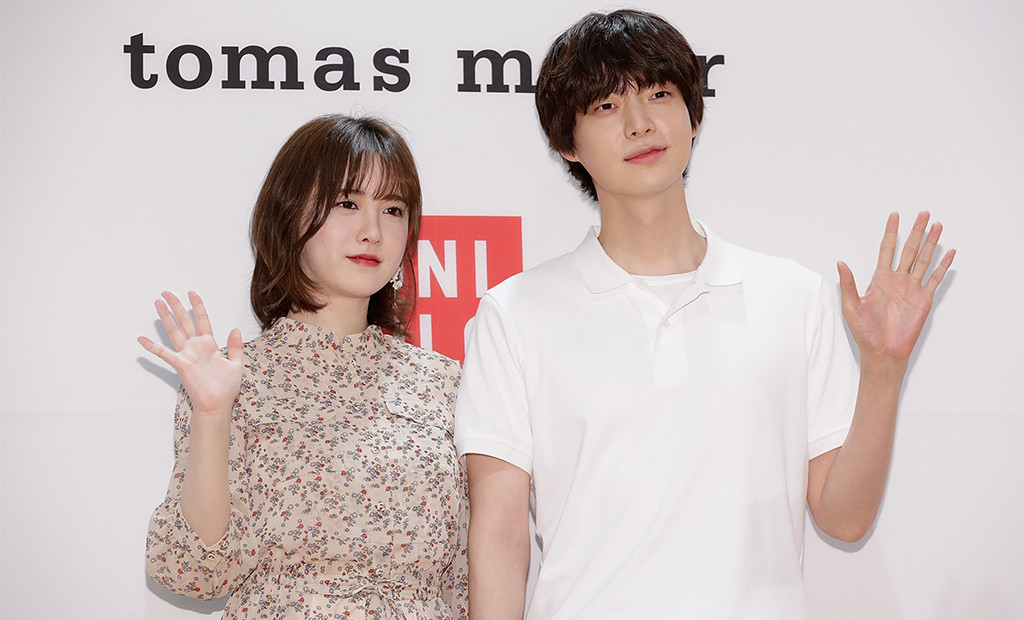 Han Myung-Gu/WireImage
On the morning of 18 August, 34-year-old actress, Goo Hye-sun took to Instagram to reveal that her husband of three years, 32-year-old actor, Ahn Jae-hyun wanted a divorce. 
This shook the South Korean media industry as both Goo and Ahn are perceived by locals as an exemplary celebrity couple. The two stars tied the knot in May of 2016 after starring in the 2015 K-drama titled, Blood and have been publicly supporting each other, appearing in events and interviews together. Their marriage appeared to be going very smoothly, hence the Instagram post by Goo that Sunday morning shocked many fans of both stars. 
The Boys Over Flowers' star then revealed text messages between her and Ahn after this announcement that they had exchanged. She used these screenshots to show the reason behind Ahn's desire for a divorce as well as Goo's head space in this relationship. The screenshots were left up for a few hours before the actress took them down. 
To explain the sudden nature of this rather public celebrity divorce, here's the complete timeline of what occurred as well as the public statements from both parties regarding the divorce.  
Morning, 18 August: Goo posted a photo of a piece of paper with the words, "I love you, Goo Hye-sun. I love you, Goo Hye-sun," written on it. With the photo, the actress said the following via the captions, "After we lost our spark, my husband has had a change of heart and wants a divorce, and I want to stay married. (Next week, representatives of my husband will be releasing news reports, and I am informing you that they are completely untrue. I hope that the truth will come to light.)"
2 hours later, 18 August: After announcing the possible divorce with her husband, Ahn, Goo then posted screenshots of text messages between her and him on her Instagram. Context was not given to the text messages shown. However, from what was shown, it seemed like the couple had already decided on a divorce and that Goo was insisting that Ahn talks to her mother about this before proceeding. 
The post was captioned, "My mother has received a shock and is not in good health, which is why I have posted these words. I'm sorry."
Goo has a very close relationship with her mother and wanted Ahn to tell his mother-in-law that he wanted to proceed with a divorce. 
The conversation above translates to the following: 
Ahn: A day before yesterday, I've already spoken with the New Journey to the West team about doing press release next week about my statement and the divorce papers you gave me three days ago.
Goo: Don't do it next week. Do it once my mom is ready.
Goo: My mom is more important to me than that show.
Ahn: It's been agreed already. There's only paperwork left. I think there's no point in seeing (your mother) now. I think I'll push forward with it.
Ahn: It's not like I didn't call your mother either.
Goo: You said you'd meet her. Let me know when you do.
Goo: You convinced her to let me marry you. You need to convince her to let you divorce me. Take the responsibility please. The papers can come later, it's not that hard.
Ahn: …and I don't think it will be easy to sort out. I think it will be overwhelming for your mother, and I'm also overwhelmed. Let's proceed with things according to plan, and I'll meet with her [another time].
Goo: So your work takes priority over my mom?
Goo: What a shameful thing for you to say.
Ahn: I'll call your mom.
Ahn: I'm not sure what there will be to say even if I meet her in person.
Goo: But you should still take responsibility. If you act callously like this, I'm not going to stand by and watch.
Goo: Meet her in person and apologize… for the fact that you weren't able to keep your promises from when we got married.
Goo: Why is work important. If you say work is more important than my mom, then I really won't hold back.
Goo deleted this post after a few hours and uploaded a new post with another screenshot of her text messages to Ahn, addressing their impending divorce. She captioned the post with, "Yesterday, I was in a rush to upload what I did because I expected official statements would be made today. Though we were in the process of talking about a divorce, we had not signed or agreed on a final decision yet. The official statement was made without consulting me. I wish to protect my family."
In the above messages to Ahn that were time stamped at 1.40am, Goo started her conversation with, "It says your line is still busy at this hour."
In the long text she sent Ahn, Goo said that she has lost trust in both their marriage and the talent agency, HB Entertainment. She mentioned that there were Kakao Talk messages of Ahn badmouthing her to the CEO of HB Entertainment and that when she brought it up, they said, "If I want it, they will terminate my contract and I think it's right for me to leave the agency."
She continued by saying, "I know that once I leave, rumours about a divorce would begin so I'm willing to get a divorce immediately, as you wanted. But if I leave the agency and we get a divorce, I will have no work so please send me the balance of our Yongin house."
Goo went on to say that both parties should go through the divorce proceedings with their respective lawyers and that, "The reasons are the same as before. Your change of heart. Damage of trust. And I will accept that fact. Speak the truth." 
Evening, 18 August: At 7pm that Sunday, Goo took down both her previous Instagram posts. Throughout this time, Ahn has yet to make a public statement regarding the screenshots posted as well as the divorce that was announced by Goo. 
That evening, HB Entertainment, Ahn and Goo's talent agency, released a statement confirming the divorce and addressing the allegations made by Goo. In their public statement, they said that they were taken aback by Goo's Instagram post as this divorce was agreed upon by both her and Ahn beforehand. They also showed a screenshot of her drafted public statement that she was supposed to post when the divorce was officially announced.
Their full statement goes as follows, 
"Hello, this is HB Entertainment.
We wish to give an explanation regarding the situation between our label actors Goo Hye-sun and Ahn Jae-hyun that was publicised today on August 18.
Despite the encouragement and expectations of many, the two actors recently reached a point where they felt they could no longer maintain their marriage due to various issues, and after a serious conversation, they both agreed to get a divorce.
As the agency of the two actors, we respected the decision they made after long and sincere talks over the past couple of months, and we hoped that they would lead happier lives separately in the future.
Goo Hye-sun recently appointed a lawyer and drafted a divorce agreement, which she then sent to Ahn Jae-hyun and requested that he also quickly appoint a lawyer and go through the necessary steps. Goo Hye-sun expressed that she wished to file for the divorce in August, and complete the divorce process by September.
And along with the divorce agreement, Goo Hye-sun sent over a draft of the statement she would be distributing to the press.
However, we came across an article earlier today that had Goo Hye-sun's social media post [regarding the divorce] and both Ahn Jae-hyun and our agency were taken aback by it. As her post omitted the fact that the divorce was based on a mutual agreement after serious conversations, and simply stated that she did not want a divorce, we regrettably feel the need to explain the process despite this being their private life.
Though this is a part of their private life, we simply wish, as their agency, that neither side is hurt by this.
We apologize for causing concern to so many people."
19 August: HB Entertainment released another statement to dispel rumours of Goo terminating her contract with the company. "The reports that we have terminated our exclusive contract with Goo Hye-sun are not true. Our contract is intact," the company stated via a press release. 
20 August: Goo released a public statement addressing the divorce officially, via her legal representative. In the statement, she also accused Ahn of allegedly frequently calling other women while in an intoxicated state. Read her full statement here.
21 August: Ahn breaks his silence and addresses the couple's divorce as well as the accusations made by Goo in an Instagram post. In his statement, he denied talking about his wife to the CEO of HB Entertainment behind her back. He also accused Goo of allegedly breaking into his home while he was asleep to check his private messages. Read his statements here. 
21 August: Upon reading Ahn's statement on Instagram, Goo responded with her own rebuttal via her social media page. She said that she had every right to enter the apartment as they were still husband and wife. She also recounted moments where she supported Ahn financially and claimed that he wanted a divorce because she was "not sexy". Her full response can be found here. 
22 August: South Korean news outlet, Sports Chosun obtained information from an acquaintance of Ahn and reported that, "Ahn Jae-Hyun is feeling very wronged by Goo Hye-Sun's disclosure. [He] plans to reveal the complete text messages shared between the two that Goo Hye-Sun previously revealed snippets of. He is consulting his legal representative and preparing to reveal everything in an official and detailed way. It will most likely happen within this week."
22 August: Though it has yet to be confirmed if Ahn is preparing to publicise the couple's Kakao Talk chat logs, Goo took to Instagram again. In a now deleted post, Goo had posted the photo above with the caption, "I don't use KakaoTalk, so don't even bother preparing. You traitor".
Update!
3 September: Goo posted another photo on her Instagram revealing that the celebrity couple are having a dispute on the custody of their pet cat, Anju. The post was captioned, "Anju. [The cat] has spent a longer time with me and is my pet. He didn't properly feed or clean up after the cat's poop a single time but announced our divorce and took the cat, so we cannot get divorced. (I have been raising the cat since before our marriage.)"
3 September, 8pm: Goo posted posted a photo on her Instagram of two handwritten lists titled, "Things that Ahn Jae-Hyun should be careful not to do (until March)" and "Things Goo Hye-Sun should be careful not to do," respectively. The two lists were signed by both Ahn and Goo and was initially captioned, "Become a human," before it was edited to say, "All I really want is an apology."
The lists in the photo showed a number of rules that Ahn had allegedly agreed to:
1. If drinking outside, drink only until 11 p.m.
2. Don't drink to the point of losing consciousness (be moderate).
3. Don't be stubborn.
4. Don't cause harm to others.
5. Put away your clothes when you take them off.
6. Clean up your food and dishes after eating (don't pile them in the sink).
7. Put laundry in the laundry room.
8. Even if you're feeling good because you're drunk, don't yell or slap or use other forms of violence.
9. Come home by midnight (apart from filming).
10. Clean up after the cat once every seven days.
11. Be careful what you say (especially what you say about others).
12. Put away your shoes.
Meanwhile, Goo's list had one just word, which was, "Nothing." 
4 September: Goo deleted the previous two posts and uploaded a photo of her upcoming book of essays about pets instead. The actress captioned the photo with, "Preorder sales for 'I Am Your Pet' have begun today. It's a precious book in which I wrote about the times I spent together with [my pets] 'Gamja, Soondae, Goonbam, Ssam, Mango, and Anju,' my family whom I love. Thank you for cheering me on. (Waiting for Anju to return…)"
4 September: Goo accused Ahn of allegedly cheating on her with another actress that he is currently filming a drama with via her Instagram. Ahn's current co-star is actress, Oh Yeon-Seo, which led to rumours between the two stars. Check out Goo's Instagram post here. 
4 September: Soon after Goo posted her accusations on Instagram, Oh Yeon-Seo's talent agency, Celltrion Entertainment made a public statement denouncing any rumours regarding Ahn and Oh as well as threatening legal action against Goo for defamation. Read their full statement here.
The story is still developing. Stay tuned for more updates.