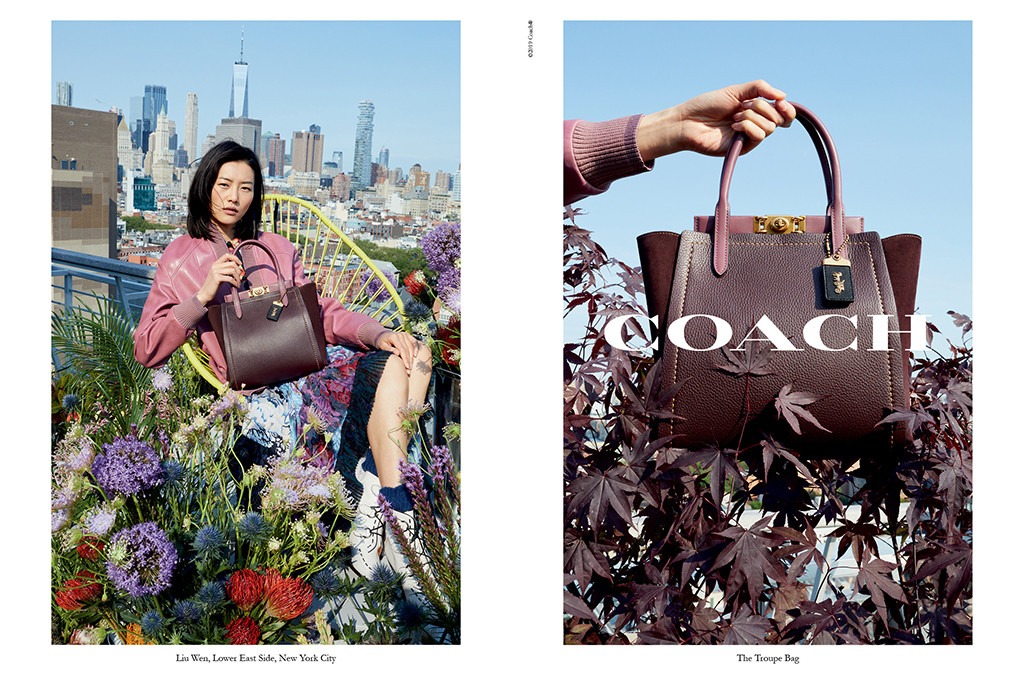 Courtesy of Coach
It's been a dramatic week as several brands, such as American fashion brand Coach, Italian luxury label Versace, French fashion house Givenchy and South Korean technology giant Samsung, faced backlash from Chinese celebrities and consumers over several missteps in retail and marketing.
These have included celebrities such as EXO's Lay Zhang, Jackson Yee, Yang Mi and Liu Wen cutting ties completely with the brands, foregoing lucrative endorsement deals to support the current national mood .
Fashion brands are learning the hard way that China is not be reckoned with when it comes to protection of its national sovereignty their national policies]. Givenchy, Versace and Coach fell afoul of the world's second largest economy when they released t-shirts listing Hong Kong, Macau and Taiwan as separate countries, rather than under China's flag.
Under its "One China Policy", China has long maintained that Taiwan is a breakaway province that will be reunited with the mainland in due course, while Hong Kong and Macau are special administrative regions of the People's Republic of China.
Chinese star Yang Mi cut ties with Versace on 11 August via Sina Weibo, China's popular microblogging site. "The shirt designed by Versace has allegedly damaged the independence of Chinese authority and territory…as a Chinese citizen, I feel very angry!" Yang Mi said, Jing Daily reported.
Yang was most recently appointed as the global ambassador for Versace earlier in June.
Popular Chinese singer and actor Jackson Yee also cut his contracts with Givenchy Beauty over a similar t-shirt design released by the French luxury label. 
"We are extremely angry at Givenchy for designing clothing that is suspected of damaging China's national sovereignty and territorial integrity," said Yee's management company in a statement, according to China News. "We have stopped all cooperation with Givenchy. Mr Yee and his studio resolutely uphold the one-China principle and adamantly safeguard national sovereignty and territorial integrity."
Just a few days later, supermodel Liu Wen would also sever ties with American fashion brand Coach for the same transgression.
"I want to apologise for the harm caused to everybody due to my indiscreet selection of brand to represent," she said on Sina Weibo. "I love my country, and will adamantly safeguard China's sovereignty. National sovereignty and territorial integrity are sacred and cannot be violated under any circumstances."
She was announced as the newest ambassador of Coach in July.
Separately, Lay Zhang, of K-pop boy band EXO fame, also pulled out from an endorsement contract with Samsung Electronics because the tech giant allegedly listed Hong Kong and Taiwan as separate countries on their website alongside their individual flags, instead of under China's flag.
His Chinese management company released the following statement. "[Samsung Electronics] has severely offended the national feelings of our Chinese compatriots by being ambiguous about the integrity of our sovereignty and territory. We would like to express our regret, but we will not tolerate this. We have looked into all of the brands that [Lay] models for," they said.
Lay is also currently a spokesperson for American brand Calvin Klein, who has also come under fire from irate Chinese netizens for a t-shirt that lists Hong Kong and Taiwan apart from China.
But fashion brands have been quick to act — a far cry from the delayed response of Italian luxury brand Dolce & Gabbana, who angered Chinese consumers with insensitive remarks made by designer Stefano Gabbana on social media last year prior to the brand's show in Shanghai. Apologies over the t-shirt inaccuracies were issued within hours, if not just a day, with Versace's Donatella Versace taking to social media to make a personal apology quickly as well.
"I am deeply sorry for the unfortunate recent error that was made by our company... Never have I wanted to disrespect China's National Sovereignty," Versace wrote in both Chinese and English. The brand then went on to say that it "accepts accountability and is exploring actions to improve how we operate day-to-day to become more conscientious and aware."
These incidents are just the latest in an ongoing political tensions between China, Hong Kong and Taiwan, and Chinese celebrities are increasingly becoming careful when it comes to endorsement deals with foreign brands.