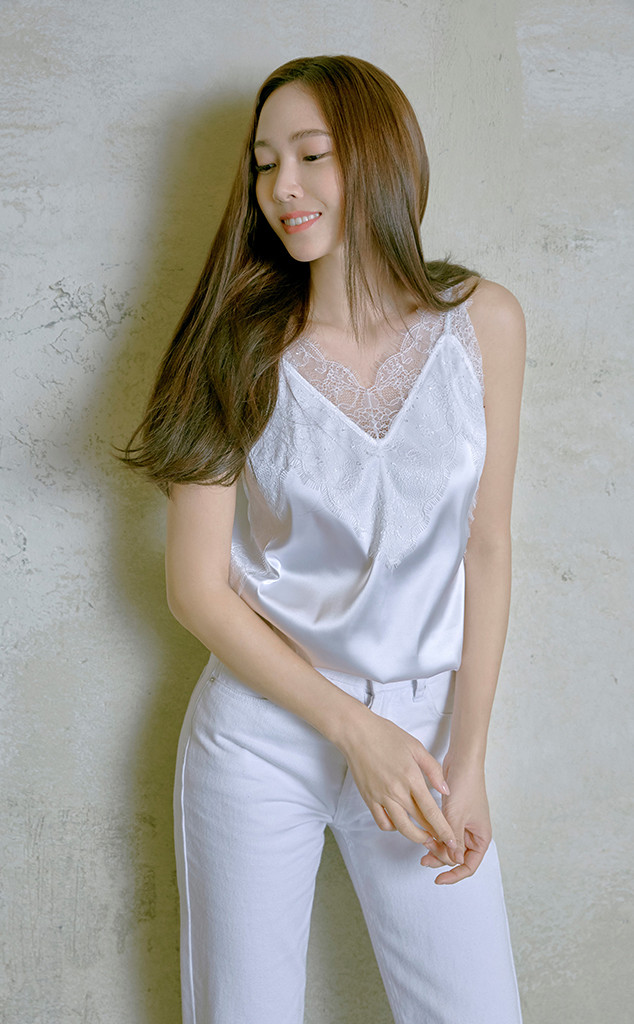 Courtesy of Net-A-Porter
Jessica Jung is one of the world's most recognisable K-pop stars, a fashion entrepreneur, and front row fixture at fashion week, so it's no surprise who we'd turn to for fashion, beauty and travel advice for the summer holiday season. The Blanc & Eclare is a seasoned traveller, going from New York to Seoul to Bali in the blink of an eye — check out her Instagram if you don't want to take our word for it. 
With travel being such an important part of her lifestyle, you can bet she's picked up more than her fair share of tips for stylish dressing on the go, and the K-pop star readily shares them with us. From the fashion items she always packs in her luggage, to her go-to shoes right now, and her on-the-road beauty and fitness routine, she's a wealth of knowledge. Read on to find out more.
As a celebrity, you're always on the go — what fashion items do you always pack for a trip?
I never leave home without one of my favourite pair of jeans, a blazer for meetings or a fun night out.
What are some of the pieces you're lusting after right now?
All things golden! I'm really into gold accessories these days - it completes the look I'm going for.
You're very much a fashion plate — what trends are you personally looking forward to in the coming season?
Everything bigger and bolder, ranging from accessories to bags. I'll be on the hunt for the perfect items!
Is there a trend that you would never try?
I can't stress enough the importance of having confidence to try new things. If it's fun, then there's nothing that's not worth trying.
You once mentioned that you prefer flats to heels. Is that shoe style still your go-to?
Yes and no. These days, my mid-heel sling-backs are my go to shoes. With that said, my love for flats will never fade — my love for shoes is indescribable.
Do you have a favourite pair of shoes right now?
My Bottega Veneta strappy sandals. It's super chic and goes well with everything, from silk slip dresses to traditional denim.
With your travel-heavy schedule, what does your nightly beauty routine look like?
I never ever skip cleansing (no matter how tired I am). I manage to make it to the bathroom and go through the regimen every single day, no exceptions! Cleansing thoroughly and hydrating with quality skin care products (toner, serum and various creams) is essential.
Do you have a travel exercise regime?
When I'm travelling for work, I usually don't go through vigorous exercises and training rather I tend to keep it to focused stretching and light cardio.
Pick one beauty product and one fashion item from NET-A-PORTER which you would buy for your travels.
Tough question. If I had to pick two, then perhaps the Eve Lom Cleansing Balm with the muslin cloth (100ml for $60; 200ml for $92) and the Foundrae Gold Chain necklace ($4,216).
What's next for Jessica Jung?
I've been working on making new music over the past year and certainly can't wait to share it with the world. Aside from that and spending time at the Blanc & Eclare design studio, I'm going to be traveling a lot for both work and pleasure. My sister, Krystal and I just finished shooting our own reality program covering our cross-country travels throughout the US. There will be more announcements to follow as we make progress during the editing process.