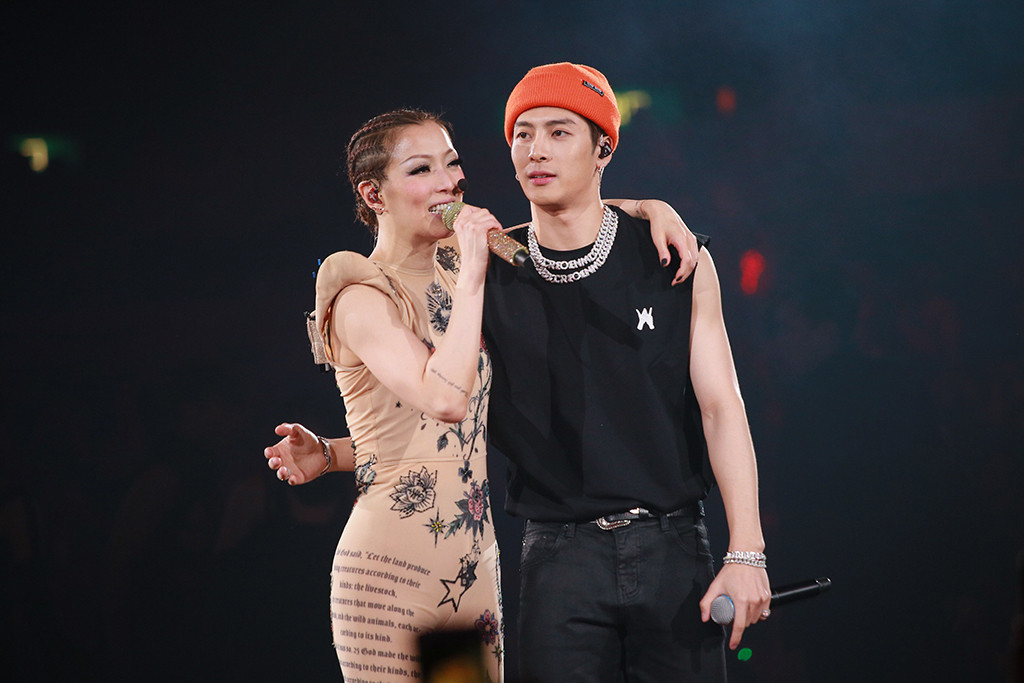 VCG/VCG via Getty Images
You know you can count on GOT7's Jackson Wang to always surprise his fans. Last Saturday, the Chinese K-pop star made a surprise appearance at Hong Kong star Sammi Cheng's FollowMi concert at the Hong Kong Coliseum.
The GOT7 member performed several songs with the Hong Kong singer, including their collaboration, "Creo en mi", as well as his 2017 EP, "Papillon".
Wang was in Hong Kong for the unveiling of his wax figure at Madame Tussauds, and turned up to support Cheng's closing concert of her tour.
A Twitter user called the K-pop idol's surprise appearance "a performance to remember forever".
In a sweet gesture, Wang also gifted the Hong Kong singer with a custom-made necklace that said "Creo en mi" to commemorate the end of her tour, according to Korean news site allkpop.
"Jackson + Sammi = creo en mi," the HK singer captioned an Instagram post with Wang, along with the hashtags, "Finally performing for the first time together" and "Long awaited" in Mandarin, and showed off their matching necklaces.
Cheng also thanked the K-pop star in a lengthy Instagram post that showed Wang together with the singer and Hong Kong actor Louis Koo.
"The concert was finally completed the night before, and I was so grateful for the participation of [Louis Koo] and Jackson in the final one. When rehearsing in the afternoon, everyone was excited about it. Including mi [sic]," she wrote.
She continued, "Jackson is a world-class singer but very, very friendly. [I] appreciate his super hard work. His has so many talents, and his participation in "Creo en mi" is [my] good fortune."
Wang reciprocated the sentiment with a series of Instagram Stories, which he captioned, "Thank you @sammi_chengsauman. TEAM WANG."
Will Jackson ever stop surprising fans with his sweet moves? Our guess/hope is: Never!