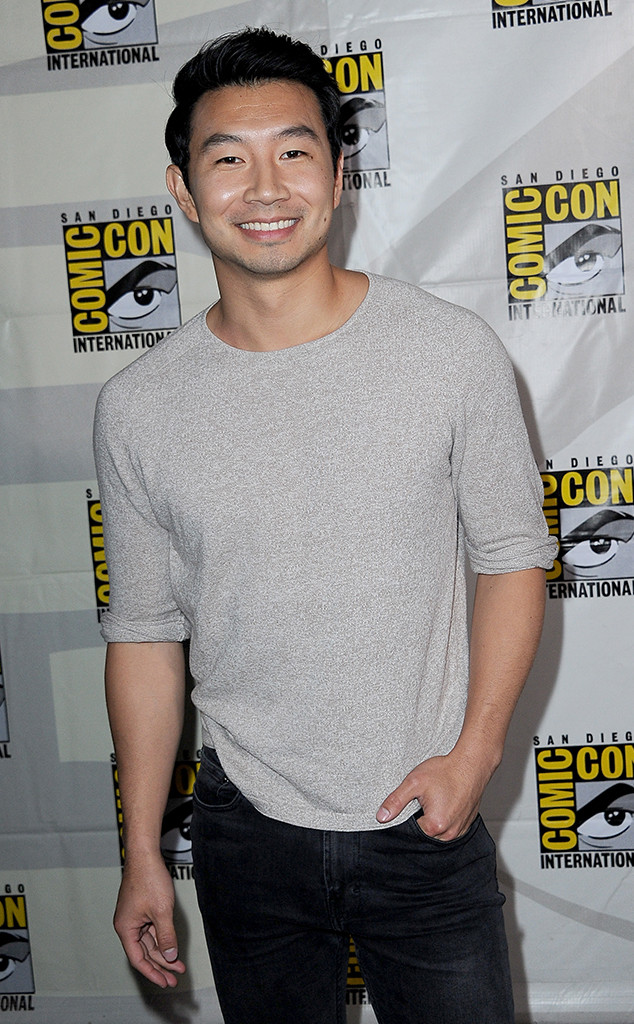 Albert L. Ortega/Getty Images
When news broke of the Marvel Cinematic Universe's latest inclusion at the San Diego Comic-Con just a mere few days ago, it properly broke the Internet.
The yet to be released superhero flick Shang-Chi And the Legend Of The Ten Rings is another win for representation and diversity in Hollywood, and stars award winning Chinese-Canadian actor and heartthrob Simu Liu. 
Speaking at Comic-Con last Saturday, the actor was still shock. "I was cast on Tuesday. I screen-tested on Sunday in New York. This is the the craziest, craziest dream," he said, according to Buzzfeed. 
Add to that the fact that he actually asked for the job on Twitter back in December 2018, and this casting seems to be written in the stars for the dashing actor.
"OK @Marvel, are we gonna talk or what #ShangChi" the actor tweeted.
Following his big reveal at Comic-Con, he followed up cheekily, "Thanks for getting back to me."
Liu makes history as the very first Asian lead in the MCU, so in honour of this groundbreaking moment, here are ten things to know about the new superhero that is about to steal our hearts!
1. HE WAS BORN IN HARBIN
Moving to Ontario only at the age of five, Liu was born in one of the coldest cities in China. The country's northernmost province is famous for its sprawling never ending white expanse of snow, luxurious ski resorts and dazzling ice sculptures during the winter.
2. HE IS GREAT AT MATHS
Liu went to college for finance and accounting in London in his twenties and even plied the trade as an account after graduating at the prestigious auditing firm Deloitte, before Hollywood came a-knockin'. (And here we are still trying to split our lunch bill five ways.) But Liu admitted that he was laid off "because I was so bad", according to a tweet.
3. HE IS DOWNRIGHT GORGEOUS
Liu nabbed a spot on Hello! Canada's Most Beautiful List for two years running now — and honestly, who's complaining? The man's got a rocking bod and he's not afraid to flaunt it: A quick scroll through Instagram will provide you with all the eye candy you need. It's not even a question why Marvel cast him for the role of Shang Chi!
4. HE IS A WORDSMITH
Adding to his extensive list of filmography, Liu also wrote a number of episodes of the hit Canadian television show Blood and Water that he also starred in, and countless news magazines in his native Canada.
5. HE IS THE WHOLE PACKAGE
Liu acts, writes, produces and even directs. A few of the films that he has produced and directed have been shown at various film festivals across the continent of North America, in this native Canada and the United States, and won several awards.
6. HE JUST GOT FRESH OFF THE BOAT
Slated to appear as a guest star, Liu joined the impressive cast of Asian American actors like Constance Wu, Randall Park and Lucille Soong on the award winning hit American television show Fresh Off The Boat for the show's 100th episode that aired on 5 April.
Richard Cartwright/Walt Disney Television via Getty Images
7. HE'S GOT THE MOVES
Liu looks like he is very good with his hands and could do a lot of serious damage with a pair of nunchucks. Quite possibly an Instagram post to tease his involvement in Shang Chi And The Legend Of The Ten Rings — way before he's allowed to even talk about it. We see what you did there. Cheeky.
8. HE IS A GREAT FRIEND
To support his good friend — fellow Asian actor and America's comedic treasure — Awkwafina, Liu bought out an entire cinema for a screening of The Farewell starring said chum. With friends like these... well, you know the rest.
9. HE LOVES TO PLAY WITH BALLS
Specifically, basketballs. Because, who doesn't love a good slam dunk right? He is often seen populating his social media feed with him watching a game court side, or actually involved in it. We get it, he really loves the sport! Consider us an avid athletic supporter!   
10. HE IS A DOG PERSON
Posting pictures of man's best friend – it happens to the best of us. How adorable is Liu's pet husky?? The actor even brings him on set! What a lucky dog.
Shang-Chi And The Legend Of The Ten Rings is set for release in February 2021.