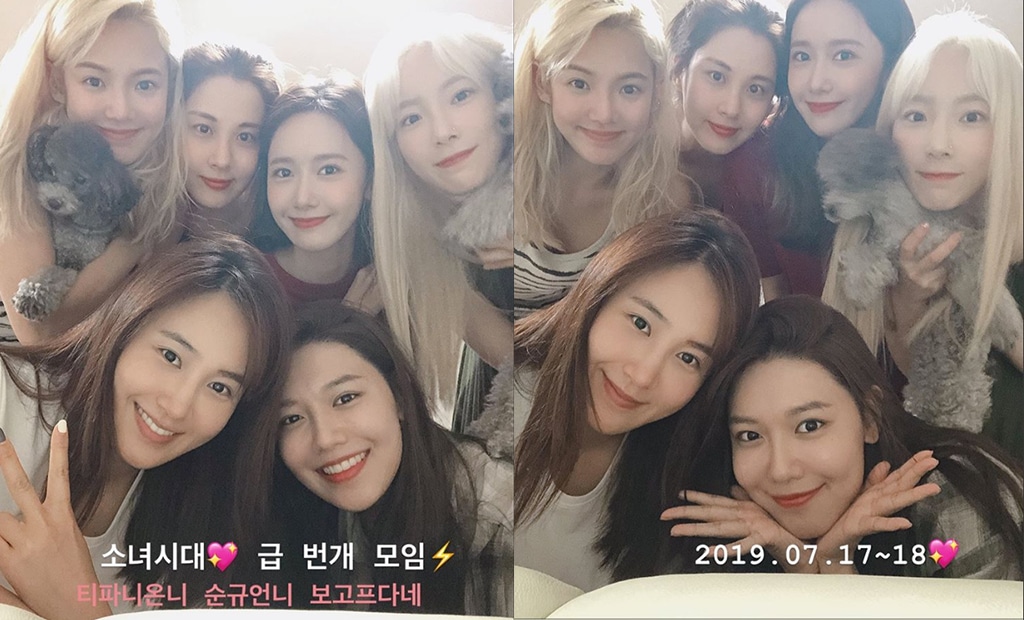 Instagram/ Seo Ju-Hyun
Girl's Generation recently enjoyed a mini-reunion and shared photos from their spontaneous hangout on Wednesday (17 July).
Seohyun posted images of her with Hyoyeon, Yoona, Taeyeon, Yuri and Sooyoung on her Instagram stories. The remaining members, Sunny and Tiffany, were missing from the reunion.
Seohyun added in her caption and as translated by Soompi: "Girls' Generation sudden gathering. We miss Tiffany and Soon Kyu [Sunny's real name]."
The reunion was also commemorated with the dates.
Sooyoung also shared a photo of the reunion, with two adorable puppies in tow. Her caption reads: "We're also someone's Girls' Generation unnies,"  a reference to her previous stories where she posted images of Lady Gaga and '90s K-pop group Fin.K.L., calling them "unnies."
Instagram/ Choi Soo Young
It's been nearly two years since Tiffany, Sooyoung, and Seohyun left SM Entertainment, and the group last released music as a full group in August 2017, with their song "Holiday Night" in celebration of their then-10th anniversary.
The Girl's Generation members have each focused on their individual careers since. Yoona is starring alongside Jo Jung-suk in an upcoming film, Tiffany dropped her debut "Lips on Lips' EP and is dropping a new single, "Magnetic Moon" really soon, Hyoyeon is set to make her comeback with a new single under her moniker, DJ Hyo, and Taeyeon recently topped South Korean charts with her single "Four Seasons."