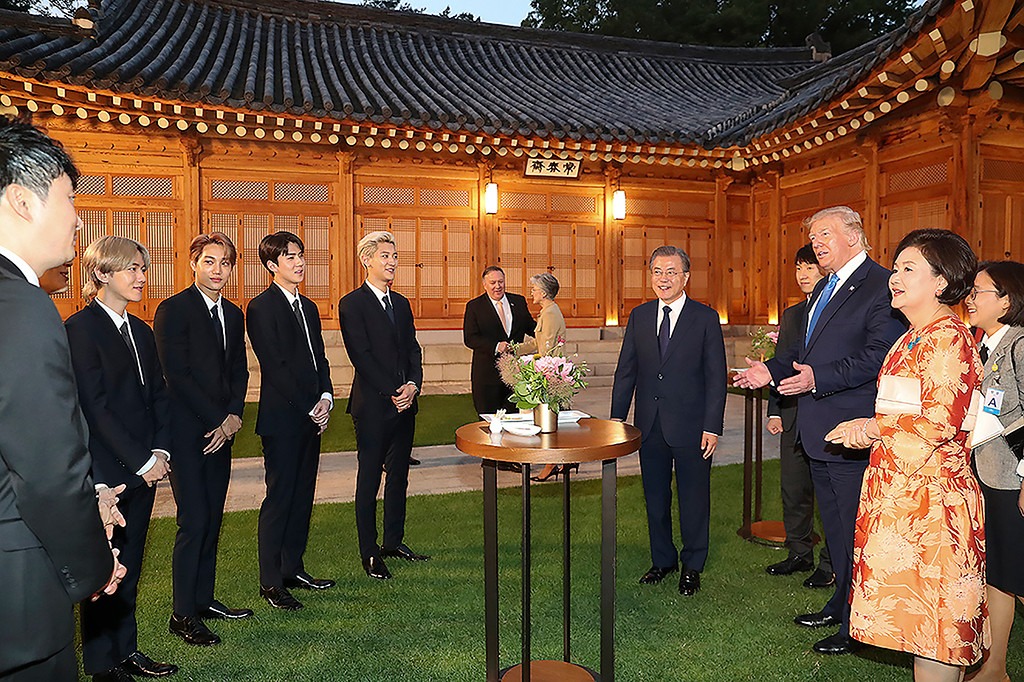 Handout
Mark this as one of the most bizarre K-pop crossovers: Boy band EXO greeted President Donald Trump of the United States of America in South Korea yesterday, following the G20 Summit in Osaka, last Saturday (29 June).
Just a few days before EXO's D.O. enlisted in the military, the K-pop group attended a function at the Blue House, the executive office and residence of South Korea's president, where Trump and his daughter, Ivanka and his son-in-law, Jared Kushner, were hosted for a function.
The K-pop group was reportedly invited because Ivanka previously expressed her interest in K-pop and that her kids had K-pop dance parties on a trip to South Korea last February.
Posting a photo to their social media channels, the group tweeted, "Thank you for your love and support for EXO! Hope to see you again!!"
Right before the banquet dinner, EXO also had the opportunity to hand signed copies of their album, Love Shot, to President Trump and Ivanka Trump.
President Trump's reaction when he received the albums instantly went viral among EXO-Ls, who cheekily speculated that he was disappointed because he didn't receive the album with his bias.
"I don't think he got his bias photocard," one user said, which seemed to be the general theme of the comments. 
Another user observed, "the way he closed it IM DEAD".
Any guesses on the photocard President Trump received, EXO-Ls?