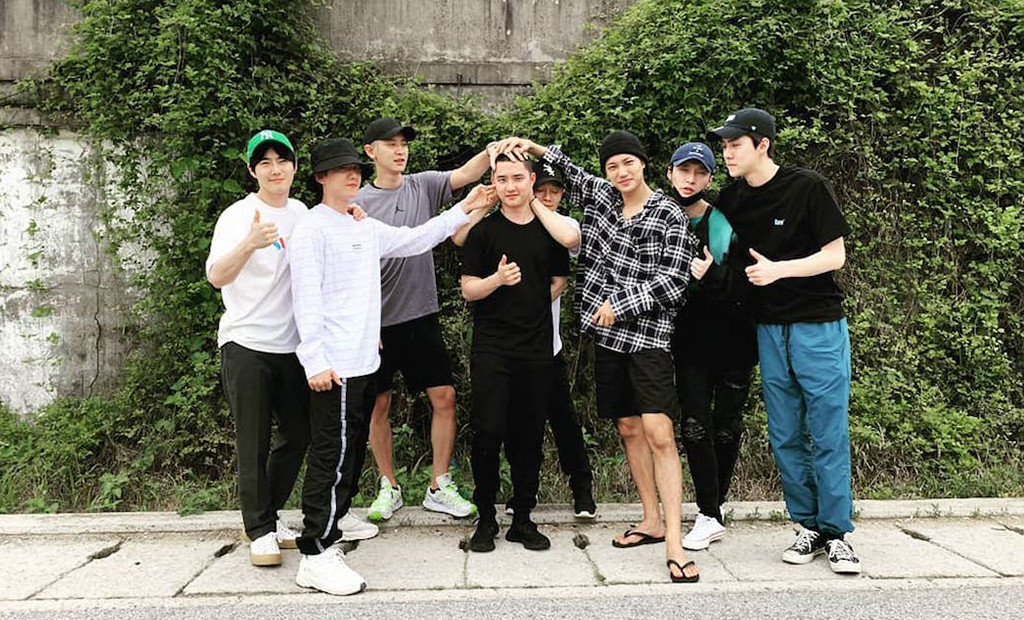 Instagram/@real__pcy
It's a sad day for EXO-Ls: 26-year-old vocalist and EXO member, D.O. officially enlists for his military service today. 
D.O. is the second member of top K-pop boy group, EXO to enlist into the military — the first being the eldest member, Xiumin. As per D.O.'s request, the idol enlisted quietly, without any huge celebrations on 1 July. That morning, all of his fellow EXO members saw him off and bid a temporary goodbye to D.O. 
Suho, Lay, Baekhyun, Chen, Chanyeol, Kai and Sehun snapped group pictures before D.O. entered the training centre and shared the photos with EXO-Ls via their Instagram accounts. 
The group were dressed casually and D.O. shaved his head in anticipation for his enlistment.
EXO's leader Suho posted the group photo with the caption, "We are one! Let's love, EXO!"
Meanwhile, fellow member Chanyeol posted several pictures with the caption, "Don't get hurt."
All the photos featured candid moments of the boys, holding D.O.'s head and messing around with him. Despite it being a bittersweet occasion, the boys were all smiling and showing D.O. incredible support, proving how tight the group is. 
The youngest member Sehun shared a solo photo of D.O. along with the candid group shot on his Instagram. The photo shows D.O. dressed in an immaculate white high neck top and khaki coloured chinos, looking handsome as ever.
Thankfully, it's not all sad news for EXO-Ls. D.O.'s solo single has been released that same day on SM STATION at 6pm KST. The track is aptly titled, "That's Okay" and SM Town's Twitter teased the single's cover art prior to its release, which featured a minimalist drawing of a man and his pet dog. 
The music video was an animation in the same minimalist style that tells the poignant story of a man who found a cactus plant while moving into his new home and decided to care of it as if it were his own pet. "That's Okay" is an acoustic style ballad that highlights D.O.'s smooth, heart-melting vocals perfectly. 
Watch the video below: