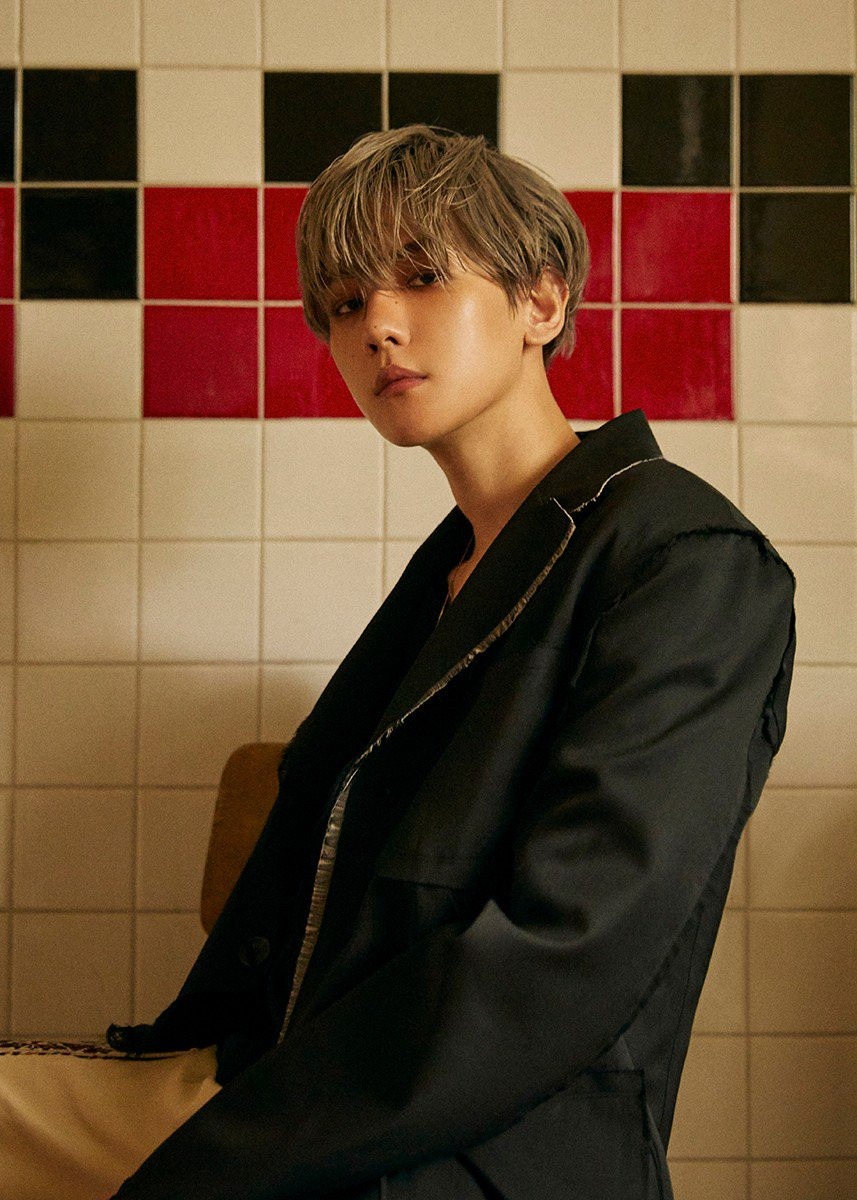 Courtesy of SM Entertainment
UPDATE: More concept photos and a teaser film have been released in anticipation of EXO's Baekhyun's solo debut tomorrow. 
SM Entertainment released — via EXO's official Twitter account — portraits of Baekhyun looking as badass as ever in an oversized black blazer. With the previous photos released being more conceptual in nature, this clear portrait of the idol has been extremely well-received by EXO-Ls everywhere. 
Courtesy of SM Entertainment
SM Entertainment also revealed another video teaser that is over three minutes long. The teaser shows Baekhyun listening to an old school record which is essentially his new record. 
The teaser gave fans a taste of the songs that will be in his City Lights mini-album, revealing a feature by rapper Beenzino in the song, "Stay Up".
Watch the full teaser below.
Courtesy of SM Entertainment
UPDATE, 2/7: Baekhyun, 27-year-old beloved vocalist from one of the biggest K-pop boy groups, EXO has released more juicy teasers for his upcoming solo debut. 
On 2 July, SM Entertainment released Baekhyun's teaser film titled, "'City Lights' Concept Film: Day & Night" that featured the idol's killer visuals along with a synth-type beat. Baekhyun is seen wearing a cream denim jacket over a simple white tee as vibrant, neon colours wash over him. 
Watch the full teaser below: 
The next day, on 3 July, more teaser images have been released by Baekhyun's agency in anticipation for his mini-album release on 10 July. 
The teaser photos were designed to resemble posters stuck on walls. The images feature a collage of portraits of Baekhyun with a vintage feel thanks to use of grain and paper effects. Overall, the vibe of the photos is moody and nostalgic.
Perhaps the singer will be exploring new alternative R&B sounds in the likes of artists such as 6lack or Korea's own crooner, Dean? Baekhyun certainly has the vocal chops to pursue any genre so we're curious to hear what type of sound the idol has decided on. 
Looks like we'll have to wait till 10 July to find out!
Original post, 20/6: EXO's vocalist, Baekhyun has released more details regarding his first solo debut. 
His highly anticipated mini-album is titled City Lights and will consist of six tracks. The solo mini-album will be officially released on 10 July at 6PM KST, so EXO-Ls, it's time to mark your calendars! 
For those who are afraid of missing the date, not to worry! Pre-orders for City Lights begins officially today, 20 June. So you can be immediately notified once the mini-album is released. 
Along with these details, Baekhyun also released his first teaser image for City Lights. It portrays a rather dark and gloomy mood, while showcasing his strong neckline.
Check out the teaser photo below: 
Stay tuned for more details on Baekhyun's solo debut!