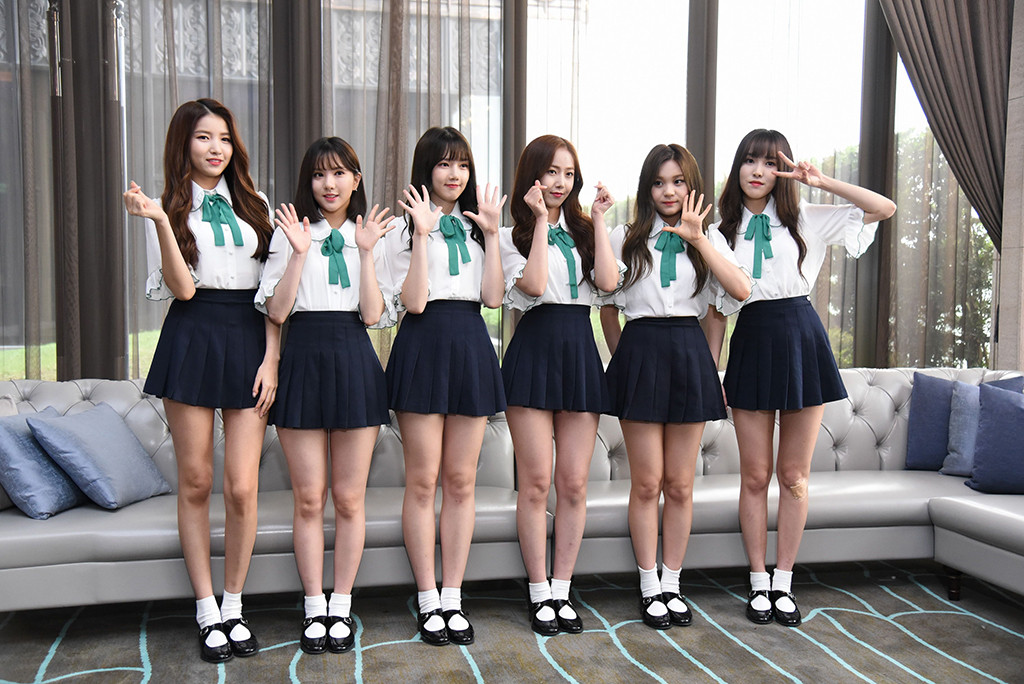 TPG/Getty Images
While the trend for girl groups nowadays is to either start off with or switch to the all-kill girl-crush concept, GFRIEND has managed to remain loyal to the easily lovable sweetheart package while still growing up with grace and sophistication, successfully drawing in new fans plus keeping seasoned ones close by.
The winsome group of six from Source Music debuted with EP "Season Of Glass" in January 2015, breaking into the scene as number twelve on Gaon's weekly chart with title track "Glass Bead". They have since grown and matured quite a fair amount from songs like "Rough" and "Navillera" to tracks like "Love Whisper", "Time for the Moon Night", and most recently "Sunrise" from their second and latest album, "Time for Us".
Their songs have also managed to the catch the hearts of many overseas listeners, so the girls have, in return, flown out to their fans' hometowns to give concerts to thank them for their ever warm love and support. They have just embarked on the GFRIEND 2nd Asia Tour: Go Go GFRIEND earlier last month and will be stopping by Singapore on 20 July — fans, or Buddies, here are most definitely ecstatic to finally be able to experience the girls' clean and crisp choreography live.
As a whole, the girls have, all this while, they have managed to keep the essence of innocence very much present in their releases, only now sweeter and richer both sonically and visually. So here's a little catch up of things you should know about the six girls below if you were wondering, because their upward climb is in no way ever going to stop.
1. The members are Sowon (Kim So-jung), SinB (Hwang Eun-bi), Yerin (Jung Ye-rin), Eunha (Jung Eun-bi), Yuju (Choi Yu-na) and Umji (Kim Ye-won).
2. The leader of the group is Sowon, but she said that she took a while to adjust to her role because she is the youngest in her family.
3. Their official fan club name, Buddy, was announced during their comeback showcase with the mini album "Snowflake" in 2016.
4. A viral video of the members performing a very slippery run of "Me Gustas Tu" from their second EP "Flower Bud", was what led to more people outside of South Korea noticing the group and praising them for their professionalism despite the unfortunate state of the stage. You can watch a video of the performance below:
4. Their first music show win was with "Rough" on music program "The Show", on 2 February 2016.
5. Later in 2016, the song "Navillera" received a total of 14 music show wins over the course of their promotions. Put together with the 15 music show wins of "Rough", they became the girl group with the most wins gained within a year with a total of 29 wins.
6. Their first award was "Best New Female Artist" at the Melon Music Awards, on 7 November 2015.
7. Both Yerin and Umji share the same birthday, same blood type, both real first names begin with "Ye", and their parents all come from Gwangju.
8. SinB and Eunha both used to be trainees at Big Hit Entertainment, and they also happen to share the same real first name (Eunbi).
10. SinB did a collaboration with Chungha, Jeon Soyeon from (G)-IDLE ane Seulgi from Red Velvet on the song "Wow Thing" as part of SM Entertainment's STATION x 0 collaboration series.
The girls have just changed their profile picture and posted some teaser pictures of their seventh mini album "FEVERSEASON" on their official Instagram account. Make sure you have also marked out the date 1 July and time 6.00pm — it is going to be exciting!