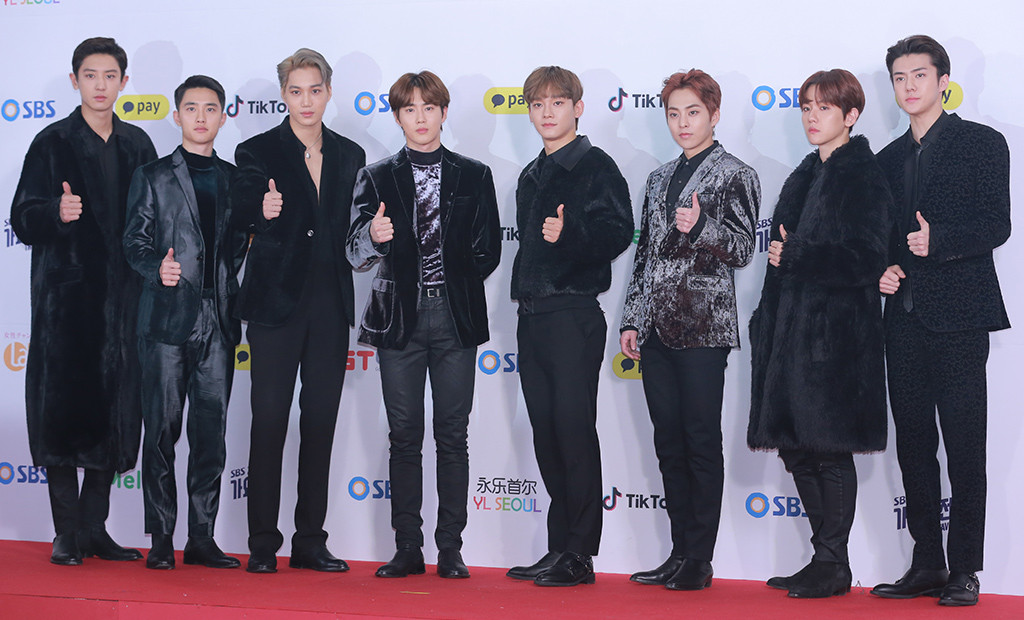 VCG/VCG via Getty Images
As the Nation's Pick, EXO is more than equipped to be ambassadors of K-pop. So it's not any wonder that the boy band may be teaching Stranger Things stars Caleb McLaughlin and Gaten Matarazzo everything they need to know about K-pop when they head to Seoul later this week.
McLaughlin and Matarazzo, who play Lucas and Dustin on the show, respectively, announced that their upcoming trip to the South Korean capital in an Instagram video. 
"Next week, we'll be headed to Seoul, Korea to meet some of our amazing Stranger Things fans and get a crash course on all things K-pop," Matarazzo said. 
"Yes, I had an amazing time meeting NCT 127 last month," McLaughlin. "Guess who I'll be meeting next time?" he teased, without naming anyone.
But fans noticed the 17-year-old actor tagged K-pop boy band EXO's official account, as well as members Baekhyun and Suho's individual accounts in the caption.
"Wait but like they tagged EXO so????? Is it supposed to be a surprise????" one Instagram user commented. 
Another user wrote, "StrangerThings×Exo??!! I can't believe!"
Even NCT 127 couldn't resist reacting to the cute video, and they posted a response on their Twitter to McLaughlin and Matarazzo.
"Hello, Caleb and Gaten! I heard you guys are coming to Korea, and I'm very happy," Johnny said. "I heard you're coming, but we won't be in Korea at the time, so we're sorry."
"We were very happy that Caleb came to our concert in Atlanta, and I hope that you enjoyed that K-pop experience. But this time, though we may not be able to see each other, I hope you guys have fun at the EXO concert, and I hope that you enjoy another K-pop experience," Mark added.
The NCT 127 boys then ended their cute video wishing that both actors would have a "good time in Korea".
McLaughlin and Matarazzo are slated to make an appearance in Seoul to promote the third season of Stranger Things later this week. An actual house from the set of the Netflix show has been spotted in Seoul, so the premiere seems set to be a big production.
Who else is excited about this "crossover"?