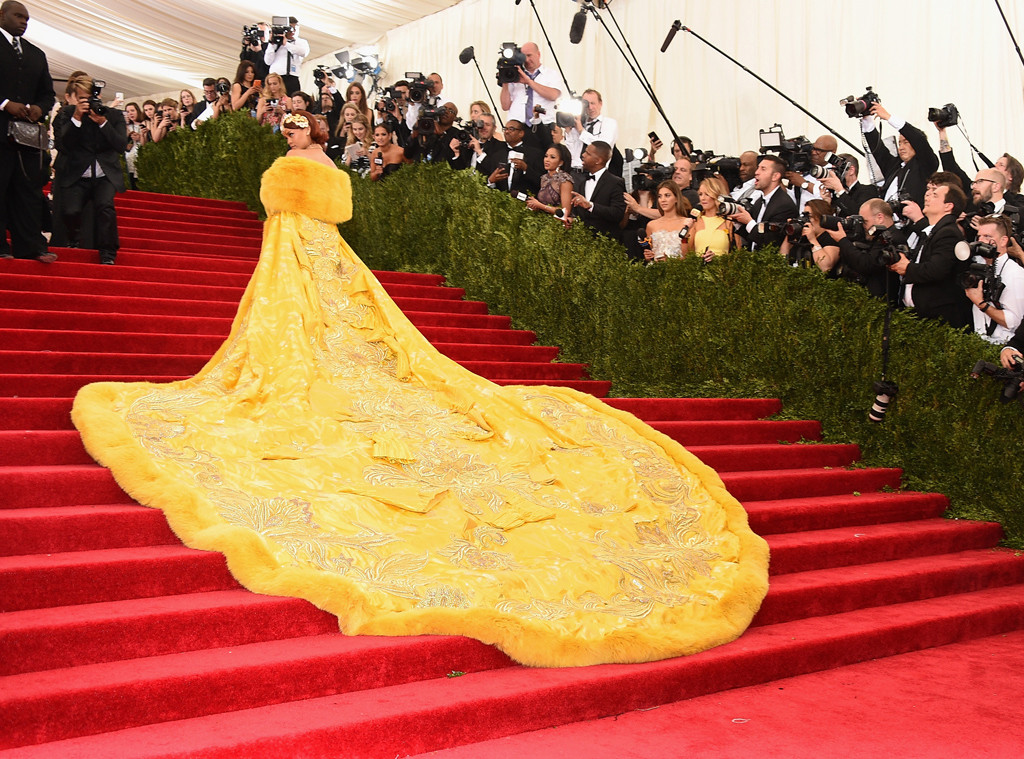 Larry Busacca/Getty Images
It's been four years since Rihanna walked the Met Gala red carpet in that iconic yellow Guo Pei cape, appropriately named the Yellow Queen, but the couturier's moment is far from over.
At the Asian Civilisations Museum in Singapore, Guo Pei is the subject of a new exhibition, Guo Pei: Chinese Art and Couture, that features 29 dresses from the couturier's label alongside 20 Chinese art masterpieces from the museum's collection. According to a statement from the museum, the exhibition seeks to examine "the relevance and impact of Chinese art, and how Chinese aesthetics and traditions are being reimagined for the world today."
Among the couture pieces by Guo Pei on display at the museum are the Yellow Queen cape worn by Rihanna, the Magnificent Gold gown, which was most recently on display at the Met's China: Through the Looking Glass exhibition in 2015, as well as other fantastical creations, such as the Blue-and-White Porcelain gown and the Palace Flower gown.
"[This] is our first special exhibition dedicated to fashion and is representative of our shift to the contemporary domain," said Kennie Ting, Director of Asian Civilisations Museum and Peranakan Museum. "Our aim is to make a point as to how heritage and tradition are very much relevant to the contemporary; that heritage and tradition can be remarkably sexy and alluring. Every masterpiece in the exhibition is a unique blend of contemporary and traditional design, material and craft."
The exhibition itself comprises of three sections that explores the intersection between Chinese art and Guo Pei's contemporary couture. The first space, "Gold is the Colour of My Soul", pays tribute to Guo's use of yellow and gold in her work, and contrasts this with the colours, materials and techniques of imperial China. The next section, "China and the World", looks at the designer's creative combination of Chinese motifs with Western silhouettes, and the last section, "Treasured Heirlooms: Chinese Bridal Dress", examines the couturier's modernisation of traditional Chinese bridal attire.
Courtesy of the Asian Civilisations Museum
"In this exhibition, fashion and history come full circle. We see how the past inspires the present, we see how traditions are revived and rejuvenated, and we see how export objects and foreign ideas influence the local," said Jackie Yoong, the curator of the exhibition.
Guo Pei: Chinese Art and Couture will be open from 15 June to 15 September 2019 at the Asian Civilisations Museum. Admission charges apply. For more information, please visit www.acm.org.sg