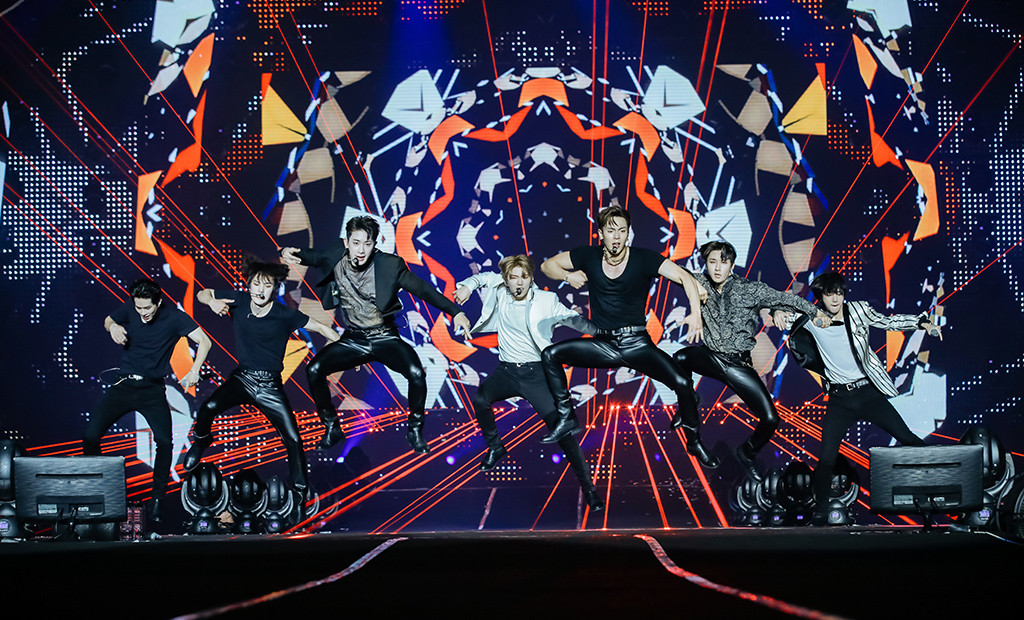 Courtesy of HallyuPopFest
For Day 2 of the weekend-long K-pop festival, HallyuPopFest 2019 ended on a major high note with top acts such as Starship Entertainment's MONSTA X and SM Entertainment's Super Junior headlining the evening concert. Popular bands like (G)I-DLE and Pentagon performed on the same stage that night too. 
On top of that popular rookie bands, VERIVERY and TREI held exclusive showcases in the afternoon, giving fans a more intimate experience with the idols. All the invited acts walked the red carpet before the evening concert and hundreds of fans gathered to see their favourite idols up close. 
It was jam-packed event, packed with epic performances by the idols and cute, candid moments both on and off the stage. 
Here are the highlights of Day 2: 
1. Super Junior sneakily revealing a comeback this year
It has been 2 years since iconic K-pop group, Super Junior released their full studio album, Play. Since then, the group has been rather scattered as members go in and out of serving mandatory military service as well as doing their own individual ventures into acting and Korean variety programmes. 
Hence, to see most of the Super Junior members grace the stage after so many years was truly one of the biggest highlights of HallyuPopFest 2019. The group's leader, Leeteuk also made a sneaky mention of a possible comeback with the whole group, now that their maknae, Kyuhyun has been discharged from the military. 
"Good news! You know that Kyuhyun has finally returned. You know that, right?" Leeteuk said to the crowd. "So we're actually preparing to release a new album," he continued and the crowd went wild as this was the first time they heard of the news. 
Looks like it was Yesung's first time too as he asked Leeteuk in a confused tone, "Have we started preparing already? I didn't know."
Eunhyuk replied him with, "In your heart, you should always be ready, no?", to which Yesung nodded in agreement. 
Courtesy of HallyuPopFest
2. Leeteuk getting back at Eunhyuk by revealing his secret travel plans
Throughout Super Junior's segment of the evening concert, the members banter back and forth in the most hilarious way. One such highlight was when Eunhyuk started making fun of Leeteuk's low-cut top that revealed his chest. 
Leeteuk then got back at Eunhyuk by revealing his secret travel plans in Singapore and even told fans to him company and video him going on his solo travels. The entire stadium laughed as Eunhyuk was gobsmacked by Leeteuk's revenge.
"What's wrong with this person?" Eunhyuk said, pointing at Leeteuk, while laughing sheepishly. 
He eventually admitted defeat and explained that he decided to stay an extra two days, while the rest of Super Junior fly back to South Korea because he wanted to go sight-seeing and travel alone. 
Fans cheered him on, and everyone had a good laugh. 
Safe to say that Leeteuk is leader for a reason and he is not one to pick fights with! 
3. Ryeowook trying to do trendy dance moves
Super Junior D&E, their subunit consisting of Donghae and Eunhyuk performed their latest track, 'Bout You' during the evening concert. The two dancers of Super Junior showed off their click moves and got the crowd hyped with their performance. 
After Donghae and Eunhyuk performed, the rest of the members came out and tried to do some of the trendy dance moves that the two were doing. Leeteuk and Ryeowook made the whole stadium laugh as they tried their best, but somehow the move looks a little awkward. 
Eunhyuk burst out in laughter and said, "We really look like old people," while Donghae tried to save Ryeowook by giving him a hug.
Honestly, who else are this comfortable on stage? We stan legends!
Courtesy of HallyuPopFest
4. MONSTA X's Won-ho blessing fans with a see-through shirt
One of the headliners to perform on Day 2 was none other than the talented and sexy K-pop boy group, MONSTA X. They sang their hits such as 'Jealousy', 'DRAMARAMA' and their latest single, 'Alligator' to hundreds of Monbebes.
The crowd went absolutely nuts as the boys slayed the dance floor with their powerful choreography and filled the stadium with their melodic voices. 
A big highlight to their performance is of course, MONSTA X's vocalist Won-Ho's stage outfit that had Monbebes gasping in admiration. Known for his incredible physique, Won-Ho is not shy about showing off his assets. That night, he wore a sheer black muscle tank under a black blazer, which he later took off towards the end of the group's set. 
Ki-Hyun and Min-Hyuk teased Won-Ho about his revealing outfit and Won-Ho looked rather shy as everyone's attention was on him. However, it was all in good fun and showed how tight the members are. 
5. Kanto's epic freestyle rap during his showcase
One of the few soloist who was invited to perform at HallyuPopFest 2019, 25-year-old rapper, Kanto made a huge impression during his showcase as he displayed rap skills and charms. 
He gained popularity after competing at South Korea's Hip-Hop reality show, Show Me The Money 2 and is now signed with Brand New Music. During his showcase, he went down from the stage to get closer to the audience and even played games in between songs. 
One of the highlights of that day was Kanto's epic freestyle rap that he made up on the spot that blew fans away. 
Watch it below: