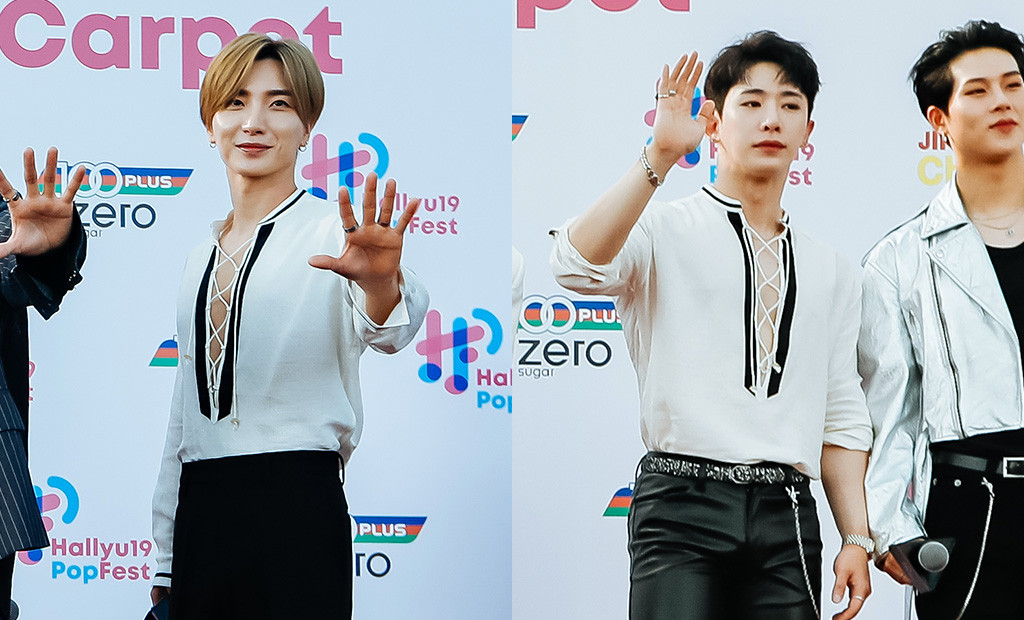 Courtesy of HallyuPopFest
Looks like flowy tops with a laced up neckline are the hot fashion items this summer as Super Junior's Leeteuk and MONSTA X's Won-Ho were caught wearing the same top on the red carpet at Hallyupopfest 2019.
The two day K-pop festival Hallyupopfest 2019 just wrapped yesterday in sunny Singapore, and the headliners for day two were none other than Starship Entertainment's leading boy group, MONSTA X and SM Entertainment's veteran K-pop group, Super Junior.
Hundreds of fans gathered despite the sweltering heat to catch a glimpse of their favourite stars walking the red carpet. 26-year-old vocalist Won-Ho walked the red carpet with his fellow MONSTA X members wearing a breezy cream-coloured top and tight leather pants.
Won-Ho also accessorised with a leather belt with silver chains for edgier vibe.
The top was perfect for Singapore's hot weather as it features a plunging neckline that is loosely laced together. Naturally, Monbebes were swooning as the top revealed Won-Ho's sculpted chest perfectly.
Later that day, Super Junior walked the red carpet and much to the surprise of fans, the leader of the group, Leeteuk was sporting the same top as Won-Ho!
Leeteuk chose to style it differently, pairing the mandarin collared top with black chinos and tan leather boots for a softer, more casual look.
In most cases, celebrities showing up to a party or a red carpet in the same outfit is considered a faux pas. However, in this case, it turned out to be a funny and memorable incident as both stars took it in stride and pulled off the look in their own individual styles. Almost like when two best friends with the same tastes accidentally wear the same outfit without planning.
Won-Ho changed out of his red carpet look into a sheer black muscle tank top and a black blazer for MONSTA X's performance stage later that night while Leeteuk decided to perform in his red carpet look.
So who wore it better? We don't think it really matters where top stars like Super Junior and MONSTA X are concerned.
Fashion Face-Off: Won-Ho vs Leeteuk