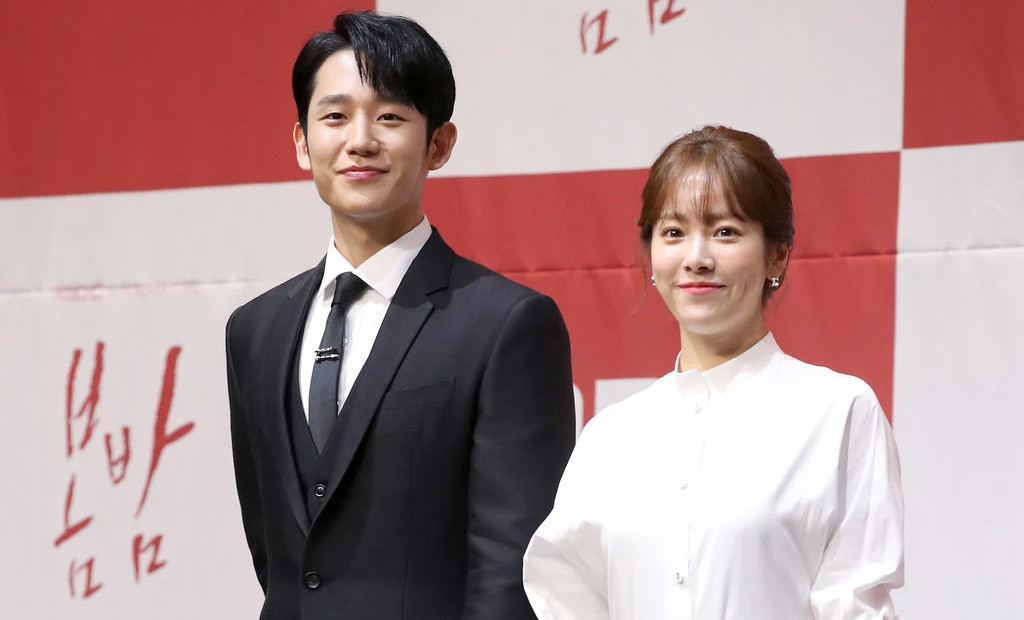 Getty Images
With his boy-next-door charms and good looks, many fans were eagerly waiting for 31-year-old Jung Hae-in to debut his new romantic drama One Spring Night and the moment has finally arrived! 
What has gotten fans even more excited was when it was announced that 36-year-old actress Han Ji-min was confirmed to be his romantic interest and co-star. Known for her roles in other romance dramas like Rooftop Prince, Han's elegant beauty seems like a perfect match for Jung's boyish good looks. 
In a press conference with Korean media outlets, the two stars talk about their experience working together, their roles and the public's expectation after the hit that was Something In The Rain. 
One Spring Night tells the story about a young librarian, Lee Jung-in (played by Han Ji-min) who is in a long-term relationship with her banker boyfriend Kwon Ki-seok (played by Kim Joon-han). Even though her boyfriend is perfect in every way, Lee still felt like something was missing in her life. Then she meets Yoo Ji-ho (played by Jung Hae-in) works as a pharmacist and is also a single father. The two share a connection and revaluate what love and happiness means to them. 
Directed by An Pan-seok who is known for his hit drama Something in the Rain, One Spring Night gives a similar romantic vibe with lots of slice-of-life scenes that viewers can relate to. Due to the similarities in terms of cast and director, some media outlets have been comparing Something in the Rain's Son Ye-jin to Han. 
When asked about the following, Han answered graciously and confidently, "I really like actress Son Ye Jin. The roles Son Ye Jin and I can play are different. I want to talk about something else than getting judged on how we compare on who did better. I don't hesitate about any projects because of the pressure I may feel in that sense."
Jung went on to talk about how Han helped him during filming, saying "I made a lot of mistakes but she never creates an NG. She taught me what to do in these situations. Since she's been in the business a lot longer than I have, I learn a lot from her. I'm also learning what positions are best to shoot certain scenes.
I never once felt that I'm older than her during filming so I've never called her noona on set. I think I'll be able to call her that comfortably after we finish."
Turns out that the feeling was mutual as even though Han is a veteran actress, she too learnt a thing or two from Jung, "He gives me a lot of tips on set. I find myself depending on him a lot. What I found while filming was that Jung Hae-In is manlier and has more leadership than I thought. I think that's why I don't feel he's younger than me."
Looks like age truly is nothing but a number. 
The first episode of One Spring Night has premiered on Netflix, with new episodes coming out weekly.
Catch the trailer below and revel in the beauty that is Jung Hae-in and Han Ji-min: