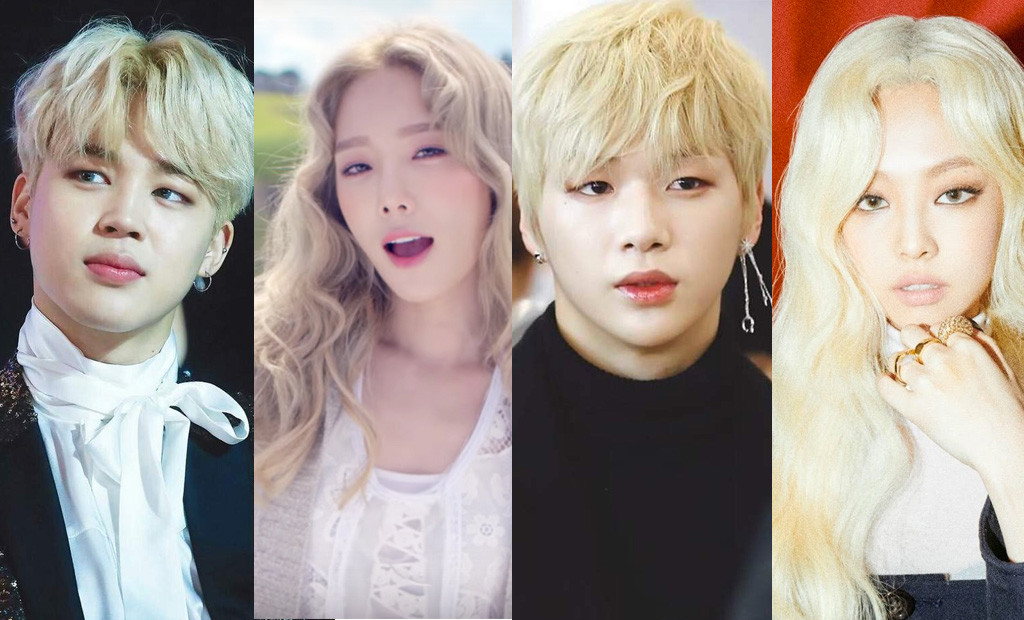 Instagram/Youtube/Twitter
Ever wondered how so many K-pop stars and Korea artists switch hair colours so frequently? The journey from going from brunette to blonde is an arduous one, but completely worth it if we can remotely resemble Rosé, Lisa, CL and HyunA, whose various shades of bleached locks exhibit bombshell appeal.
If you're looking to take the plunge, we've rounded up the advice of hair stylists and colourists for the ultimate guide to going blonde, particularly for our fellow Asians out there. For anyone who's never been blonde before, here's our guide on how to go blonde:
1. Know your undertones
Look at the colour of your veins and complexion. Do you have yellow, red or orange undertones with green veins? You have warm undertones. Are your veins blue? If so, you have cool undertones as you have pinkish or blue-based flesh. If you are a mix of cool and warm, then you have neutral undertones. However, colourist Junior Kuah of La Maison Des Stars says that "another factor [to consider before dyeing] is eye colour".
For those who have blue eyes, Kuah says that they need to go for a "clean blonde" like platinum, ash. For those who have black or brown eyes, it's best to actually go for "dirty blonde or caramel blonde".
Apart from eye colour, the undertones of your skin play a big factor. For those who have warm undertones, reddish-based undertones such as caramel, strawberry, chestnut and/or honey hues will compliment you.
For anyone who has cool undertones, go for blue or pink-based blondes. Shades of champagne, ash, wheat and sand complement the coolness of your skin tone without washing you out. If you wish to go platinum (despite having brown eyes), CL's icy blonde is the way to go.
However, if you have neutral undertones, you can get away with most blonde hues. The best shades of blonde are butter, vanilla and cream soda as it will bring a flush of life to your face. But if you are not ready to be blonde, just go bronde (i.e. brownish blonde).
Shall you need to maintain it, Annie Lam, a colourist and hairstylist at Kim Robinson, says that we need to "come back to the salon to refresh the colour" with toner once a month.
2. The bleaching stages
The journey of being blonde is arduously taxing. Not only do you have to sit for hours under the chair, you also have to endure the burning sensation that tingles on your scalp. As your hair will change colour over the course of more than eight hours, the one thing that hinders the process is the red pigment embedded in your hair.
During the dyeing process, pigments in your hair will transition from red to yellow. Since Asians are prone to having deeper red pigments than our Caucasian counterparts, it's actually harder to lighten Asian hair. As not all Asian hair is jet black, Kuah says that the amount of eumelanin we have "determines our colour". If your hair is very dark, he also says that you have to come in "two [to] three times" to achieve the blonde you want.
While the prospect of walking out of the salon with frazzled and orange hair sounds scary, Annie Lam, a colourist and hairstylist at Kim Robinson, says that there's a way to make the processing easier. Lam says, "Before we bleach, we put on a protector on hair followed by bleaching powder."
However, Lam says that we shouldn't wash our hair before we dye it as our hair hair has "natural oil to protect it". Also, Lam advises that we wait two to three days to wash our hair after we dye it. Ditto with cutting our hair. (Seriously, no new haircut should come with frazzled ends!)
3. Balance, balance, balance!
Wanna know the secret to Rosé's flawless blonde locks? It's all about balancing the undertones of your newly bleached blonde with complementary colours!
Since purple cancels out yellow and blue cancels out orange, Kuah says that we need to go for a "violet shampoo or blue shampoo" as hot and humid climates and/or chlorine turn hair yellow.
Unlike your regular shampoo, he says that we have to leave it on for three minutes. However, Kuah advises that we shouldn't use it daily as "they don't actually cleanse your hair".
4. Boot up your haircare routine
If you've never dyed your hair before, it's recommended to switch to a shampoo and conditioner set for colour-treated hair to maintain the hue you want. Most importantly, you are encouraged to go for sulfate-free haircare as sulfates strip colour and lead to scalp irritation due to its skin-binding properties.
However, you can't skip out on a hair mask, which Lam advises that you must put on "twice a week".
5. A surprising perk you never knew about bleached hair
Who can't forget Tiffany Young's Monroe-inspired curly blowout in "Runaway"? Thanks to her newly blonde locks, the secret to her voluminous locks is the bleach. When you bleach your hair, the strands swell as lighteners are alkaline-based.
Take advantage of this new perk by booting up your styling tools! Instead of sticking to the usual sea salt spray or trusty ol' Elnett, Lam suggests to put on "hair accessories to make it look more textured".
After all, blondes really do have more fun!