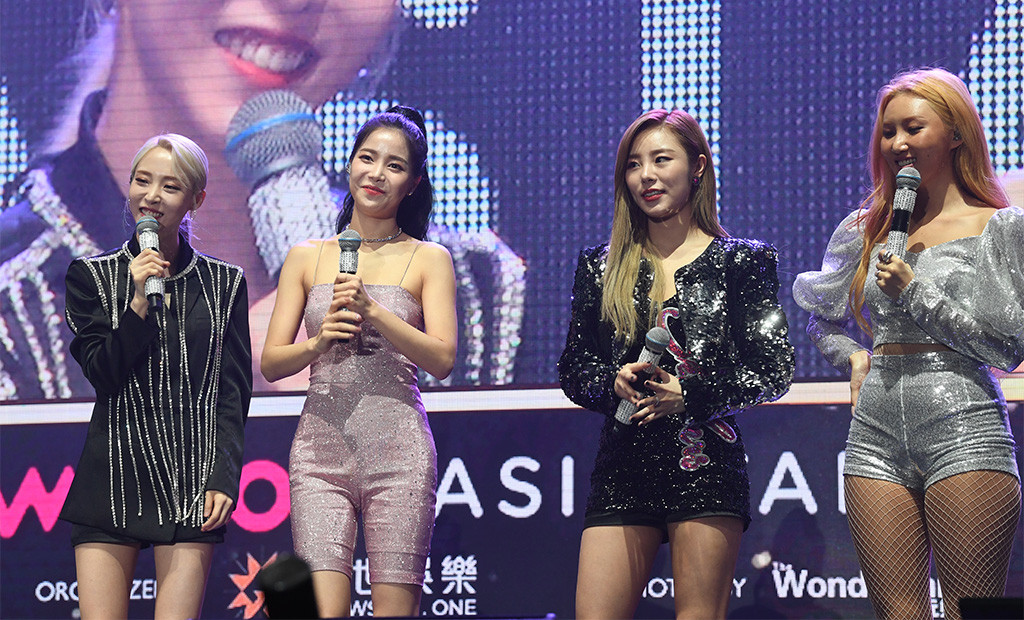 Courtesy of organizer
K-pop quartet, MAMAMOO announced their Asia fan meet where they will be visiting Singapore, Indonesia and Thailand mid-March 2019 and tickets to their showcase have been selling like hot cakes. 
The R&B girl group is particularly popular in the Southeast Asian region due to their catchy tunes that mix R&B runs with ballads. The four members, Moonbyul, Solar, Wheein and Hwasa made it a point to thank their fans by incorporating fan-meet elements along with a concert. 
Last Saturday, MAMAMOO held their official fan-meet at ZEPP, Big Box in Singapore. Over 3000 fans and media showed up for the event, ready with their radish-shaped MooMooBong lightstick and fanchants. 
The showcase was a concert chock full of their hits such as "Starry Night", "GOGOBEBE" and "Egotistic". The group sang a set of ten songs with two encore performances, belting out heart-wrenching ballads and dancing to their pop hits. 
In between their performances, there were tons of games and audience-participation activities, as well as interviews throughout the night. Lucky MooMoos (their official fandom name) got to go on stage and meet their idols in the flesh. Sprinkled throughout the event were video messages from the Singapore MooMoos to MAMAMOO and vice versa. 
In appreciation of their fans, Solar, Wheein, Hwasa and Moonbyul tried their best to speak a little Singlish (a local slang) when communicating with the audience. "I love you, lah," was a phrase that was used a lot by the girls that night. Furthermore, the group incorporated other local aspects such as the merlion (a national symbol in Singapore) and even donning a traditional kebaya for their encore performances. 
Needless to say, the girls looked stunning in the colourful traditional garb and gave stellar live performances throughout the evening. 
MooMoos returned the caring gesture by celebrating Wheein's birthday, which was on 17 April. The singer just turned 24 and fans took this opportunity to celebrate the occasion with her. MooMoos presented Wheein with a cake shaped like her favourite dish, spicy chicken feet before bursting into song.