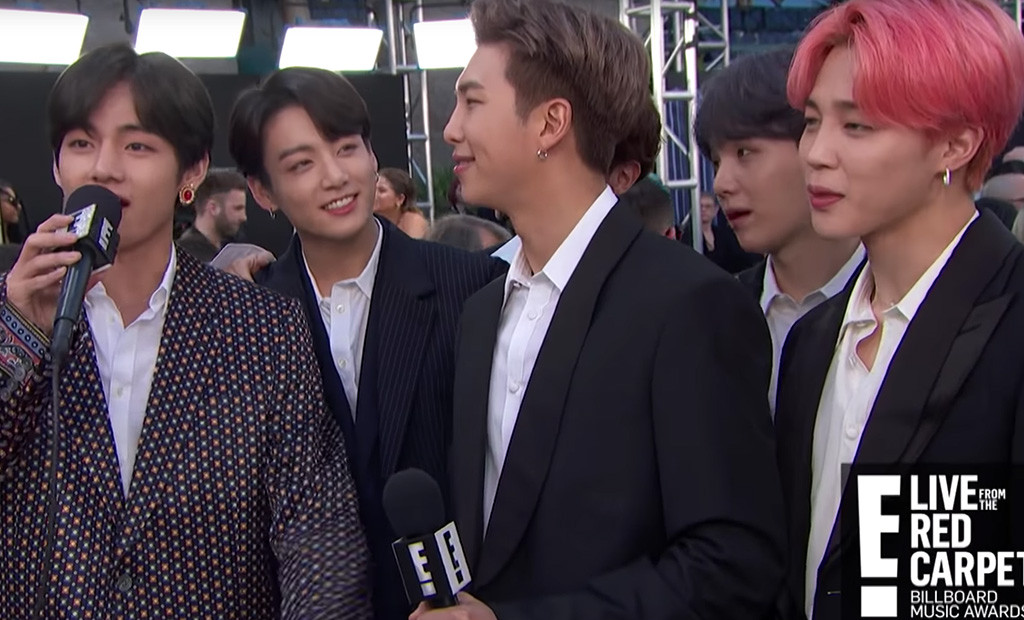 Youtube
Follow the hoards of screaming fans at the 2019 Billboard Music Awards and you will probably find BTS, walking the red carpet. The behemoth K-pop boy group prove that they are a force to be reckoned with that night by doing their very best, on the red carpet, on stage and even during interviews. 
You can tell that the Bangtan Boys have been working hard for the big night as they chat comfortably with various reporters and media. While RM took the lead during interviews, other members were not afraid to chime in, including V. 
During a red carpet interview with E!, V sheepishly answered one of the questions given by our reporters in English. RM, Jongkook and J-Hope were hyping him up as it seemed like V had prepared for this moment. He shyly delivers his message to BTS' ARMY in the cutest manner, 
"Every moment is a precious memory. We're so happy that we can be a part of this with our fans." He says before handing back the mic with a coy grin. RM cheered him on after speaking in English so well. 
The Bangtan Boys also excitedly showed off the friendship bracelets Halsey gave them during their "Boy With Luv" collaboration. The bracelet Halsey made was pink and white, reflecting BTS' Map Of The Soul: Persona album cover. 
When asked who they are looking forward to meeting most, the boys replied, "Our friend, Khalid. Madonna. Drake" Jin added, "Our friend, Halsey."
BTS also talked about how it was an honour to premiere their new single on Saturday Night Live and how they were initially nervous, but felt like they did okay. RM went on to talk about their upcoming performance at the Rose Bowl Stadium. 
This is a huge feat for any artist in the world as the stadium can seat up to 100,000 people, making it one of the largest in the world. This will be one of BTS' biggest live performances to date and it seems like they are ready to conquer the stadium stage.